In this blog post, we dive into Ranveer's journey as a podcaster, exploring his unique style, insightful conversations, and the impact he has made in the podcasting sphere. In the dynamic world of podcasting, where voices come alive through captivating conversations, one name stands out: Ranveer Allahbadia. Renowned as a multi-talented personality, Ranveer has effortlessly carved a niche for himself as a remarkable podcaster.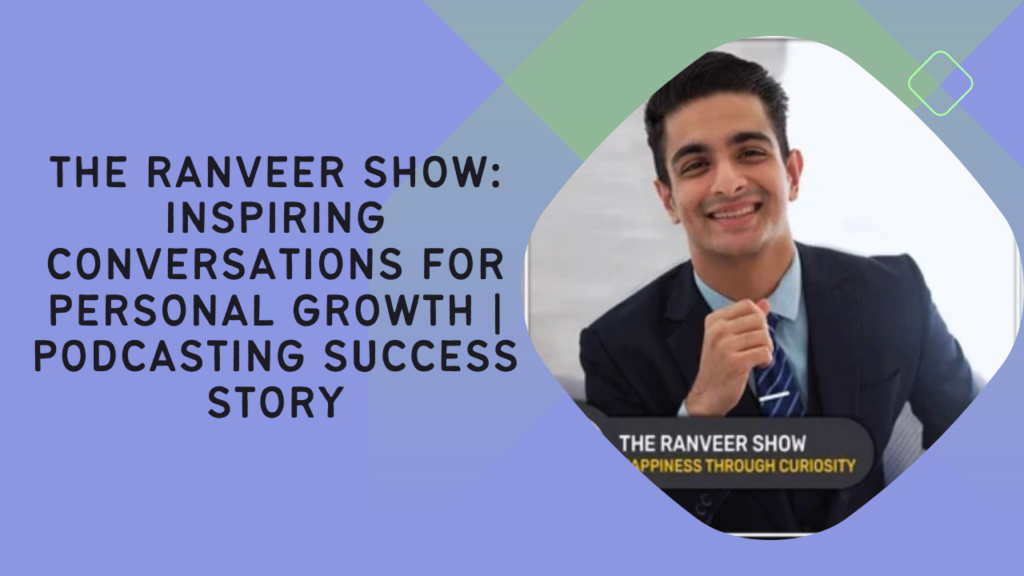 Ranveer Allahbadia is also popularly known as face of Beer Bicep Podcast. With a massive following on various platforms, including YouTube, Instagram, and Twitter, Ranveer has made a name for himself as a podcaster, content creator, and motivational speaker, but his journey to success was not a straight path – it was a result of his relentless pursuit of his dreams and his ability to adapt and reinvent himself along the way. His journey is a testament to the power of podcasting and the influence it can have on individuals and businesses.
The Early Years

of Ranveer Allahbadia
Ranveer Allahbadia was born and raised in Mumbai, India. Coming from a family of doctors, he initially pursued a degree in engineering in electrical and telecommunications. However, his true passion lay elsewhere.
From YouTuber to Entrepreneur
Ranveer s
tarted as a fitness-focused YouTube channel soon evolved into something much bigger. Ranveer realized the potential of scaling a YouTube channel and monetizing it, treating it like a startup. This realization led him to explore various verticals and expand his content to cover a wide range of topics, including entrepreneurship, finance, fashion, spirituality, and self-improvement. As a content creator, Ranveer understood the importance of constantly reinventing oneself and exploring new avenues.
The Rise of Beer Bicep
Beer Biceps quickly gained popularity, attracting millions of subscribers and followers across social media platforms. Ranveer's authentic and relatable approach to content creation resonated with his audience, establishing him as a trusted source of information and inspiration. The success of his YouTube channel paved the way for other ventures, including his podcast, The Ranveer Show, which features interviews with notable personalities from various fields. The name quickly caught on, and Ranveer became synonymous with BeerBiceps.
The Power of Podcasting: The Best of The Ranveer Show
As BeerBiceps gained popularity, Ranveer realized the potential of podcasting as a medium for sharing knowledge and inspiring others. In 2018, he launched "The Ranveer Show," a podcast where he interviews a diverse range of guests, including actors, musicians, entrepreneurs, and thought leaders. The podcast has featured interviews with a wide range of guests, including actors, musicians, entrepreneurs, and sports personalities. These conversations delve into their personal journeys, struggles, and successes, offering valuable insights and inspiration to listeners. Some notable episodes include interviews with Priyanka Chopra Jonas, AR Rahman, Sourav Ganguly, Ronnie Screwvala, and Ritesh Agarwal.
The Recipe for Successful Content Creation for Podcasting: the lesson we can learn from his show The Ranveer's show
Armed with a microphone, recording equipment, and a vision, he meticulously planned and curated his first episodes. With careful attention to detail and a commitment to authenticity, he embarked on his mission to bring meaningful conversations to his listeners. Through strategic outreach and networking, Ranveer invited an array of fascinating guests to join him on the show. These guests ranged from successful entrepreneurs and thought leaders to artists, athletes, and professionals from various fields.
Each guest brought their unique perspective and insights, adding depth and richness to the podcast. "The Ranveer Show" quickly gained traction, resonating with audiences around the world. Listeners were drawn to the candid conversations, the raw vulnerability of the guests, and Ranveer's genuine approach as a host. Word of mouth spread, and the podcast's popularity soared, reaching new heights with each episode.
Ranveer attributes the success of his content creation to a Combination of factors
Ranveer emphasizes the importance of high-quality production. Sound quality, scriptwriting, and filming equipment all play a crucial role in creating engaging and professional content. He believes that attention to detail in these areas can significantly impact the viewer's. Ranveer's commitment to consistency and quality has been a driving force behind the show's success. With regular episode releases and a dedication to delivering thought-provoking content, he has cultivated a dedicated community of listeners who eagerly anticipate each new installment.
Through his tireless efforts, Ranveer Allahbadia has transformed "The Ranveer Show" into a renowned platform that inspires and empowers millions. His passion, vision, and unwavering commitment to delivering meaningful conversations have made him a trailblazer in the podcasting landscape. As "The Ranveer Show" continues to evolve, Ranveer remains dedicated to creating an enriching experience for his audience. He remains committed to fostering a space where individuals can learn, grow, and be inspired by the incredible stories and insights shared on his podcast.
Ranveer's journey as a podcaster is a testament to the power of passion, authenticity, and a genuine desire to make a positive impact. Through his podcast, he has not only created a platform for meaningful conversations but has also become an influential voice in the world of podcasting.
A Motivational Force
Throughout his journey, Ranveer has remained true to his core values. His motto, "When you want to stop, remember why you started," encapsulates his unwavering determination and perseverance.
Conclusion
In the world of podcasts, Ranveer Allahbadia has carved his unique niche with the Beer Biceps Podcast. His inspiring journey, coupled with valuable insights shared on the show, has made him a standout in the podcasting landscape. As he continues to impact lives through his content, Ranveer Allahbadia's story remains one of motivation and transformation.
Through his insightful conversations, impactful content, and genuine connection with his audience, he has carved a niche for himself in the podcasting world. Ranveer's journey reminds us of the power of podcasting as a platform for sharing knowledge, inspiring personal growth, and fostering a sense of community.
So, tune in to "The Ranveer Show" and embark on a journey of self-discovery, enlightenment, and transformation. Witness firsthand the incredible evolution of Ranveer Allahbadia as a podcaster and allow his conversations to ignite your own path towards success and fulfilment.
If you are interested in listening to a variety of podcasts, you may want to check out the best podcasts in various genres such as cricket, true crime, horror, sci-fi, motivational, spiritual, food, parenting, entrepreneurship, for kids, World War II, home automation, learning new languages, starting a podcast, history, finance, cryptocurrency, football, mental health, and wildlife.
About Author
Sonal Shah is a versatile content creator and passionate advocate for podcasting. She is an accomplished podcaster, Sonal has now transitioned into the role of a content editor for The Podcasting. With a deep understanding of the medium and a love for storytelling, she crafts engaging and informative content that celebrates the art of podcasting. Through their work, she shares valuable insights, industry trends, and expert tips, empowering aspiring podcasters to create meaningful and impactful shows.