"If you want your child to be smart, read them a fairy tale. If you want your child to be very smart, read more fairy tales.
In today's fast-paced world, finding time to sit down and tell stories to children has become challenging for parents. However, the rise of podcasts has emerged as a great help, offering a convenient and accessible platform for parents to provide their children with engaging and captivating stories. Storytelling podcasts for kids not only offer great entertainment but also serve as valuable learning and skill development tools. They can be enjoyed during car rides, while preparing meals, or before bedtime, making them a convenient and versatile resource for parents.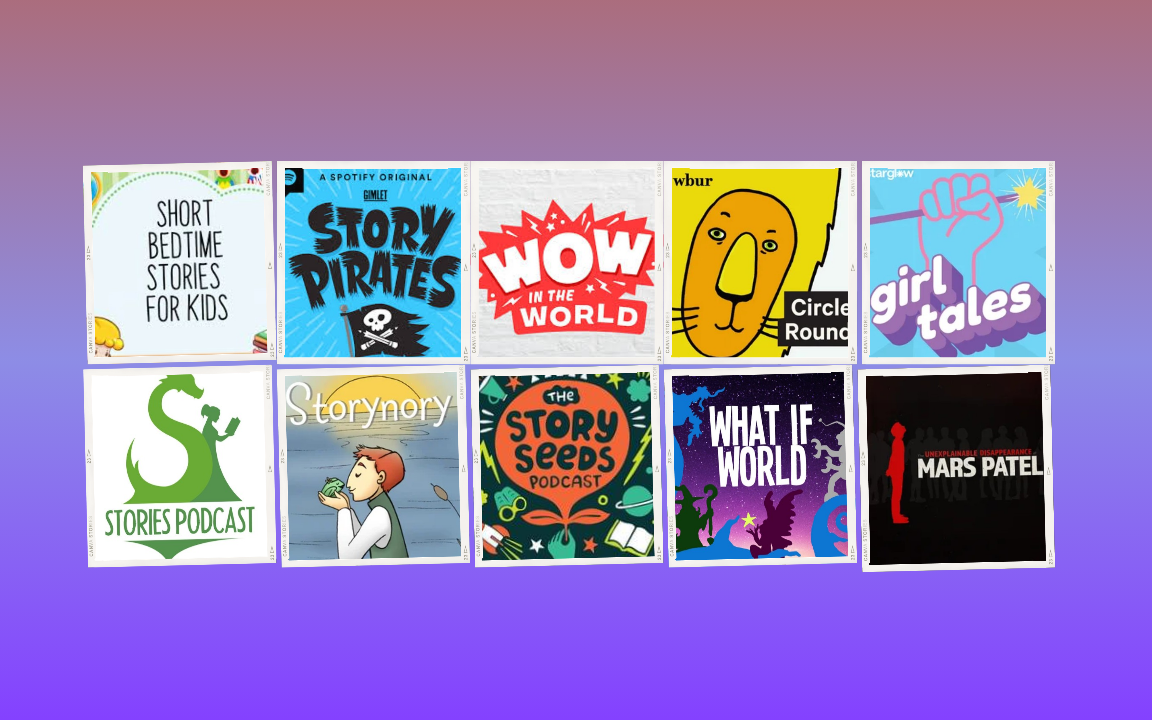 When looking for Best Kids Podcasts, there are a few things to consider. High-quality narration with great voices, sound effects, and music adds depth and immersion to the storytelling experience. Variety and choice are also important, as parents can choose from fairy tales, adventure stories, educational podcasts, and more, ensuring there is something for every child's age and taste.
Some storytelling podcasts even incorporate educational elements, teaching children about science, history, geography, and other subjects while keeping them entertained.
In this article, we'll explore the top 10 best storytelling podcasts for kids on Spotify, guaranteed to spark their curiosity and ignite their imagination. These Kids podcasts provide a convenient and engaging medium for parents to share stories with their children, offering a multitude of benefits including convenience, variety, educational content, and immersive storytelling experiences which will make your Kid smarter.
Short Bedtime Stories for Kids
This delightful podcast offers a collection of engaging and soothing stories to help children wind down and relax before bedtime. With Sonal Shah's gentle narration and imaginative storytelling, each episode transports young listeners to enchanting worlds filled with adventure, friendship, and important life lessons. The stories are age-appropriate, fostering imagination and promoting positive values. Available in English, Gujarati, and Hindi languages.
"Short Bedtime Stories for Kids" by Sonal Shah not only entertains but also nurtures a love for reading and storytelling as this podcast is based on Indian kids stories from the well defined literature like Panchtantra, Hitopadesha, Fable and Jataka Stories.. It creates a special bonding moment between parents or caregivers and their children as they listen and share these enchanting stories together.
With its calming and engaging nature, this podcast serves as a perfect way to end the day, leaving young listeners with happy dreams and a sense of wonder.
Story Pirates
This is one of the best kids podcast which takes the children and turns them into hilarious and imaginative audio adventures. Featuring professional actors, comedians, and musicians, "Story Pirates" encourages kids to let their creativity soar and showcases their own stories.
The magic of "Story Pirates" lies in its unique concept of collaborating with young storytellers. Children from all over the world have the opportunity to submit their original stories, which are then handpicked by the "Story Pirates" team to be transformed into engaging episodes. This approach not only encourages children to unleash their creativity but also empowers them by showcasing their own stories to a wide audience.
Every episode of "Story Pirates" is a delightful mix of humor, adventure, and unexpected twists. The talented cast masterfully combines storytelling, catchy songs, and sound effects to create a truly immersive audio experience. With each tale, young listeners are transported to vibrant worlds filled with colorful characters, exciting scenarios, and valuable life lessons.
Wow in the World
Hosted by Guy Raz and Mindy Thomas, "Wow in the World" is an educational kids podcast that explores the wonders of science and technology in a fun and accessible way. With exciting storytelling and interactive discussions, this kids podcast is perfect for curious young minds.
"Wow in the World" is an educational and entertaining podcast specifically designed to ignite curiosity and captivate young minds. With a perfect blend of storytelling, humorous banter, and sound effects, Guy and Mindy make complex scientific concepts easy to understand and enjoyable for kids. So, get ready to embark on a thrilling scientific journey filled with wonder, laughter, and endless "wow" moments as "Wow in the World" sparks curiosity and opens up a whole new world of exploration for kids everywhere.
Circle Round
"Circle Round" is a captivating storytelling kids podcast that brings folktales from around the world to life for young listeners. With its diverse range of tales and engaging storytelling, "Circle Round" sparks imagination, promotes cultural understanding, and imparts valuable life lessons.
"Circle Round" is a delightful journey into the realm of folklore that will captivate young minds and inspire a love for storytelling.
Girl Tales
"Girl Tales" is a best kids podcast that reimagines classic fairy tales with a modern twist, placing strong, independent female protagonists at the forefront of each story. This empowering podcast seeks to challenge traditional gender roles and inspire children, particularly young girls, to believe in themselves and their capabilities.
The podcast offers a fresh take on well-known fairy tales, introducing diverse characters and perspectives that resonate with young audiences. By presenting strong and courageous female leads, "Girl Tales" provides relatable role models for children and promotes messages of empowerment and inclusivity.
"Girl Tales" offer children an opportunity to experience storytelling in a way that challenges traditional narratives and promotes inclusivity and empowerment. By great storytelling this podcast instills valuable lessons about courage, resilience, and the power of believing in oneself.
Stories Podcast
"Stories Podcast" is a delightful and immersive storytelling experience that transports young listeners to enchanting worlds filled with adventure, magic, and valuable life lessons. With its wide range of stories, from folklore and mythology to original tales, this podcast captures the imaginations of children and sparks their love for storytelling. The talented narrators breathe life into each story, captivating listeners with their expressive voices and engaging delivery.
Whether it's a thrilling quest or a heartwarming tale, "Stories Podcast" provides a captivating escape that entertains, educates, and inspires young minds, making it a beloved and essential addition to any child's podcast playlist.
Storynory
Storynory was created by Hugh Fraser, an author, publisher, and voice actor. He started the podcast with the aim of providing a platform for storytelling and making engaging stories accessible to children worldwide. Storynory offers a vast collection of classic fairy tales, myths, and original stories. Storynory not only entertains children but also nurtures their love for literature and language.
The Story Seeds Podcast
"The Story Seeds Podcast" is a captivating and imaginative kids podcast that combines storytelling and creativity to inspire young listeners. Created by Sandhya Nankani, this podcast brings together children's story ideas and acclaimed authors to collaboratively craft unique and engaging stories.
In each episode, a young storyteller shares their story idea with the host, who then connects them with a renowned author. Together, they explore the seed of the idea, nurturing it into a fully blossomed tale. The result is delightful journeys where young listeners witness their story ideas come to life through the magic of collaboration. It nurtures the seeds of imagination and empowers children to embrace the magic of storytelling.
 What if world -Stories for kids
"What If World" is a captivating and imaginative podcast created by Mr. Eric. This delightful show takes young listeners on exciting storytelling adventures filled with "what if" scenarios.
Mr. Eric's enthusiasm and creativity shine through as he collaborates with children to create fantastical tales. With engaging characters and unexpected twists, each episode sparks the imagination and encourages creative thinking.
With its interactive and entertaining approach, this podcast has become a favorite among young listeners, inspiring them to think outside the box and embark on imaginative journeys.
 The Unexplainable Disappearance of Mars Patel
"The Unexplainable Disappearance of Mars Patel" is a gripping fictional podcast that follows the thrilling mystery of a young boy named Mars Patel. Created by Benjamin Strouse, the podcast presents an engaging audio drama that combines elements of adventure, science fiction, and suspense.
The story revolves around Mars Patel and his friends as they investigate the sudden disappearance of several children in their town. The podcast takes listeners on a captivating journey as Mars and his friends uncover clues, encounter strange phenomena, and confront unexpected challenges.
This podcast stands out for its high-quality production, compelling storytelling, and talented voice acting. The immersive sound design and music create an atmosphere that keeps listeners on the edge of their seats, eager to unravel the mystery alongside the characters. This podcast appeals to both children and adults, offering an enthralling narrative with complex characters, clever twists, and thought-provoking themes. It addresses friendship, trust, and the power of teamwork, while also incorporating elements of science and technology.
Conclusion
Discover an abundance of storytelling gems for young listeners in Spotify's vast podcast library. From exciting explorations of science to time travel and fantastical adventures, the top 10 best kids podcast on Spotify are guaranteed to captivate and ignite the imaginations of young minds. Gather around and embark on an audio adventure that will leave your children craving more.
Incorporating the power of podcasts into your child's routine can be an enriching experience. With the top 10 best kids podcasts on Spotify, your child can embark on a journey of learning, imagination, and entertainment. From fascinating stories to educational content, these podcasts offer a world of knowledge and joy that can make your kid smarter while having fun.
If you are interested in listening to a variety of podcasts, you may want to check out the best podcasts in various genres such as cricket, true crime, horror, sci-fi, motivational, spiritual, food, parenting, entrepreneurship, for kids, World War II, home automation, learning new languages, starting a podcast, history, finance, cryptocurrency, football, mental health, and wildlife.
About Author
The Podcasting Research Team is a dynamic and passionate group of younger researchers who're devoted to exploring the arena of podcasting. Whether you're a podcast author, a marketer, or honestly a curious listener of podcasting, the work of The Podcasting Research Team can offer treasured insights into the traits and exceptional practices inside the podcasting industry.