"Learning another language is like becoming another person"

Haruki Murakami
Language allows us to communicate with the world around us. Speaking a foreign language has obvious practical benefits, such as making an impression on others around you and enhancing your sense of accomplishment. Knowing multiple languages makes one stand out in a crowd. Learning a new language might also help you become more tolerant because multilingual people tend to be more adaptable and open-minded. Our ability to think creatively and prevent cognitive decline are both improved by learning new languages. One begins to comprehend concepts and viewpoints that may be foreign to their own society.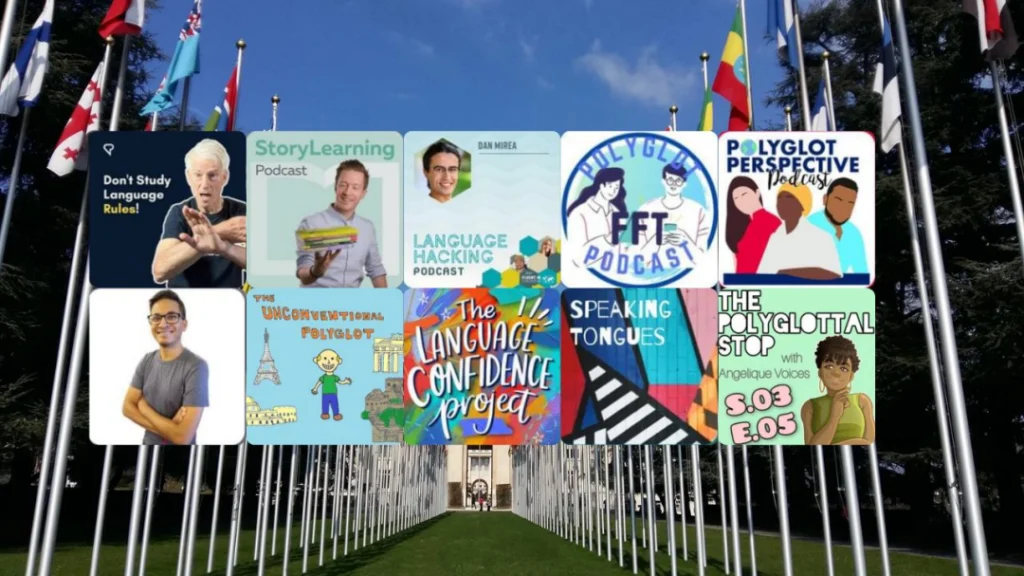 PODCASTS FOR LANGUAGE LEARNERS
Steve Kaufmann is a Swedish-born Canadian polyglot. He can speak 20 different languages, at differing degrees, as of 2022. He has been studying languages for more than 50 years and has used a variety of methods. Not only that, but he discusses his experiences, his method of language acquisition, what he finds enjoyable about learning languages, and a wide range of other language-related subjects. This podcast is for you if you love languages or if you think you might if your prior failures hadn't discouraged you. Any person can pick up a language. All you need is the proper mindset and strategy!
Olly Richards is a teacher, author, speaker and a language learner. He is a self-taught polyglot who speaks eight languages, including Arabic, Cantonese, English, French, Italian, Spanish, Portuguese, and Japanese, many of which he picked up while seeing the world or residing overseas. In addition to having written more than 30 books, he is the creator of the Story Learning approach, formerly known as I Will Teach You a Language. He has been featured in the worldwide press, including Gulf News, El Pas, the BBC, and the Independent. In addition to writing language courses at the Open University, he has appeared in language documentaries. Whatever is preventing you from being fluent, listen in twice a week to get your usual dosage of Olly and other polyglot guests' inspiration for language learning.
Benny Lewis and Shannon Kennedy are the co-hosts of the show, Language Hacking, where they talk about their different experiences in language learning. Irish novelist and blogger Brendan Richard Lewis describes himself as a "techno mad linguistic hacker." His website Fluent in 3 Months, where he chronicles his own attempts to acquire a language in a short amount of time—usually three months—is where he is most known. His method is to speak a new language from the very first day, not correcting himself, and using extremely simple words. The multilingual force behind Eurolinguiste is Shannon Kennedy. She gives advice for learning new languages on multiple platforms with various organizations and is fluent in 14 different tongues. They also have some of their other friends and fellow polyglots come up on the show and talk about their experiences with language learning and personal evolution.
In order to convey the distinctive voices and intimate tales of language learners and travelers from all around the world, polyglot enthusiast Claire started this podcast. By highlighting other viewpoints, her podcast aims to promote global awareness and cross-cultural understanding. Her strategy goes beyond simply speaking several languages well; at its core, being a polyglot means delving into numerous new worldviews and ways of thinking.
A high school girl from Los Angeles, California named Taylor Torres is very passionate about bridging cultural divides and firmly believes that multilingualism is the key to doing so. The group that develops the content includes Lily Burke. She lives in New York and is 20 years old. Lily was adopted as a child from China. Despite coming from a monolingual home, she nevertheless makes studying languages a priority in her daily life. One day, she wishes to tour the globe and interact in the mother language with more people from many nations. They have created this space for young adult polyglots from all around the world to have the opportunity to share their language stories, discuss their passions and marvel at their newfound cultural appreciation for other cultures as well as their own.
The podcast is a monologue, Azren talks a lot about different concepts and intricacies related to language learning. He refers to himself as the language learning nerd and has a website with a similar title where he further indulges in teaching the language. He has created this podcast to share his love of learning languages with the world. Not only that, but he speaks 5 languages and runs a foreign language tutoring business.
The podcast discusses languages and language learning from a distinctive and unusual angle. The host has studied 16 languages in various capacities for thousands of hours and has gained extensive knowledge of what works and what doesn't. He has tried everything, from applications to websites to books to YouTube channels to podcasts, leaving no stone unturned.
A self-taught polyglot, Emily also works as a writer and coach. Get your daily dose of inspiration for language learning by listening to this podcast with her. No matter how much we like learning a language, it can be challenging to maintain motivation over time. We begin comparing ourselves to others, our doubts begin to creep in, and we begin to worry if we are doing everything incorrectly.
Multilingual American Elle Charisse is a content creator. A discussion between Elle and multilingual is featured in the podcast. She has a wide range of language speakers who discuss a variety of fascinating ideas as well as their individual exposure and experiences.
A podcast about language, language learning and sociolinguistics from a polyglot's point of view. Toronto resident Angelique is of Jamaican and Canadian descent. She not only produces podcasts, but also sings and does voice acting. She enjoys educating others about language acquisition. Furthermore, she discusses language in a cultural context, and her style is quite engaging.
If you are interested in listening to a variety of podcasts, you may want to check out the best podcasts in various genres such as cricket, true crime, horror, sci-fi, motivational, spiritual, food, parenting, entrepreneurship, for kids, World War II, home automation, learning new languages, starting a podcast, history, finance, cryptocurrency, football, mental health, and wildlife
About Author
The Podcasting Research Team is a dynamic and passionate group of young researchers who are dedicated to exploring the world of podcasting. Whether you're a podcast creator, a marketer, or simply a curious listener, the work of The Podcasting Research Team can provide valuable insights into the trends and best practices in the podcasting world.
If you want to start your own podcast, check out the guide here