Are you feeling demotivated, uninspired, or just in need of a little pick-me-up? Look no further than motivational podcasts. These shows can help you stay focused, positive, and motivated, whether you're trying to build a business, get in shape, or simply navigate life's challenges.
Do you know why most of us start every new project with much energy and enthusiasm, but it fades away afterward? Mostly, it's due to a lack of motivation and consistency. Self Esteem and Self Awareness are two main aspects of character and reason. There is an ocean of motivational podcasts available. Here are the top 10 best motivational podcasts which could change your life.
In this article, we'll share the 10 best motivational podcasts to help you find your focus and reach your goals. So grab your headphones, tune in, and get ready to be inspired.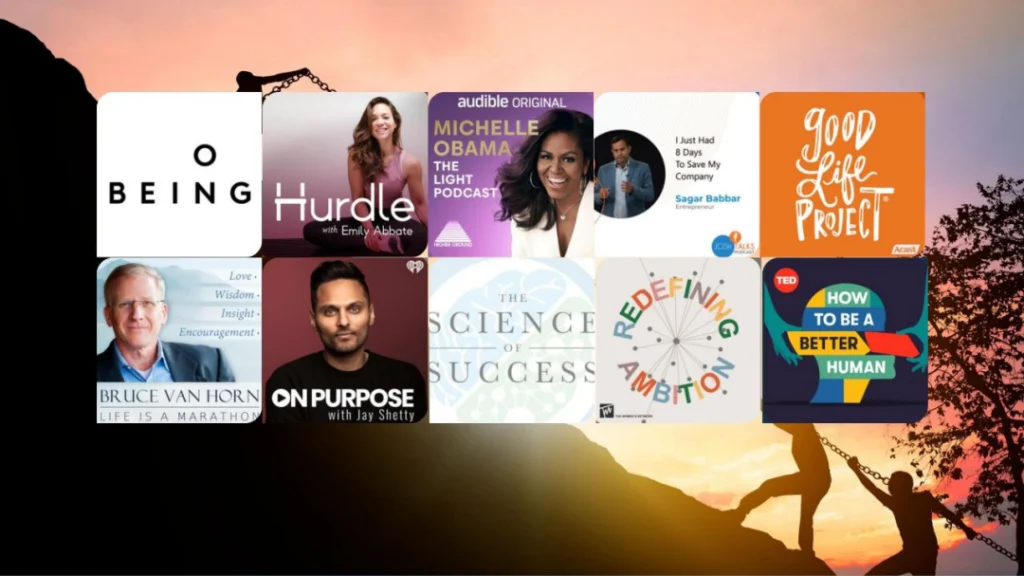 With over 200 million plays and Peabody Award Winner, this motivational podcast provides a large perspective of life. It gives hope to renew life with courage and joy. It is hosted by Krista Trippett, recipient of the National Humanities Medal by then U.S President Mr.Barak Obama. It will take you on a journey of Spiritual inquiry with science. The speakers are esteemed professionals in their field, such as Psychiatrist Bessel van der Kolk, author Ocean Vuong, Physicist Leonard Mlodinow etc.
The episode with Acoustic Ecologist Gordon Hempton- The Silence and presence of everything is pure gold. His quotation," Silence is not luxury but essential, which is on the verge of extinction." Noise has become part of life, and Silence has become a quest for people. This episode made me realize why people go to natural habitats because the sounds of nature calm down. We don't need language as a medium to understand calmness and self-improvement. Sounds connect us to the world and activate our erroneous zones. I recommend watching the Apple Series – "SEE" to learn more about humans' auditory power. Meditation requires us to hear all the sounds around us and pay attention to activate the chakras. This podcast will leave you in self-introspection with a realization that everything is present in Silence and why saving our mother earth is essential to maintain the ecosystem.
This is the one recommended episode from my side. It seems you got interested in reading it. Listen to this motivational podcast to hear many more inspirational content which will help you grow in the dimensions and find your inner cause.
The New York Times has called this motivational podcast 'ADDICTIVE'; it already sums up the podcast. Emily Abbate, a renowned wellness writer and editor, hosts this motivational podcast. As the name suggests, everyone goes through hurdles in life, right? The Hurdle racers are honestly the ones we appreciate because their limitations are visible to the whole world ( Yes, It was a joke). Everyone carries their struggles and stories. This podcast provides a shot of energy and enthusiasm to stop this procrastinating and start working. From psychologists to Olympic champions, you can find all. If you are a sports buff, this is your go-to place.
For me, the 5 Minute Friday episodes are fabulous and refreshing. The latest episode- "It's OK To Go SLOW and Be a Beginner," gave me a different perspective. The point that you are a beginner only once just blew my mind of not noticing it before. It is set in the mode of self-realization that learning new things is always out of our comfort zone and going slow is the key to consistency and persistence. A flower doesn't bloom in just one day. Imagine the consequences of earth completing its full rotation around the sun in just one day- everything would be destroyed. Please don't compare your capabilities to the others sitting next to you because they were also once beginners. Remind yourself that you are good enough; getting out of comfort is the half victory won. Many people don't even start, thinking they are not good enough. Plus points in these episodes, the viewers' questions are addressed.
If you are running or jogging, plug in this motivational podcast and enjoy it. It's a self-help podcast.
This lady doesn't need any introduction. She has broken the shackles of many stereotypes and has been the flag bearer of women empowerment. Her book 'Becoming' gave me the best life lesson- "Failure is a feeling long before it becomes an actual result. It's a vulnerability that breeds with self-doubt and then is escalated, often deliberately, by fear". This motivational podcast deeply explores aspects of family, friends and life in the most humorous and inspirational way.
Josh means Passion. This motivational podcast carries the inspirational stories of the people around us, who lived their lives quite similar to ours, but what marks the difference is their Passion and motivations; Yes, they made mistakes but overcame them and validated themselves to the world. From content creators to successful entrepreneurs, the speakers have their own stories to inspire and build self-esteem and self-help for depression.
The episode that gave me goosebumps was "The Life of the Sex Worker's Daughter- Sandhya Nair."In reality, these women are the most discriminated part of society. It's nobody's dream to become a prostitute; the world around is filled with greed for people – Human Traffickers made them so. After watching Gangubai, most people have changed their perception of this section of society. Sandhya, the daughter of a sex worker in Kamathipura, Mumbai, had faced sexual abuse and mental traumas for 6 years. She went under therapy sessions which uplifted her spirit to change society, and joined Kranti NGO to educate parents and children about body image and Child Sexual Abuse. As a psychology student, I had seen a few cases of abuse and those who say why didn't they run away when the abuse happened once; most abuse survivors freeze at that time and don't realize their surroundings. Her story is an example that, despite the worst that happened to her, she didn't lose hope in learning and growing.
This was one of the inspirational stories in Josh Talks. Many such stories are yet to be uncovered by you. Plug into this inspirational podcast.
Jonathan Field, the host of this motivational podcast, makes the whole process soothing and refreshing. Every episode uncovers new and regulating stories of the guest speakers. It feels like you are part of their journey from hurdles to success.
The Surprising Science of Spirituality, with Dr.Lisa Miller, Ph.D. Clinical Psychology, Columbia University, is an episode that made me curious to know more about it. Numerous questions and debates arose on the difference between spirituality and science; this podcast is the answer. From the latest researchers, Jonathan and Lisa discussed the crux of spirituality. Our brain is structured to be spiritual, and bodywork facilitates it. The spiritual Core is the main part of awakening. There is a difference between being spiritual and religious; spirituality is innate and deeper inside oneself. It works as a self-help against depression. It makes us more kind and generous to the people around us. Dimensional changes occur as part of real awakening; suffering is the first stop for this destination and ignites the inner Change. Genetics are also responsible for awakening.
This motivational podcast provides the scientific bases for all the problems. It inspires us to live these lifestyles and demonstrates that happiness can be found in many aspects of life. The important thing is that we know ourselves well enough to comprehend what this means to us specifically.
As the name suggests, this motivational podcast builds love, wisdom, insight and encouragement. Host Bruce Van Horn is a Life Coach, Mentor, Thought Leader, Best-Selling Author, Entertaining and Motivational Speaker, Dad, and Marathon runner. To succeed in life, consistency is the key, like winning a marathon.
All the episodes are different yet synchronized. Goals are the bucket list to accomplish in this lifetime. The episode LIAM 559 on Shortsighted Goals starts with Bruce's namaste, which is cute. The goal of the majority of parents for their children is to Enjoy whatever they do. Instead of telling them what not to do, introduce what they can. The way of expression changes the outcome. Shortsighted Goals focus on half of the problem, while Long Term Goals change the dynamics of oneself and surroundings. Instead of focusing on a tree, see the park.
The soothing voice of the host calms down the entire mind. Inspirational podcasts give the sense of stability and clarity to work on self and surroundings.
Jay Shetty is a renowned storyteller, podcaster and former monk. This motivational podcast has included guests from Alicia Keys to Khloe Kardashian. His podcasts have a range of topics discussed in most layman's terms to understand oneself to attain wisdom.
My favorite episode is 7 of My Best Time Management Habits to Help You Do and Create More in Less Time. The 7 habits which Shetty pointed out to make a difference in your living area-#Multitasking versus single-tasking- always do a single task to achieve quality, #Time blocks logical work versus creative work. #Scheduling the day, # Write what's the one thing you need to do to make yourself feel that today is a great day?; # Always create goals and plans: The 1-4-1 Method, # Develop the Habit stacking: works on things we do with ease or on autopilot, #Always get good sleep, meditate, and exercise. These 7 mantras have changed my thought process and increased the outcome efficiency.
The purpose is the raw and real motivational podcast where the listeners are offered a variety of things in the most sophisticated manner. The voice of the host makes the whole aura calmer and more blissful.
Psychology is the study of behavior. This evidence-based motivational podcast is the perfect spot for becoming a better version of ourselves. In conversation with various thought leaders, Matt Bodnar gives refreshing, real, practical solutions.
The episode with Dr.Brene Brown, renowned professor at the University of Houston, 5 Times New York Times best selling- author and podcast host, is my favorite to date. Her majority of work has been on Shame, Vulnerability and Leadership. Her quote, "Vulnerability is not winning or losing; it dares to show up and be seen when we have no control over the outcome. Vulnerability is not weakness; it's our greatest measure of courage," has changed the lives of millions. Everything in life doesn't fall in place as planned, sometimes showing up even when the world is not on your side makes us brave. Quoting her words, 'Because we don't teach how to get back up after they fall,' it summarizes why the majority of people never take risks. Resilience develops from vulnerability and adversities. This episode gave new dimensions to the problems and shared specific tools to overcome shame and live a courageous life.
This motivational podcast must be your go-to for a sense of calmness and specific strategies. It's OK to be vulnerable or imperfect.
This Women's Network ( TWN) podcast highlights women's leadership across various industries. It boosts achieving the ambitions of all the women out there. Believe in the power of your wings to fly high and reach the universe. The guest speakers are the women who have transformed the arena; their stories of struggles to success are all captured.
This motivational podcast is filled with the stories of women who have inspired the future generation to believe in themselves with the power to change the world, from Sam Saperstein, MD at JPMorgan Chase, to Shree Bose, Google Science Fair winner. Choosing one story was impossible; these women have shown the ways to self-help and self-improvement in the best way possible. After listening to all these inspirational stories, the crux is to believe in yourself and make your own choices.
To all the women, if you are feeling worthless, listen to these amazing women who arose and accomplished their dreams in this inspirational podcast.
Humans are the most unpredictable creatures on the planet. Their priorities change comfortably according to the situation. Everyone talks about being a better person but a few focus on the essence of being better. As Mahatma Gandhi Ji said, Change started within; this motivational podcast gives CLEAR takeaways on being a better person. Comedian Chris Duffy discusses various self-help and self-improvement topics in conversation with guests.
While listening to this motivational podcast, the episode that made a difference in my mood the whole day was How to embrace Rejection with Jia Jiang- a rejection expert from the corporate world with the risky world of entrepreneurship. Rejection is the fear that pulls us back from our goals. Do you remember the feeling of knowing the answer but couldn't speak because others would make fun if it were rejected? Overcoming rejection makes the person strong, courageous and brave. JK Rowling became the world's best-selling author after getting rejected by more than a dozen publishing houses. Worthlessness is the feeling that arises from rejection. The moment you overcome rejection, ideas and creativity flow in synarchy. More rejections lead to a more impactful comeback. Quitting is an easier task than fighting back. Mahatma Gandhi wouldn't have led India to independence if he had taken the rejections by Britishers as the end of the tunnel. Have you ever hated your favorite ice cream just because it's currently unavailable in the parlor? No, right! Similarly, rejection doesn't diminish our worth of living and enjoying life. This episode made me empowered to believe in my strengths and weaknesses.
Every episode of this inspirational podcast marks a difference in your being. The guests are esteemed individuals in their respective fields. If you are looking for a self-help guide, plug in your earphones and listen.
These are the best motivational podcasts that will inspire, motivate, and uplift you on your journey. Whether you're looking to build a business, get in shape, or simply navigate life's challenges, these podcasts have something for everyone. So why not give them a listen and see how they can help you boost your positivity and achieve your goals?
If you are a motivational speaker and want to start your own podcast and spread the positivity then do check the free guide how to start a podcast
If you are interested in listening to a variety of podcasts, you may want to check out the best podcasts in various genres such as cricket, true crime, horror, sci-fi, motivational, spiritual, food, parenting, entrepreneurship, for kids, World War II, home automation, learning new languages, starting a podcast, history, finance, cryptocurrency, football, mental health, and wildlife
About Author
Nikita Vatsa is a Psychology student. She runs her own podcast Mending Minds with Nikita on Spotify to sensitize people about mental health. In her free time, you can find her spending time with her plants. You can find her on instagram- @nikitavatsa