Feeling low and worthless? Hearing a word of appreciation can eventually change your mood. WHO recognizes, Physical and mental health as an important part of healthy human functioning. Mental Health is not just feeling low or having a breakup, it is the necessity to feel OKAY. Podcasts have emerged as a way of awareness. A mental health podcast is a podcast that focuses on topics related to mental health and wellness. These podcasts typically feature discussions about various mental health conditions, such as anxiety, depression, PTSD, bipolar disorder, and more. They may also cover related topics such as self-care, coping strategies, mental health treatment options, and stories from individuals who have personal experience with mental health issues. Some mental health podcasts are produced by mental health professionals, while others are created by people who have personal experience with mental health issues. The goal of these podcasts is to provide listeners with information, support, and inspiration to help them better understand and manage their mental health.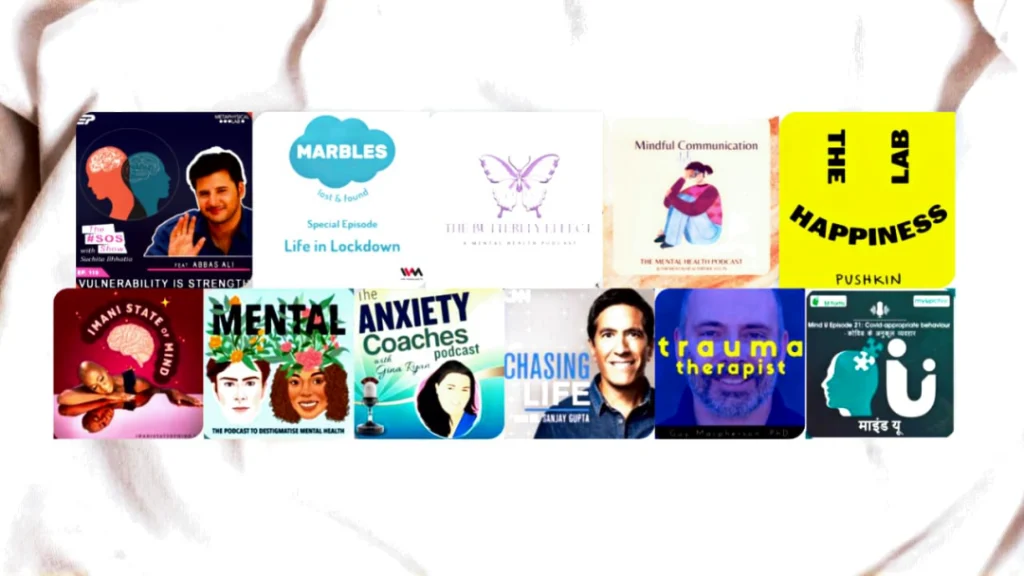 There are several benefits to listening to mental health podcasts. Some of the main benefits include:
Access to information and resources: Mental health podcasts provide listeners with a wealth of information and resources related to mental health and wellness. They may cover a wide range of topics, from specific mental health conditions to self-care strategies and treatment options.
Personal stories: Many mental health podcasts feature personal stories from individuals who have experience with mental health issues. These stories can be incredibly powerful and inspiring, and they can help listeners feel less alone and more understood.
Support and community: Mental health podcasts can also provide listeners with a sense of support and community. By hearing stories from others who have gone through similar experiences, listeners can feel less isolated and more connected to others.
Practical tips and coping strategies: Many mental health podcasts also offer practical tips and coping strategies to help listeners manage their mental health. They can be a great resource for people who are looking for ways to improve their well-being.
Anonymous and accessible: Podcasts can be accessed on your own schedule and often for free, which means that you can listen to them at any time and in any place, this also helps people who might feel shy or uncomfortable discussing their mental health in person.
Cost-effective: Podcasts are free and accessible from anywhere, which can be especially helpful for people who may not be able to afford traditional mental health treatment or support.
These are the TOP 10 best mental health podcasts available –
Suchita Bhatia's health podcast tries to demystify mental health stereotypes. The speakers of this podcast discuss a wide area of topics such as LGBTQ+ issues, Men Mental Health, Self Love, Work and Mental Health, Yoga and Meditation, Emotional intelligence etc.
It is the destination for those who want to know more about psychology and its present-day research. It covers every possible field of psychology-Clinical, Criminal, Work, Media psychology etc.
This Indian podcast is hosted by Zain Calcuttawala and Avanti Malhotra to raise mental awareness. It deals with India-specific issues such as Toxic Masculinity, psychopathology, Self-care, Therapy, Mental Health Myths etc.
This podcast deals with the present-day issues in our society and is a great podcast for those who want to know about Indian mental health issues.
Queen Szymoniak is the voice behind this mental health podcast. It helps to overcome adversity and become mentally healthy. Diverse topics covered are-Trauma support, Self Love, Healthy boundaries, empathy etc.
It gives you a wholesome feeling of constant support. The narrator's voice is so soothing and helps you feel at peace within minutes. It can be difficult for non-English speakers to understand the speaker.
This podcast is exclusively available on Spotify. This podcast allows us to hear the stories of mental health survivors and the Indian view of knowing oneself-our chakras. It is a complete package for those who need to educate and transform themselves.
The survivor series is indeed magical-it gives us the courage and confidence to overcome our adversities. The Indian view of our chakras navigates the ayurvedic roots. The special mental health series is just awesome.
Learning from an esteemed professor of a world-top university? This mental health podcast must be one's destination. Dr Laurie Santos- Professor at Yale University is the voice behind this podcast. It has speakers from Nobel awardees like Malala Yousafzi to Top Neurosurgeon and CNN Podcast – Chasing life host Dr Sanjay Gupta. More evidence-based advice on developing happy habits may be found in the Happiness Lab pod. It also includes tales of those who are discovering a way to happiness.
If you want to build a research career, then this is the place. Dr Santos talks about the latest scientific research while sharing inspirational stories of happiness.
To facilitate and normalize talks around mental health, Dr Imani Walker and co-host comedian MegScoop Thomas share their personal and professional experiences. This mental health podcast deals with psychopathy and a fun segment of fictional characters associated with mental illness.
Future Clinical Psychologist, this is your final stop. Learning about psychopathy is the most fun-filled way. It also caters for the needs of those with relationship issues, anxiety, depression and taking breaks to balance one's sanity.
Recipient of Best Health Podcast at The People's Choice Podcast Awards 2019-2021. Mental is the safe space to hear and learn from the stories of inspirational survivors. Every Thursday, an illness is discussed with the latest statistics and their personal experiences. It is the platform for destigmatizing mental health.
This mental health podcast is therapeutic. It gives you a competing, magical experience of knowing and learning more about mental illness. IT'S OKAY NOT TO BE OKAY.
This 20-minute jampack session – gives a drill to combat anxiety. Coach Gina Ryan's calming voice changes the whole atmosphere and automatically brings a sense of calmness. It helps to overcome stress, anxiety and PTSD.
When in stress and anxiety, I will play this one for sure. Gina's voice is calming and her approach to problems is great.
Dr Sanjay Gupta- a top neurosurgeon in the US navigates us through the flowing river of understanding oneself. From climate anxiety to the power of music. This podcast has to be on everyone's playlist. Dr Gupta's incredible involvement and advice give life lessons in every podcast. He not only deals with mental health awareness, but the holistic development of one.
It's fun and knowledgeable simultaneously. Listen to the podcast and learn more about yourself.
Dr Guy Macpherson, PhD, is a trauma therapist and voice of this podcast. Trauma has a long-term effect on our cognitive and emotional development. It can also trigger psychological disorders. The special guests have their own stories of lows and highs. The latest one with Soldier turned therapist Virginia Cruse opens the window of soldier life and its hardships. PTSD ( POST TRAUMATIC STRESS DISORDER) is a common mental disorder in the armed forces.
It's a great platform to build courage and start knowing the hidden trauma within. Its true trauma kills us. The calling voice of the speaker makes it soothing.
SPECIAL FEATURE
This podcast by Fortis Healthcare caters for the Pan-India population with the Hinglish mode of communication. The top psychologist and psychiatrist discuss mental illness awareness in India.
That go-to podcast for Hindi speakers, it gives many life lessons and builds overall courage to come out and discuss mental illness.
If you are interested in listening to a variety of podcasts, you may want to check out the best podcasts in various genres such as cricket, true crime, horror, sci-fi, motivational, spiritual, food, parenting, entrepreneurship, for kids, World War II, home automation, learning new languages, starting a podcast, history, finance, cryptocurrency, football, mental health, and wildlife
Research and Reported by – Nikita Vatsa who is a Psychology student. She runs her own podcast Mending Minds with Nikita on Spotify to sensitize people about mental health. In her free time, you can find her spending time with her plants.
You can find her on Instagram- @nikitavatsa
If you are podcast enthusiast and want to start your own podcast then do check our free guide to podcaster for more detail.