Welcome to the world of medical podcasts, where knowledge meets storytelling and the fascinating realm of healthcare unfolds. Whether you're a medical student, doctor, nurse, or simply curious about the medical field, we've curated a list of engaging and informative medical podcasts just for you, covering a range of topics, from clinical pearls to captivating medical stories. Let's dive in!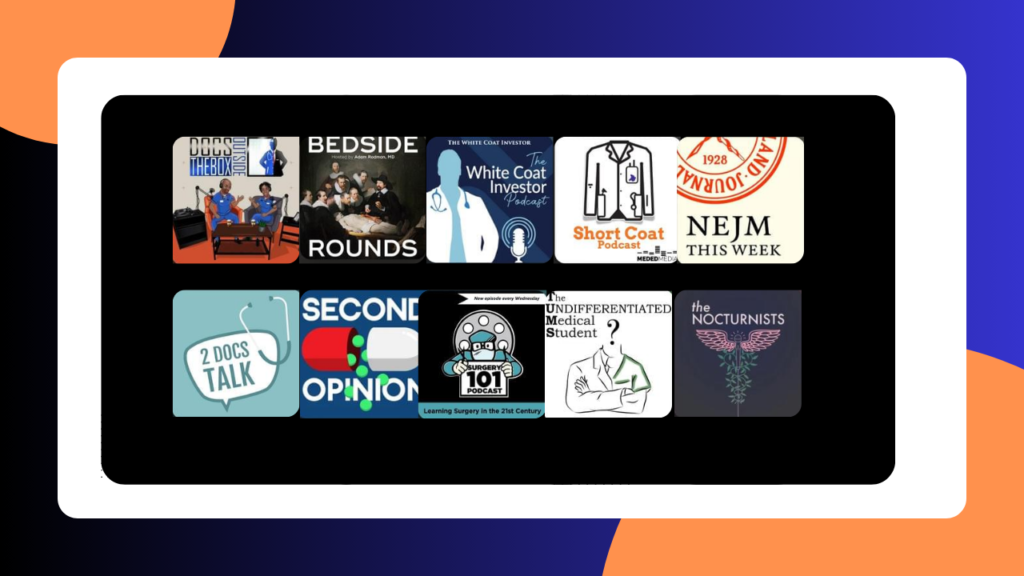 Docs Outside the Box
"Docs outside the Box" is one of the best medical podcast hosted by Dr. Nii Darko, a board-certified general and trauma surgeon. The podcast focuses on sharing inspiring stories and insights from doctors who have ventured beyond traditional clinical practice to pursue unique paths in their careers and personal lives. The podcast features interviews with a diverse range of doctors who have made an impact outside of traditional medical settings. The guests include physician entrepreneurs, digital health innovators, medical educators, authors, and more. Through these conversations, listeners gain valuable perspectives on career transitions, entrepreneurship, work-life balance, financial literacy, and personal development.
Dr. Nii Darko explores the motivations, challenges, and triumphs of his guests, providing a platform to discuss the often unexplored aspects of a medical career.
The podcast aims to inspire healthcare professionals to think beyond the boundaries of traditional medicine and consider unconventional paths that align with their passions and goals.
Bedside Round
Bedside Rounds is a best medical podcast by started by Adam Rodman, about fascinating stories in clinical medicine. He started this podcast in the summer of 2014 when he was a second-year resident in internal medicine at Oregon Health and Science University. It's very different spin on a medical podcast. Bedside Rounds is a storytelling podcast about medical history and medicine's intersections with society and culture.
The White Coat Investor Podcast
"The White Coat Investor Podcast" is a popular medical podcast hosted by Dr. James M. Dahle, a practicing emergency physician and founder of The White Coat Investor, a widely recognized financial resource for medical professionals. The podcast focuses on providing financial and investing advice specifically tailored to doctors, physicians, and other high-income professionals. The episodes cover a wide range of topics, including student loan management, retirement planning, tax strategies, real estate investing, insurance, and much more. Dr. Dahle often invites expert guests, including financial advisors, attorneys, and other professionals, to share their expertise and provide valuable guidance on various financial aspects relevant to medical professionals.
Listeners can expect clear and actionable advice aimed at helping them navigate the unique financial challenges and opportunities that come with a medical career.
The Short Coat Podcast
It is a top medical podcast produced by the University Of Iowa Carver College Of Medicine. It is a student-driven show that covers various topics related to medical education, healthcare, and the experiences of medical students. The podcast offers insights into the lives and perspectives of medical students as they navigate their educational journey. The episodes often feature discussions on medical school admissions, curriculum, clinical experiences, research opportunities, and the challenges faced by aspiring doctors.
In addition to covering medical education, the podcast also explores broader healthcare issues and trends. The hosts and guests provide insights into healthcare policy, medical ethics, advancements in medical technology, and other relevant topics impacting the medical field.
It serves as a valuable resource for aspiring doctors, pre-medical students, and anyone interested in gaining a deeper understanding of the medical education process and the perspectives of those involved.
NEJM This week podcast:
"NEJM This Week – Audio Summaries": From the New England Journal of Medicine, this podcast provides concise summaries of the latest research articles across various medical specialties. Each week, the hosts of "NEJM This Week – Audio Summaries" select key articles from the renowned New England Journal of Medicine and provide an audio summary of their findings.
This podcast is a fantastic resource for busy doctors who want to stay updated on the latest advancements in medicine but may not have the time to read every article in detail. The hosts provide clear and concise overviews of the studies, highlighting the key takeaways and implications for clinical practice.
By listening to "NEJM This Week – Audio Summaries," doctors can stay informed about groundbreaking research, emerging treatments, and medical breakthroughs across a wide range of specialties. This medical podcast covers topics such as cardiology, oncology, infectious diseases, neurology, and many others, ensuring that doctors from various disciplines can benefit from the insights provided. Stay ahead of the curve and integrate the latest evidence into your medical practice.
2 Docs talk
"2 Docs Talk" is a highly informative and engaging medical podcast hosted by two experienced physicians, Kendall Britt, MD, and Amy Rogers, MD. In each episode, they discuss various healthcare topics and offer insights into the medical field from their unique perspectives.  The subject they covers are ranging from healthcare policy, medical controversies, advancements in treatments, patient care, and much more.
What sets "2 Docs Talk" apart is the expertise and real-world experience that Dr. Britt and Dr. Rogers bring to the discussions. Their background in medicine allows them to provide in-depth analysis, share personal anecdotes, and explore different viewpoints on important healthcare matters.
With a focus on evidence-based medicine, the podcast aims to educate listeners about various health-related topics, debunk medical myths, and encourage critical thinking. By staying up-to-date with the latest research, "2 Docs Talk" ensures that their listeners receive accurate and reliable information.
Whether you're a healthcare professional seeking to broaden your knowledge or a patient looking to understand medical issues better, "2 Docs Talk" offers valuable insights and thought-provoking discussions.
Second opinion
This medical podcast offers a refreshing perspective on life, combined with intriguing interviews that cover a wide range of topics, including addiction, detection dogs, mental health, and even the mysteries surrounding death.
This is a regular podcast from celebrity physician, Dr Christian Jenner but What sets "Celebrity Insights" apart is Dr. Jenner's no-nonsense approach and straight-talking views. He fearlessly addresses life's complexities, providing valuable insights and thought-provoking discussions. Through engaging conversations with studio guests, Dr. Jenner brings their expertise and unique experiences to the forefront, ensuring each episode is filled with captivating stories and eye-opening revelations.
Surgery 101
Surgery 101 is a popular medical podcast produced with the help of the University of Alberta in Edmonton, Canada. The podcasts are intended to serve as brief introductions or reviews of surgical topics for medical students. The podcast is comprehensive audio guide that delves into the world of surgery, providing valuable insights, techniques, and clinical pearls for aspiring surgeons, medical students, and anyone interested in the field of surgery.
In each episode, expert hosts take you on a journey through various surgical specialties, breaking down complex procedures and techniques into easily understandable concepts. From general surgery to specialized areas like orthopedics, neurosurgery, and more, "Surgery 101" covers a wide range of topics.
Undifferentiated Medical Student
As a medical student, it's natural to feel overwhelmed and uncertain about which specialty to pursue. With so many options available, it can be challenging to make an informed decision. That's where "The Undifferentiated Medical Students" comes in.
"The Undifferentiated Medical Students" is your go-to resource for navigating the journey to specialty selection. The host believe that by exploring different fields, hearing personal experiences, and understanding the unique aspects of each specialty, you'll be better equipped to make an informed decision about your future career. So why wait just tune in and make a wider choice.
The Nocturnists
This medical podcast brings to life the compelling stories and experiences of healthcare professionals working on the night shift. This podcast offers a unique glimpse into the world of medicine after dark, exploring the challenges, triumphs, and human connections that come with working during the nocturnal hours.
Each episode features real-life narratives shared by doctors, nurses, and other healthcare providers who have dedicated their careers to the night shift. These stories cover a wide range of topics, from life-and-death situations to the intimate moments of caring for patients in the quiet hours of the night.
Through poignant interviews, "The Nocturnists Podcast" sheds light on the unique dynamics of working during the night shift. It explores the emotional toll, the camaraderie among night shift colleagues, and the profound moments of compassion that emerge when the world sleeps. Listeners will gain a deeper understanding of the human side of healthcare, the resilience of those working in the dark hours, and the profound impact that nighttime medicine has on both patients and providers.
With the world of healthcare constantly evolving, staying informed is crucial. The top 10 medical podcasts on Spotify provide a diverse array of perspectives, from seasoned medical professionals to patients sharing their personal journeys. These podcasts offer a valuable platform for learning, discussing, and engaging with the ever-changing landscape of healthcare. Tune in, be inspired, and gain a deeper understanding of medical practices, advancements, and the human stories that shape the field.
If you are interested in listening to a variety of podcasts, you may want to check out the best podcasts in various genres such as cricket, true crime, horror, sci-fi, motivational, spiritual, food, parenting, entrepreneurship, for kids, World War II, home automation, learning new languages, starting a podcast, history, finance, cryptocurrency, football, mental health, and wildlife.
About Author
Sonal Shah is a versatile content creator and passionate advocate for podcasting. She is an accomplished podcaster, Sonal has now transitioned into the role of a content editor for The Podcasting. With a deep understanding of the medium and a love for storytelling, she crafts engaging and informative content that celebrates the art of podcasting. Through their work, she shares valuable insights, industry trends, and expert tips, empowering aspiring podcasters to create meaningful and impactful shows.