Podcasts have become a captivating medium for entertainment, learning, and storytelling, and the Marathi language is no exception to this trend. For Marathi speakers and enthusiasts alike, there's an abundance of exceptional Marathi podcasts available that celebrate the culture, history, and charm of Maharashtra. In this blog, we'll explore the top 10 Best Marathi podcasts that offer a diverse range of content, from humor and storytelling to motivation and self-development. So, let's embark on a fascinating journey into the world of Marathi podcasts!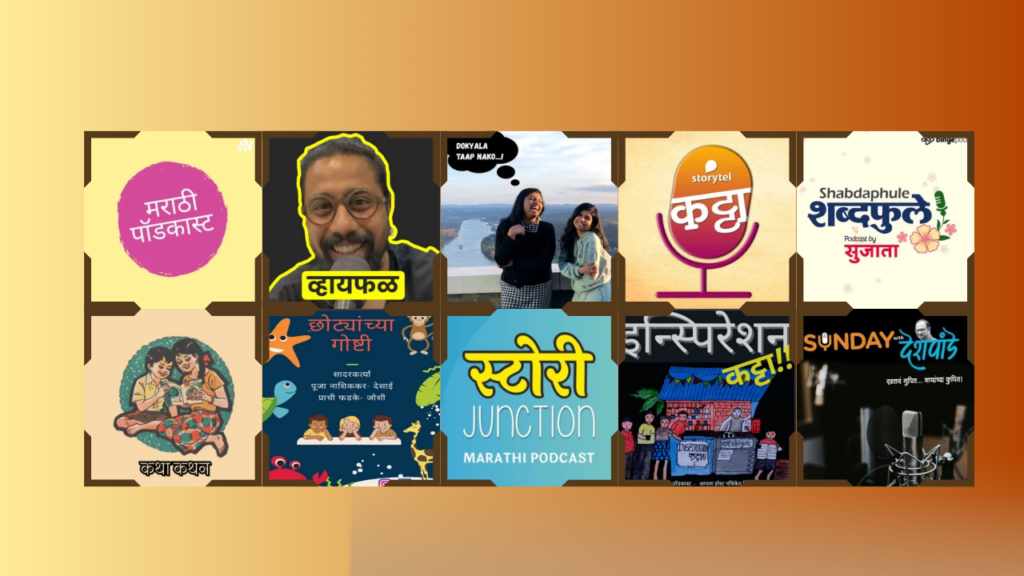 There are numerous Marathi podcasts available on platforms like Spotify that cover a wide range of topics, from self-improvement and spirituality to comedy and storytelling. So, get your earphones ready and let's dive in!
Marathi Podcast
Host: Prof. Harshal Patil
Genres: History
Prof. Harshal Patil brings entertaining & interesting speeches of old great Marathi leaders. On Marathi Podcast you can enjoy enthralling stories of Maharashtra.
Whyfal (व्हायफळ)
Host: Suyog aka The fun Indian guy (Author)
Genres: Arts & Culture
A Marathi podcast by Suyog aka The fun Indian guy. A musical conversation in Marathi with an amazingly talented musician, director, producer and music composer, music producer and a "Filmfare OTT" award winners. This marathi podcast talks about their journey in the film industry. The podcast has a lot of songs and jam sessions of various Marathi songs to keep you hooked.
Dokyala Taap Nako – A Marathi Podcast
Host: Priyanka and Shruti
Genres: Entertainment and hobby, relationship
Join Shruti and Priyanka in this delightful marathi podcast series as they share their crazy, fun, and emotional experiences from their time in Germany. Spread happiness, positivity, and good vibes with heartwarming memories that will leave you with a wonderful smile and a great weekend mood. Don't miss the inspiring 'You are a Hero bro!' segment, where they celebrate the triumphs of unsung heroes.
स्टोरीटेल कट्टा (Storytele Katta)
Genres: Storytelling on Audio books
This Marathi Audiobook Podcast is your go-to destination for all things audiobooks and books. Immerse yourself in the magical world of storytelling as this Marathi podcast promise to delve into captivating audiobooks, author interviews, and fascinating discussions with voice artists and book lovers. In each episode, the host uncover the art of narrating audiobooks and gain insights into the creative process from talented authors and voice artists. Prepare to be inspired by their journeys and learn how they bring characters and stories to life through their voices.
Get ready for a dose of literary delights with : स्टोरीटेल कट्टा (Storytele Katta) " where you can enjoy free excerpts from new Originals, unlocking a treasure trove of diverse narratives and engaging plots. Whether you're a seasoned bookworm or a newcomer to the world of audiobooks, : स्टोरीटेल कट्टा (Storytele Katta) " promises to be an enriching experience that celebrates the joy of literature and the power of storytelling in Marathi.
Shabdaphule शब्दफुलें – Marathi Podcast – Storytelling
Host: Sujati
Genres: Storytelling
Shabdphule is one of the best marathi podcast which contains of Motivation, Literature, and Magical Moments.' Host Sujata will bring us on a transformative journey filled with inspiring thoughts, captivating stories, and enriching articles that ignite the spark within. Delve into the world of literature, where words blossom like flowers, nurturing your soul with positivity and wisdom. Life is a tapestry of magical moments, and together, we'll explore the essence of those cherished experiences. Tune in and let 'Shabdphule' be your guide to embracing life's beauty, one heartfelt word at a time.
Katha Kathan
Host: Shankar Patil
Genres: Storytelling
Experience the charm of Marathi storytelling with "Katha Kathan," a captivating Marathi podcast that unveils new stories every Friday and Saturday. Immerse yourself in the world of Marathi narratives as this podcast brings you a delightful collection of tales that cater to your listening pleasure. With each episode, you'll be transported to a realm of imagination and culture, where the richness of Marathi language and storytelling traditions takes center stage. Whether you're a literature enthusiast or simply someone who appreciates the magic of stories, "Katha Kathan" promises to be your companion for exploring the beauty and depth of Marathi literature.
"Katha Kathan" is your gateway to the world of Marathi stories, inviting you to embark on a journey through the heartwarming narratives of the Marathi culture. Every episode of this Marathi podcast offers a unique storytelling experience, skillfully crafted to captivate your imagination and evoke emotions. Tune in to this treasure trove of Marathi stories and let the mesmerizing narration transport you to different worlds and eras, all while celebrating the essence of Marathi language and literature. With "Katha Kathan," you'll discover a blend of tradition and modernity, making it a must-listen for anyone who wishes to savor the beauty of Marathi narratives.
Host: Pooja and Prachi
Genres: Storytelling for kids and Family.
Step into the enchanting world of " choty anchya goshti ," a captivating Marathi story for kids podcast that sparks the imagination and kindles the love for storytelling in young hearts. Choti anchay goshti means, small kids masti. In each episode, host Pooja and Prachi embark on delightful adventures, bringing to life timeless tales, fables, and folklore from Maharashtra and beyond The storytellers weave magical narratives that transport kids to far-off lands, introduce them to fascinating characters, and impart valuable life lessons in a fun and engaging manner.
Each story is a treasure trove of excitement and wonder, carefully crafted to entertain, educate, and inspire young minds. It's the perfect companion for bedtime, car rides, or any moment that calls for a captivating tale. So, gather the little ones around, as we embark on this storytelling journey filled with imagination, joy, and laughter. Subscribe to " छोट्या दोस्तांसाठी नवीन आणि जुन्या गोष्टी: Marathi Stories for Kids," and let the magic of storytelling create cherished memories that will last a lifetime.
Story Junction
Host: Team story junction
Genres: Story telling
Without the taste of sour, sweet, pungent, salty, just as food is not fun, life is also not fun. We have come to 'Story Junction Marathi Podcast' with a treasure trove of such delicious things. These stories will sometimes make you laugh, sometimes cry and sometimes even make you think. These stories belong to all of you and me who are not bound by age, class, time. You can enjoy these things with family anytime, anywhere. This simple authentic program format helps this Marathi podcast to rank one of the best Marathi podcast on Spotify.
Inspiration Katta: Marathi Podcast
Host: Tejashrri Fulsounder
Genres: Inspiration
Are you yearning for something more in life? Feeling stuck, unfulfilled, or uncertain about your path? Welcome to one of the best marathi podcast that understands your aspirations, challenges, and desires for personal growth. In the hustle of everyday life, it's common to feel like something is missing – that special ingredient to add flavors and excitement. "Inspiration Katta" is here to guide you on a transformative voyage towards discovering your purpose, passion, and untapped potential.
Whether you seek a fulfilling career, stronger relationships, or inner peace, this podcast offers practical tools and inspiration to help you pave the way to success. Join us as we delve into the realms of personal development, self-discovery, and mindfulness, equipping you with the mindset and skills needed to make positive changes in your life.
Sunday with Deshpande: Marathi Podcast
Host: Santosh Deshpande
Genres: Inspiration and conversation
Experience the kaleidoscope of life through the fascinating stories and unique perspectives of individuals. Unveil the hidden peculiarities in personalities, behaviors, and concepts that make each person extraordinary. Join Santosh Deshpande in the vibrant podcast "Sunday with Deshpande" as he engages in lively conversations with these intriguing personalities, igniting a newfound love for life. A perfect anytime listen for all those who cherish the spirit of Sundays.
the world of Marathi podcasts on Spotify is a testament to the diverse and rich cultural landscape of Maharashtra. With a myriad of topics, ranging from literature, history, spirituality, to entertainment and lifestyle, these top 10 Marathi podcasts have carved a niche for themselves in the hearts and minds of listeners. As the podcasting industry continues to grow, these creators have harnessed the power of storytelling, discussion, and exploration to bring Marathi language and culture to a global audience.
Whether you're a Marathi speaker seeking a deeper connection with your roots, an enthusiast eager to explore the multifaceted aspects of Maharashtra, or someone intrigued by the beauty of a new language, these podcasts have something unique to offer. As you embark on your podcast journey, remember that these top 10 Marathi podcasts on Spotify are a gateway to knowledge, entertainment, and a deeper understanding of the vibrant Marathi culture. So, plug in your headphones, hit play, and let the voices from Maharashtra guide you on an immersive auditory adventure.
If you are interested in listening to a variety of podcasts, you may want to check out the best podcasts in various genres such as cricket, true crime, horror, sci-fi, motivational, spiritual, food, parenting, entrepreneurship, for kids, World War II, home automation, learning new languages, starting a podcast, history, finance, cryptocurrency, football, mental health, and wildlife.
About Author
Sonal Shah is a versatile content creator and passionate advocate for podcasting. She is an accomplished podcaster, Sonal has now transitioned into the role of a content editor for The Podcasting. With a deep understanding of the medium and a love for storytelling, she crafts engaging and informative content that celebrates the art of podcasting. Through their work, she shares valuable insights, industry trends, and expert tips, empowering aspiring podcasters to create meaningful and impactful shows.