As we must aware and agree to this point that, nowadays the people are tired with the traditional radio ads and common music genres. Today's audience wants the best of something which can give them on demand entertainment, with knowledge as well as inspiration. So what's the thing that can give everything in hand with your daily Routine? That's the podcast.
Podcasts have become a fantastic medium for gaining knowledge, inspiration, and entertainment on the go. If you are a Native Gujarati speaker or someone interested in the Gujarati culture and language, you're in for a treat! Whether you're seeking daily motivation, a dose of laughter, a deeper connection to your roots, or simply looking to explore new ideas, these podcasts serve as a gateway to a world of knowledge and entertainment in the Gujarati language. There are numerous Gujarati podcasts available on platforms like Spotify that cover a wide range of topics, from self-improvement and spirituality to comedy and storytelling. In this blog post, we'll explore the top 10 Gujarati podcasts worth following. So, get your earphones ready and let's dive in!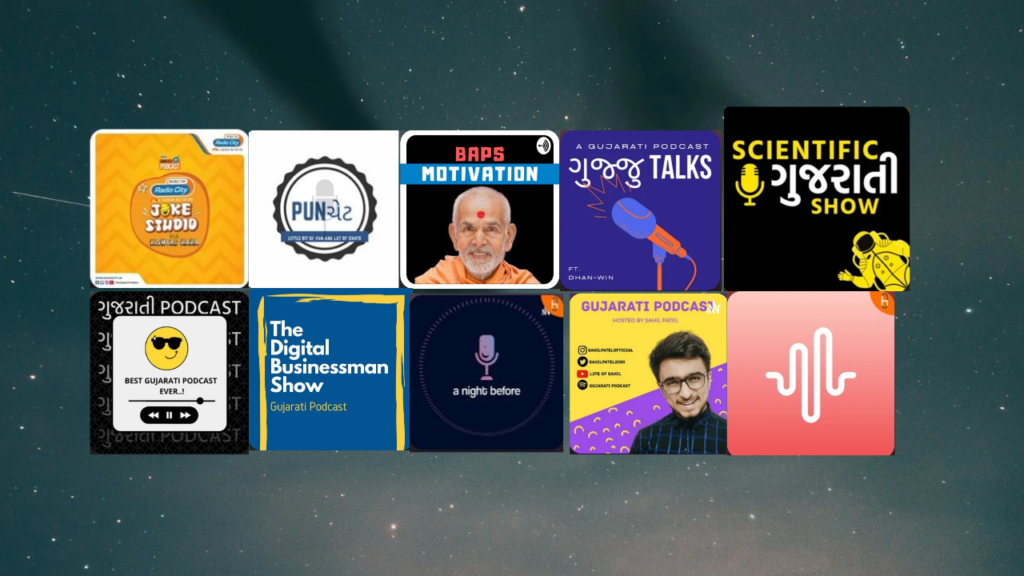 Joke Studio by Kishor kaka
Host: Kishorkaka aka Smit Pandya.
Genres: Comedy
They say, "If a man can make you laugh, he can win your heart." And there's no one better at doing just that than Gujarati standup comedian, Smit Pandya, fondly known as Kishor Kaka. He has amazing and lightning-quick wit, magnetic charisma, and ferociously aggressive style of comedy. Kishor Kaka has carved a niche for himself, earning not just critical acclaim but also a fanatical following that keeps his schedule packed to the brim.
Prepare to have your Gujarati funny bone tickled like never before! With his Podcast. He has a natural ability to turn the ordinary into the extraordinary and the mundane into something memorable. So, get ready to experience laughter like never before as Kishor Kaka takes center stage to share his infectious hum our and leave you in stitches.
Pun Chat
Host: Navjyotsinh Jadeja
Genres: Arts & Culture Podcasts
Be a part of this celebration of our beloved Gujarati language, where every word is a melody, and every conversation is a dance of words. Punchat Podcast – Morning Vibes, Talks, and Fun Chat, the podcast that celebrates the beauty of the Gujarati language while bringing you a delightful series of entertainment and camaraderie. Subscribe now to Punchat and let the magic of Gujarati unravel before you!
Podcast Name: BAPS Motivation.
Host: Swami like Pu. Gyanvatsal Swami, Pu. Shilnidhi Swami, Pu. Apurvamuni Swami & others
Genres: Motivation
The podcast focus is on the blend of religious values and insightful wisdom to address daily routine and family issues. The podcast aims to inspire listeners to find strength and guidance through faith, while also promoting unity and understanding among diverse beliefs. So, if you seek solace, motivation, and a deeper connection with your faith, this podcast is tailor-made for you. Immerse yourself in the wisdom of religious teachings, discover the power of gratitude and forgiveness, and uncover the joy of living a purposeful life guided by divine values.
The podcast is hosted by esteemed spiritual leaders and experienced mentors from Swaminarayan Sanstha, Inspiring Souls offers profound insights into how faith can positively impact our thoughts, actions, and relationships.
Podcast Name: GUJJU Talks
Host: Dhanwin Acharya
Genres: Motivation
A lively Gujarati podcast where the host embrace Gujarati culture, share stories, discuss trending topics, and celebrate the Gujarati way of life. Get ready for laughter, insights, and a connection to our roots, all in one entertaining package. Embrace the charm of the Gujarati language with Dhanvin Acharya. Tune in for an authentic cultural journey that celebrates all things about Gujaratis.
Podcast Name: Scientific Gujarati Show
Host: Dhanwin Ankit and Yash
Genres: Science and Technology
Scientific Gujarati Show is a Gujarati Science Podcast created by Ankit and Yash.! Here, we delve into the fascinating world of cutting-edge research and innovation. In this podcast, they talk about science, technology, history, and anything we find interesting in this pale blue dot. This is primarily Gujarati podcast but some of the conversations are in Guajarati, Hindi and English all languages. New Episode Every Sunday and sometimes on Thursday across all podcast platforms.Stay tuned for an enthralling experience that will leave you inspired and amazed! Welcome to the world of Gujarati science!
Best Gujarati Podcast Ever
Host: Ankit and Hitesh
Genres: Family, entertainment, life
Discover the best of Gujarati storytelling, culture, and knowledge with this top-rated Gujarati podcast! Immerse yourself in enchanting tales, inspiring discussions, and insightful discussion that celebrate the essence of Gujarat. From folklore to contemporary issues, they tried to cover it all in the rich Gujarati language. Listen this Podcast for a captivating audio experience that will keep you entertained, informed, and connected to the heart of Gujarat. Whether you're a native speaker or eager to explore the vibrant culture, this podcast is a must-listen for every Gujarati enthusiast.
Digital Businessman Show
Host: Vishvesh Kardani
Genres: Digital business
This is one of the best gujarati podcast named as "Digital Business Man Show" podcast, where it unlocks the secrets of thriving in the digital era! The show will delve into the world of online entrepreneurship, digital marketing strategies, e-commerce insights, and innovative tech trends. Podcast host shares valuable tips and success stories, empowering you to build and scale your digital empire. Whether you're a seasoned digital entrepreneur or just starting, this podcast offers a treasure trove of knowledge to help you stay ahead in the dynamic digital landscape.
Tune in for cutting-edge discussions and actionable advice that will elevate your digital business game! In this amazing techy world, you can learn whatever you want to learn. So, for what you are waiting?? Just listen to the podcast:
A night Before
Host: Shrungar Rughani and directed by Jay Nathwani
Genres: Love, career, parenting and emotional rides
This is Gujarat's Most Loved Podcast Show and One of India's Top 3 Regional Language Podcast Show, A Night Before talks about things which everyone can relate to. May it be about love or the career, parenting or almost losing someone, it takes a dive into the emotions of well known personalities of Gujarati Industry.
The show has been hosted by Shrungar Rughani and is directed by Jay Nathwani. Also, it is available on YouTube in video format. Don't miss out on that!
Gujarati podcast with Sahil Patel
Host: Sahil Patel
Genres: Life and life style
Another one best gujarati podcast is the world of Gujarati podcasts, Here the host talks about a different subject related to life, personality development and the country, so let's join him in his journey to promote and explore the gujarati culture. So if your are fond of Gujarati culture then this podcast is must listen.
Short Bedtime Stories for Kids
Host: Sonal Shah
Genres: Storytelling for kids and Family.
This delightful podcast offers a collection of engaging and soothing stories to help children wind down and relax before bedtime. With Sonal Shah's gentle narration and imaginative storytelling, each episode transports young listeners to enchanting worlds filled with adventure, friendship, and important life lessons. The stories are age-appropriate, fostering imagination and promoting positive values. Available in English, Gujarati, and Hindi languages.
"Short Bedtime Stories for Kids" by Sonal Shah not only entertains but also nurtures a love for reading and storytelling as this podcast is based on Indian kids stories from the well defined literature like Panchtantra, Hitopadesha, Fable and Jataka Stories.. It creates a special bonding moment between parents or caregivers and their children as they listen and share these enchanting stories together.
With its calming and engaging nature, this podcast serves as a perfect way to end the day, leaving young listeners with happy dreams and a sense of wonder.
Conclusion
The world of Gujarati podcasts offers a diverse and captivating range of content that caters to various interests and passions. From self-improvement and spirituality to comedy, storytelling, and beyond, these Top 10 Best Gujarati podcasts have proven their ability to entertain, inspire, and connect with audiences. So, tune in, hit that subscribe button, and embark on an enriching journey with these outstanding podcasts. Remember, language is a powerful tool, and through these podcasts, we have the opportunity to celebrate our vibrant Gujarati culture and embrace the essence of our mother tongue.
As the podcast landscape continues to evolve, be sure to keep an ear out for new and emerging shows that may pique your interest. Podcasts have the unique ability to bring us together, spark creativity, and foster a sense of community, all within the convenience of our headphones. Thank you for joining us on this exploration of the Top 10 best Gujarati podcasts. We hope you find immense joy, laughter, and inspiration in every episode. Happy listening, and may the power of language continue to weave stories that resonate with our hearts and souls.
If you are interested in listening to a variety of podcasts, you may want to check out the best podcasts in various genres such as cricket, true crime, horror, sci-fi, motivational, spiritual, food, parenting, entrepreneurship, for kids, World War II, home automation, learning new languages, starting a podcast, history, finance, cryptocurrency, football, mental health, and wildlife.
About Author
Sonal Shah is a versatile content creator and passionate advocate for podcasting. She is an accomplished podcaster, Sonal has now transitioned into the role of a content editor for The Podcasting. With a deep understanding of the medium and a love for storytelling, she crafts engaging and informative content that celebrates the art of podcasting. Through their work, she shares valuable insights, industry trends, and expert tips, empowering aspiring podcasters to create meaningful and impactful shows