Love, in all its forms and expressions, has the power to move us deeply. It's no wonder that romantic stories have a special place in our hearts. If you're a fan of heartwarming and emotionally charged narratives, look no further than Pocket FM. In this article, we present the top 10 best romantic stories in Hindi on Pocket FM that will tug at your heartstrings and keep you coming back for more.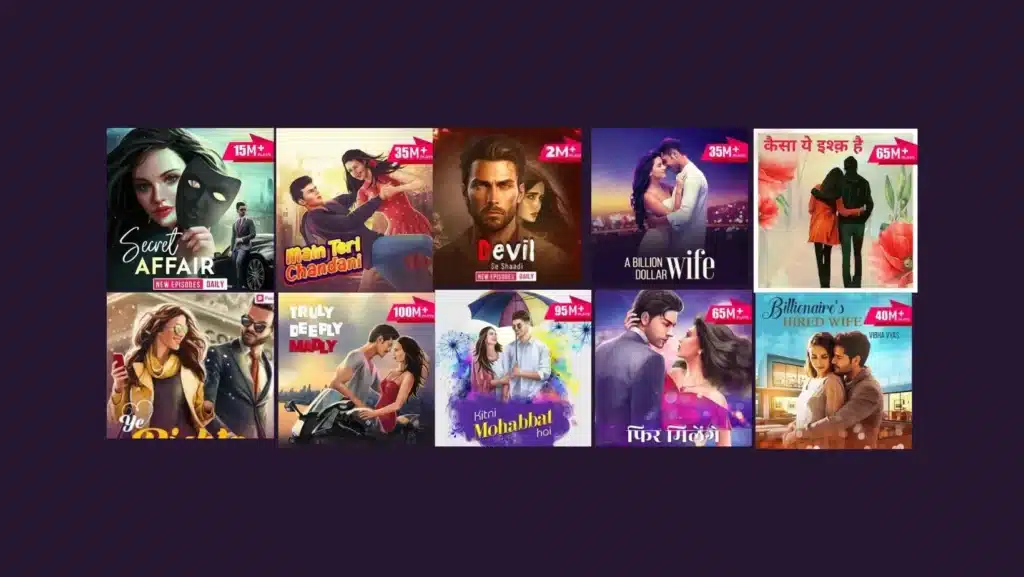 Main Teri Chandani
Love is often described as the most exquisite emotion, capable of transforming lives in the most unexpected ways. But what happens when love finds its way into the hearts of two individuals worlds apart? Meet Rajiv, a man burdened by a past tainted by the complexities of love, to the extent that society has appended the word "Nazayaz" to his name. His heart is consumed by bitterness, and he has even grown to despise himself. His sole purpose in life is to seek vengeance for his father's suffering.
On the other hand, there is Chandani, for whom love is the very essence of life. She possesses the remarkable ability to discover reasons to smile even in the face of adversity. But what happens when these two souls collide? Will Rajiv be able to let go of his haunting past and welcome Chandani into his life? Will her love be the catalyst for Rajiv's journey towards redemption and a brighter future?
In "Main Teri Chandani," a captivating story unfolds on Pocket FM, exploring the profound themes of love, redemption, and the power of second chances. Can love truly heal the deepest wounds of the heart and inspire a new beginning? To uncover the answers, tune in and embark on this emotional journey. Don't miss the chance to immerse yourself in this enchanting narrative, exclusively on Pocket FM. Listen now to witness a story that reminds us all of the enduring power of love.
Devil Se Shaadi
Enter the intriguing world of "Devil Se Shaadi," a story that explores the transformation of an arrogant and feared man named Rajveer. Known as "Devil" even within his own family due to his behavior, Rajveer's life takes an unexpected turn when he falls in love with a girl named Ishqi. However, Ishqi is terrified of him, and their love story begins with a rocky start. In a series of twists and turns, Ishqi is reluctantly married off to Rajveer against her wishes. What unfolds next in this captivating narrative? Let's delve into the enthralling journey of "Devil Se Shaadi."
As the story unfolds, we witness the complex dynamics between Rajveer and Ishqi. Despite his fearsome reputation, Rajveer's love for Ishqi slowly begins to transform him. His determination to win her heart and mend his ways leads to a profound change in his character. Ishqi, on the other hand, finds herself in a situation she never wanted, but as she gets to know Rajveer, she discovers a different side of him. "Devil Se Shaadi" is not just a love story; it's a tale of redemption, personal growth, and the transformative power of love. Join us on Pocket FM as we follow the tumultuous yet captivating journey of Rajveer and Ishqi in "Devil Se Shaadi."
A Billion Dollar Wife
In the riveting story of "A Billion Dollar Wife," Anjali's world shatters when she uncovers the heartbreaking truth about her beloved fiancé's infidelity. This earth-shattering betrayal sends her spiraling into a world of despair, but fate has a peculiar way of offering both solace and challenges. In her darkest hour, Anjali strikes an unexpected compromise with a billionaire, a decision that holds the promise of redemption, but also the potential for unforeseen consequences.
As Anjali embarks on this tumultuous journey, listeners are taken on a rollercoaster ride of emotions, exploring themes of love, betrayal, and the complexities of human relationships. Will Anjali's compromise lead her to a brighter future, or will it plunge her deeper into the shadows of her past? "A Billion Dollar Wife" is a gripping tale of resilience and transformation, reminding us that even in the face of heartbreak, there is the potential for new beginnings. Listen to this enthralling story on Pocket FM and experience the twists and turns of Anjali's life as she navigates the tumultuous path to redemption and self-discovery.
Billionaire's Hired Wife
In the captivating audio drama, "Billionaire's Hired Wife," we are introduced to Aditi, a young and driven law student with dreams of attaining riches and success in her chosen field. Her life takes an unexpected twist when she crosses paths with the wealthy and charismatic Vivaan Mehta, whose world couldn't be more different from hers. Vivaan, on the hunt for a surrogate mother, finds himself drawn to Aditi. In a surprising turn of events, Aditi agrees to carry his child as a surrogate, and Vivaan, recognizing her selflessness, hires her for this extraordinary task, offering a substantial compensation. What compelled Aditi to make this life-altering decision? What awaits both Aditi and Vivaan in this unforeseen journey? To unravel the secrets of ambition, altruism, and unexpected choices, tune in to "Billionaire's Hired Wife."
In this enthralling story, listeners will be transported into a world where ambition meets compassion, where two individuals from contrasting backgrounds find themselves on a path neither could have foreseen. "Billionaire's Hired Wife" promises a rollercoaster of emotions, dilemmas, and revelations as the lives of Aditi and Vivaan intertwine in ways they never imagined.
Phir Milenge
In the labyrinth of life, Kritika discovered that love was a complex maze, far from the simplicity she once believed in. Her life's most significant chapter concluded with a heart-wrenching farewell to her beloved. However, the universe has its own way of orchestrating destinies, where not all forevers are eternally distant. In the narrative of "Phir Milenge," Kritika is reborn, presented with a second chance at love. The question that lingers is whether she's prepared to embrace this reunion and find solace in this borrowed life. "Phir Milenge" is an enthralling journey that chronicles Kritika's ascent to new heights in her quest for love and happiness. Tune in to this compelling story, and unravel the mysteries of love, rebirth, and the enduring bonds that transcend time and existence.
Kaisa Ye Ishq Hai
In the bustling city, Sanjay Mittal, a renowned Business Tycoon, finds his life taking an unexpected turn when a young girl enters his world, claiming him as her father. Strangely, Sanjay has never had any previous encounters with the girl's mother or any involvement in her upbringing. Even DNA tests confirm an inexplicable connection between them.
Join us on Pocket FM as we delve into the gripping story of "Kaisa Ye Ishq Hai," where mysteries unravel and relationships redefine themselves in unexpected ways. Explore the enigmatic world of Sanjay Mittal and the little girl who has turned his life upside down.
Kitni Mohabbat hai
In the intriguing world of romantic narratives, "Kitni Mohabbat Hai" emerges as a delightful story of unexpected encounters and blossoming emotions. Meet Meera, who, in a moment of fear, crosses paths with Akshat, a complete stranger, entering her room through the balcony. As their lives intertwine, a journey of friendship, affection, and perhaps more unfolds. Join us on Pocket FM as we delve into the captivating pages of "Kitni Mohabbat Hai," where love's tender nuances are explored.
Meera's world takes an unforeseen turn when, one fateful day, she encounters a mysterious intruder entering her room through the balcony. Her initial fear gives way to intrigue as Akshat, her roommate Neha's brother, silences her apprehensions with a gentle touch on her lips. From this curious introduction, a unique connection begins to form.
As Meera and Akshat's paths continue to intersect, their interactions grow more frequent. What begins as an innocent friendship evolves into something deeper and more profound. The question looms: is this merely a beautiful friendship, or are these two hearts destined for something greater?
Join us on Pocket FM as we navigate the intricate web of emotions and desires in "Kitni Mohabbat Hai." Discover the enchanting tale of Meera and Akshat as they grapple with their evolving feelings and embark on a journey where love's true essence is unveiled.
Truly Deeply Madly
In the captivating story of "Truly Deeply Madly," we enter the dazzling world of Rehan, an award-winning actor whose life is a tapestry of fame and adoration. Yet, amidst the spotlight and applause, there exists a concealed truth—a truth that Sara, a mysterious figure in Rehan's life, has been guarding diligently. Sara's secret is Pari, a pivotal presence that Rehan is entirely unaware of. As the narrative unfolds, we delve into the complex web of relationships and emotions that binds these characters together. Why does Sara keep Pari hidden from Rehan, and how will Rehan's life transform when he discovers the existence of this enigmatic figure? This is a story that delves deep into the intricacies of life, the allure of fame, and the enduring power of love.
"Truly Deeply Madly" on Pocket FM is a tale that will keep you on the edge of your seat, as the characters navigate the labyrinth of emotions, secrets, and revelations. Tune in to this gripping narrative, and let the allure of fame and the mysteries of love take you on a rollercoaster ride of emotions. Listen now to uncover the hidden truths that lie beneath the surface of Rehan's seemingly perfect life.
Ye Rishta Kaisa Hai
The night before her much-anticipated wedding, destiny took an unexpected twist. The groom, in a shocking turn of events, eloped with his secretary, leaving the bride-to-be heartbroken. But fate had more surprises in store. In the crowded chaos of a marriage bureau, she found herself proposing to a complete stranger, a man who was anything but ordinary. Little did she know that this impulsive decision would set the stage for a unique and captivating journey.
Their marriage was unconventional, to say the least. Before tying the knot, she made an unusual request – a marriage without physical intimacy. As the story unfolds, the newlyweds are faced with the challenge of making this unorthodox relationship work. "Yeh Rishta Kaisa Hai" explores the complexities of human emotions, unexpected connections, and the potential for true love to blossom in the most unlikely of circumstances. Tune in to this enthralling story, intricately woven into the tapestry of relationships, on Pocket FM.
Secret Affair
In a world where fame and secrets collide, "Secret Affair" unfolds a riveting story of love and deception. Tanvi's life takes an unexpected turn on her wedding night when she meets her husband, the renowned superstar Vidyut Nomani, for the very first time. However, little does she know that Vidyut has harbored a deep-seated hatred for her for the past eight years, leading him to behave rudely and insult her on numerous occasions.
Their marriage, though, isn't born out of love but rather necessity. Vidyut's desire for a child and Tanvi's urgent need for a substantial sum of money for her brother's critical operation bind them together in this tangled web of secrets. As if that weren't enough, Tanvi's boss compels her to uncover Vidyut Nomani's clandestine marriage, a demand that goes against Vidyut's strict warning never to reveal their secret union. Amidst the chaos, Yamini Sahay, Vidyut's film co-star, adds fuel to the fire by warning Tanvi to stay away from him and even resorts to physical confrontation. But when Vidyut takes a drastic step by quitting his film after scolding Yamini in front of the entire crew, it begs the question: Is this the beginning of a transformation in Vidyut's heart, a turning point in their complicated relationship?
"Secret Affair" on Pocket FM takes listeners on a rollercoaster ride through the corridors of fame, love, and the hidden truths that bind us all. Tune in to uncover the mysteries that shroud Tanvi and Vidyut's lives and witness whether their story will unravel as one of redemption, forgiveness, or something entirely unexpected.
Conclusion
If you're in search of love stories that will sweep you off your feet and leave your heart aching for more, Pocket FM has a treasure trove waiting for you. Dive into these top 10 romantic stories in Hindi, and let the magic of love unfold in your ears. Listen for free and let your heart soar.
If you are interested in listening to a variety of podcasts, you may want to check out the best podcasts in various genres such as cricket, true crime, horror, sci-fi, motivational, spiritual, food, parenting, entrepreneurship, for kids, World War II, home automation, learning new languages, starting a podcast, history, finance, cryptocurrency, football, mental health, and wildlife
FAQs – Top 10 Best Romantic Stories in Hindi on Pocket FM
1. What is Pocket FM?
Pocket FM is a popular audio platform that offers a wide range of audio content, including podcasts, audiobooks, and audio stories. It provides a platform for creators to share their stories and listeners to enjoy a variety of content.
2. Are these romantic stories available for free on Pocket FM?
Yes, all the romantic stories mentioned in this list are available for free on Pocket FM. You can listen to them without any subscription or payment.
3. Can I listen to these stories offline?
Yes, Pocket FM allows you to download stories for offline listening. Simply download the story when you have an internet connection, and you can enjoy it offline later.
4. Do I need to create an account on Pocket FM to listen to these stories?
While creating an account can enhance your experience by allowing you to save your favorite stories and track your progress, it's not mandatory. You can listen to these stories without creating an account.
5. How do I find these romantic stories on Pocket FM?
You can easily find these romantic stories on Pocket FM by using the search feature within the app. Simply type in the name of the story, and it should appear in the search results.
6. Are these stories in Hindi only, or are there stories in other languages as well?
The list focuses on romantic stories in Hindi. However, Pocket FM offers content in various languages, so you can explore stories in other languages too.
7. Can I share these stories with my friends and family?
Yes, you can share these romantic stories with your friends and family by using the sharing options provided within the Pocket FM app. Spread the love!
8. Are these stories suitable for all age groups?
Most of the romantic stories on Pocket FM are suitable for a general audience. However, it's a good idea to check the story's description or content rating to ensure it aligns with your preferences.
9. Can I provide feedback or reviews for these stories on Pocket FM?
Yes, Pocket FM encourages listeners to provide feedback and reviews for the stories. You can help other listeners discover great content by sharing your thoughts.
10. Can I access Pocket FM on different devices?
Yes, Pocket FM is accessible on various devices, including smartphones, tablets, and computers. You can enjoy these romantic stories on your preferred device, whether you're at home or on the go.
About Author
The Podcasting Research Team is a dynamic and passionate group of young researchers who are dedicated to exploring the world of podcasting. Whether you're a podcast creator, a marketer, or simply a curious listener, the work of The Podcasting Research Team can provide valuable insights into the trends and best practices in the podcasting world.