Are you an aspiring writer seeking inspiration and guidance? Look no further than the world of podcasts! Podcasts are an excellent source of knowledge and motivation, and for those passionate about creative writing, they offer a treasure trove of insights, tips, and storytelling magic. In this article, we'll delve into the top 10 best creative writing podcasts on Spotify. These podcasts are the perfect companions for writers, offering a blend of expert advice, captivating interviews, and a touch of creative brilliance.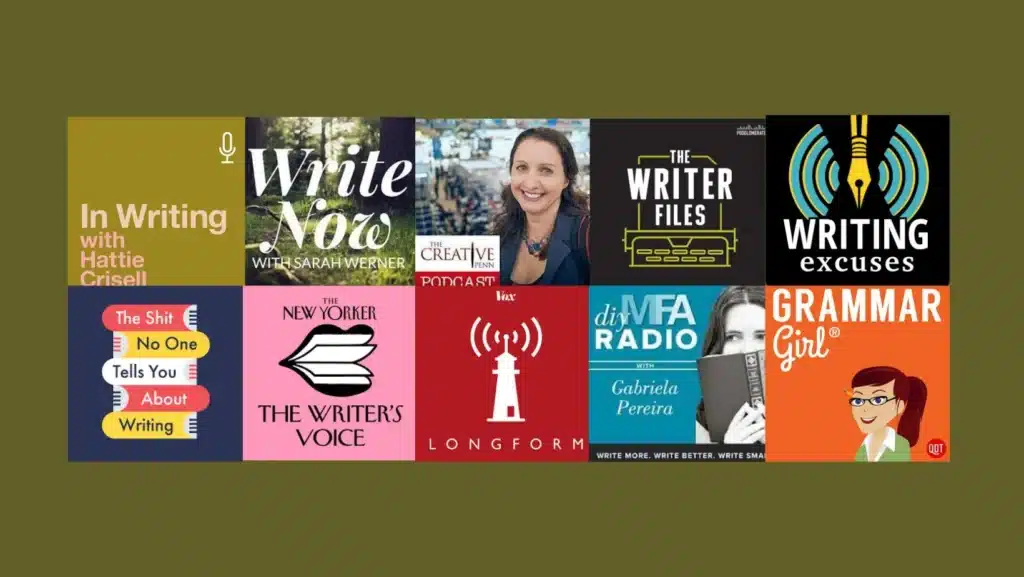 Writing Excuses
"Writing Excuses" is a dynamic and concise fifteen-minute podcast that caters to busy writers seeking valuable insights into creative writing. Now in its seventeenth season, the show's enduring popularity owes much to the energetic and knowledgeable presenters. With each host being a practicing writer, "Writing Excuses" covers a broad spectrum of writing interests and genres, making it a go-to resource for hundreds of writing topics. Whether you're intrigued by using food as a creative device or need tips on creating a character who's out of their depth, this podcast offers both traditional and contemporary perspectives on the craft. Notably, "Writing Excuses" explores vital aspects such as gender, writing "the other," and the use of sensitivity readers, keeping it in tune with emerging writing trends. The podcast's engaging live recorded episodes, featuring entertaining crosstalk among the hosts, combined with its frequent updates, make it an invaluable resource for writers on the go.
In the world of creative writing podcasts, "Writing Excuses" stands out as a quick and informative companion for aspiring and seasoned writers alike. Its punchy format respects your time while delivering rich content, and its experienced hosts cover a wide array of writing techniques and themes. Whether you're looking to enhance your storytelling skills or stay up-to-date with the latest trends in writing, "Writing Excuses" offers a blend of traditional wisdom and contemporary insights that will inspire and educate you in just fifteen minutes per episode.
The Writer Files
Delve into the minds of renowned authors and unlock the mysteries of their creative processes with "The Writer Files" podcast. Host Kelton Reid leads captivating conversations that revolve around keeping the ink flowing, the cursor moving, and defeating the dreaded writer's block. Each episode features insightful discussions with an array of literary luminaries, including Nobel Prize winner Abdulrazak Gurnah, #1 New York Times bestselling author Emily Henry, celebrated writer Walter Mosley, New York Times bestselling author Lisa Scottoline, #1 New York Times bestselling author Dennis Lehane, and bestselling author Matt Haig. With a roster of accomplished guest hosts, such as neuroscientist Michael Grybko, journalist Adam Skolnick, and short story writer Robert Bruce, this podcast brings together diverse voices from the literary world.
"The Writer Files" offers a mix of interviews that delve into the intricacies of writers' daily routines and in-depth explorations of the science underpinning creativity. It incorporates behavioral techniques to enhance its listeners' writing efficiency. While some may question the use of neuroscience to dissect the art of writing, this podcast fills a crucial gap in the discourse surrounding a writer's career. It dispels the romanticized notion of the solitary writer and acknowledges the challenges of modern workloads. For instance, the episode on "Busting the Myth of the Starving Artist" highlights the importance of writers leading healthy lives without sacrificing their art. "The Writer Files" is a reminder that creativity and well-being can coexist harmoniously, making it an indispensable resource for all aspiring and established writers
The Creative Penn Podcast For Writers
The Creative Penn Podcast for Writers" is a cornerstone in the world of indie writing and self-publishing. Hosted by Joanna Penn, a prolific author who has penned both nonfiction guidebooks and thrilling fiction under the name J.F. Penn, this podcast offers invaluable insights for writers venturing beyond traditional publishing. With a rich history in the podcasting realm, "The Creative Penn" remains a trusted resource for authors. It delivers a weekly dose of wisdom through interviews and solo segments, equipping you with the essential guidance required to navigate the dynamic landscape of self-publishing. While it does touch on writing craft and processes, this podcast shines by focusing on the business and marketing aspects of the writing world, making the often less-loved dimensions of full-time writing genuinely intriguing. Whether it's exploring the latest debates about NFTs in literature, publishing fiction on Substack, or authors harnessing Kickstarter to fund their books, "The Creative Penn Podcast" keeps you on the cutting edge of the industry, ensuring you never get stuck in a creative rut.
This podcast is a must-listen for writers seeking to thrive in the ever-evolving self-publishing arena. Joanna Penn's vast experience and insightful guests make it a goldmine of knowledge for both seasoned authors and those starting their writing journey. Stay tuned to "The Creative Penn Podcast" for the latest trends and strategies that will empower your writing career.
Write Now with Sarah Werner
"Write Now with Sarah Werner" is a must-listen podcast for aspiring writers seeking to strike a balance between work, life, and writing. Each week, Sarah Werner delivers a dose of encouragement, honest advice, and inspiration that's essential for anyone dedicated to pursuing their writing passion and crafting words daily. With recurring themes such as books, coffee, rainy days, truth, beauty, lasers, dinosaurs, and all your other beloved interests, this podcast offers a delightful blend of creativity and relatability. It's the perfect companion to keep your writing spirit alive while navigating the demands of daily life.
Whether you're a seasoned wordsmith or just starting your writing journey, "Write Now with Sarah Werner" provides the guidance and motivation you need to maintain a consistent writing practice. Tune in to discover a world where your favorite things and the art of storytelling come together to fuel your creative fire.
In Writing with Hattie Crisell
n the "Writing with Hattie Crisell" podcast, seasoned journalist Hattie Crisell takes you on a captivating journey into the writing studios of diverse literary talents. From novelists and screenwriters to poets and journalists, Crisell delves into their creative processes, revealing the why, how, and what of their writing endeavors. This podcast is a treasure trove of insights for writers and enthusiasts, providing a unique opportunity to gain a deeper understanding of the art and craft of writing. With each episode, you'll discover valuable lessons and inspiration to elevate your own writing skills and techniques, making it a must-listen for anyone seeking to enhance their storytelling prowess.
Don't miss out on the opportunity to learn from the best in the writing world. Join Hattie Crisell as she unravels the secrets behind the creative minds that shape our literary landscape. Whether you're an aspiring author or a dedicated reader, "Writing with Hattie Crisell" offers an invaluable perspective on the writing process, encouraging you to refine your craft and embark on your own creative journey. Tune in, and let these engaging conversations help you become a better writer.
Grammar Girl Quick and Dirty Tips for Better Writing
Grammar Girl Quick and Dirty Tips for Better Writing is a five-time award-winning podcast, consistently recognized as the Best Education Podcast by the Podcast Awards. Hosted by Grammar Girl, this podcast offers quick, approachable tips to elevate your writing abilities and foster your appreciation for the English language. Regardless of whether you are a native English speaker or learning it as a second language, Grammar Girl covers a spectrum of topics, including grammar, punctuation, writing style, and business writing, empowering you to become a more proficient and prosperous writer. As a proud member of the Quick and Dirty Tips podcast network, Grammar Girl is your ultimate resource for honing your written communication skills.
DIY MFA Radio
"DIY MFA Radio" is your ultimate destination to transform your writing from ordinary to exceptional. Gain valuable insights, tools, and techniques from renowned authors, masterful writing instructors, and insiders from the publishing industry. This podcast equips you with the skills to unleash your creative potential, allowing you to bring your stories to life on the page. Past episodes have featured esteemed guests such as Delia Ephron, John Sandford, Steve Berry, Jojo Moyes, and more.
In an evolving landscape where writer's block often pushes us to consider the traditional route of a Master of Fine Arts (MFA) program, "DIY MFA Radio" offers a refreshing alternative. Hosted by Gabriela Pereira, this popular show doesn't replace an MFA but provides a comprehensive toolkit for writers to diversify and strengthen their craft without the burden of steep tuition fees. Each episode explores a wide array of writing and publishing questions, bringing in insights from celebrated authors like Jojo Moyes, Brenda Jackson, and Steve Berry. From unraveling the intricacies of character development to shedding light on literary tropes and even delving into crafting unique genres like Amish Romance, "DIY MFA Radio" offers a seminar-like experience through the medium of soundwaves, all without incurring student debt. Dive into this podcast to fuel your writing journey and enhance your storytelling prowess.
Longform Podcast
Longform Podcast" is a valuable resource for writers and storytellers in the digital age, hosted by Aaron Lammer, Max Linsky, and Evan Ratliff. This podcast focuses on in-depth interviews with writers, journalists, filmmakers, and podcasters, offering a deep dive into their creative processes. In an era dominated by clickbait, "Longform" champions the slow burn of creative nonfiction, providing a platform for writers dedicated to longform writing. The recent surge in episodes featuring authors promoting their books and novels aligns with the resurgence in book sales, making it a timely and relevant aspect of the show. With a diverse array of guests and a broad industry scope, "Longform" effectively captures the evolving landscape of storytelling, shedding light on how previously marginalized voices have made their mark in the world of longform writing.
The Writer's Voice
*Experience the allure of The New Yorker's finest fiction without the need for a subscription or copious free time. The Writer's Voice is a captivating addition to The New Yorker's exceptional podcast repertoire, alongside shows dedicated to fiction, poetry, and The New Yorker Radio Hour. What sets The Writer's Voice apart is precisely what its name suggests: the authors themselves read their works, lending an unparalleled sense of intimacy to the narratives. While it may not be an indie production, the prestige of The New Yorker attracts some of today's most accomplished writers. If you're a contemporary writer eager to explore how 'our moment' is portrayed on the page, this podcast is your essential literary companion."
The Shit No One Tells You About Writing
"The Shit No One Tells You About Writing" is a podcast tailored for emerging writers seeking to enhance their writing skills and gain insights into the complex world of publishing. Hosted by Bianca Marais, a bestselling author renowned for 'The Witches of Moonshyne Manor,' this podcast features in-depth interviews with authors, agents, editors, and other key players in the book industry. Marais is joined by literary agents Carly Watters and CeCe Lyra from P.S. Literary Agency, who engage in the insightful "Books with Hooks" segment, critiquing query letters and opening pages. With a perfect blend of practical advice, candid insights, and a touch of humor, this podcast is a valuable resource for aspiring writers looking to navigate the challenging path to publication.
For emerging writers, the journey is often paved with rejection and obstacles before achieving success. "The Shit No One Tells You About Writing" addresses these hurdles and provides essential tools to help writers comprehend the sometimes enigmatic publishing world. Host Bianca Marais, an accomplished author herself, doesn't shy away from the realities of the publishing industry, offering authentic and practical guidance. What sets this podcast apart is the invaluable query letter critiques by co-hosts Carly Watters and CeCe Lyra, providing an extra layer of insight for writers seeking industry acceptance. If you're eager to understand the dynamics of the publishing world and explore the often unspoken truths about writing, this podcast is a must-listen for aspiring writers striving to find their place in the literary realm.
Conclusion
In the world of creative writing podcasts on Spotify, you'll find a diverse range of voices and perspectives to help you grow as a writer. Whether you're a seasoned author or just starting your writing journey, these top 10 podcasts are sure to ignite your creativity, provide valuable insights, and keep you motivated to write your masterpiece. So, tune in, take notes, and let these podcasts be your companions on your quest to become a better writer. Happy writing!
If you are interested in listening to a variety of podcasts, you may want to check out the best podcasts in various genres such as cricket, true crime, horror, sci-fi, motivational, spiritual, food, parenting, entrepreneurship, for kids, World War II, home automation, learning new languages, starting a podcast, history, finance, cryptocurrency, football, mental health, and wildlife
Frequently Asked Questions
What are creative writing podcasts?
Creative writing podcasts are audio programs that focus on various aspects of writing, including storytelling techniques, writing advice, author interviews, and tips for aspiring writers.
Why should I listen to creative writing podcasts on Spotify?
Spotify offers a wide selection of creative writing podcasts that are easily accessible. These podcasts provide valuable insights, inspiration, and tips for writers, making them a convenient resource for honing your craft.
How can I access these podcasts on Spotify?
To access these podcasts, you'll need to download the Spotify app on your mobile device or visit the Spotify website. Search for the podcast by name in the app's search bar and start listening.
Are these podcasts suitable for beginners, or are they more for experienced writers?
The podcasts listed in the article cater to a wide range of writers, from beginners to experienced authors. They offer advice and insights at various skill levels, so you can find something that suits your needs.
Are these podcasts free to listen to on Spotify?
Yes, many of these podcasts are available for free on Spotify. However, some may offer premium content or ad-free versions for a subscription fee. Most of the valuable content is accessible without a subscription.
Can I download these podcasts for offline listening?
Yes, Spotify offers an offline listening feature. You can download episodes of your favorite podcasts and listen to them without an internet connection.
Do these podcasts cover specific genres of creative writing?
Some of the podcasts may focus on specific genres like fantasy, science fiction, or non-fiction, but the majority cover general aspects of creative writing that can be applied to various genres.
Can I get writing tips and techniques from these podcasts?
Absolutely! These podcasts are a valuable source of writing tips, techniques, and insights from experienced authors, editors, and industry professionals.
Do these podcasts feature guest authors or industry experts?
Many of these podcasts host interviews with renowned authors, editors, and industry experts, offering unique perspectives and experiences in the world of creative writing.
How often are new episodes released on these podcasts?
The frequency of new episodes varies from podcast to podcast. Some may release weekly, bi-weekly, or monthly, so you can choose those that align with your preferences and schedule.
About Author
The Podcasting Research Team is a dynamic and passionate group of young researchers who are dedicated to exploring the world of podcasting. Whether you're a podcast creator, a marketer, or simply a curious listener, the work of The Podcasting Research Team can provide valuable insights into the trends and best practices in the podcasting world.