Are you a fan of animation? Whether you're an aspiring animator, a die-hard fan, or just someone who appreciates the art of animation, there's something uniquely fascinating about the world of animated storytelling. And what better way to explore this dynamic world than by tuning in to some of the best animation podcasts available on Spotify? In this article, we'll be your guide as we explore the top 10 animation podcasts that every animation enthusiast should listen to. So, grab your headphones and get ready to embark on an animated journey!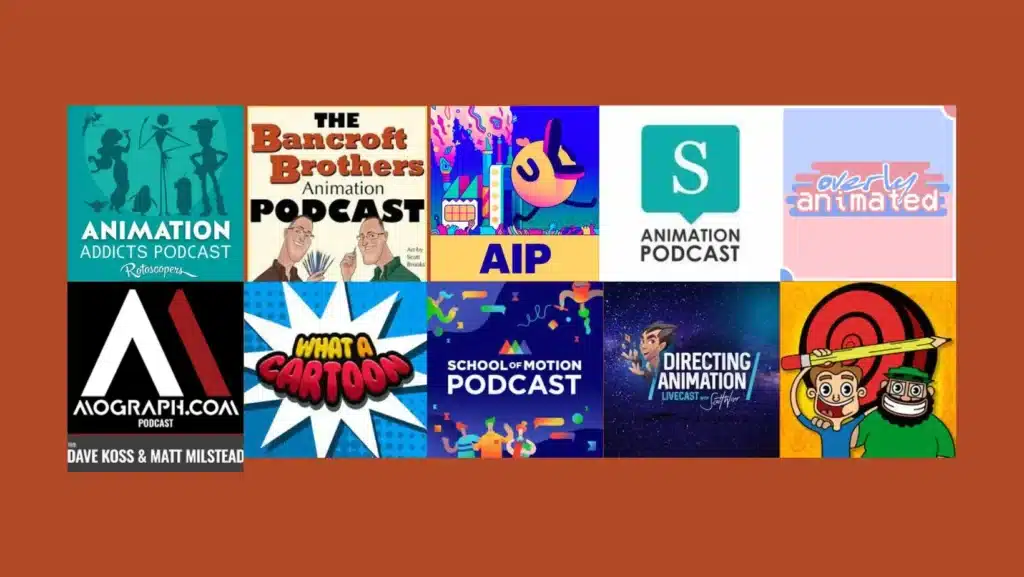 Animation Industry Podcast
Discover the "Animation Industry Podcast" led by Terry Ibele, a seasoned stop-motion animator. Uncover his personal anecdotes from the animation world, valuable career-building tips, and insightful interviews with industry stalwarts. If you relish 'shop talk' and the feeling of sharing a drink with animation insiders, this podcast is a must-listen. Immerse yourself in the animation industry's secrets and carve your path to success with this engaging show.
Animation Podcasts | Skwigly
Skwigly's Animation Podcasts offer a captivating journey into the world of animation. Hosted by Ben Mitchell, Steve Henderson, Laura-Beth Cowley, and an array of esteemed guests, these podcasts provide a unique blend of in-depth interviews with industry legends and light-hearted discussions about the animation universe. Explore various sub-categories such as Skwigly Film Club, Intimate Animation, Independent Animation, and the main Skwigly Animation Podcast. Delve into the rich tapestry of animation, from the wisdom of seasoned professionals to the vibrant conversations that fuel your passion for this art form. Tune in and embark on an animated adventure with Skwigly's Animation Podcasts today!
The Bancroft Brothers Animation Podcast
Discover the world of animation with the Bancroft Brothers Animation Podcast, where twin animators Tom and Tony Bancroft, former Disney animation legends, share their unique insights. Delve into their Disney Animation past, the ever-evolving animation industry, and the future of this captivating art form. With interviews featuring talented artists, inspirational discussions, and even a touch of wild speculation, this podcast promises personal growth and invaluable industry knowledge. Join Tom and Tony Bancroft on their mission to inspire the next generation of animators, using their extensive experience at one of the world's largest animation studios to guide you through the professional highs and lows of the animation world
The Animation Addicts podcast
The Animation Addicts Podcast – Your Ultimate Source for Animation Enthusiasm! Dive into the captivating world of animation with the Animation Addicts Podcast. Join hosts Morgan Stradling, Chelsea Robson, and Mason Smith as they deliver a delightful and insightful exploration of animated films from industry giants like Disney, Pixar, DreamWorks, and more. Whether you're a Disney aficionado or simply intrigued by the artistry behind beloved animated movies, this podcast is your ticket to engaging, in-depth discussions and reviews. Take a nostalgic trip down memory lane with beloved classics or stay up-to-date with the latest box office releases. Get exclusive insights with interviews featuring top animation professionals. Don't miss out on this animated adventure! Join our community at Rotoscopers.com, and follow us on Instagram, Twitter, and YouTube. The Animation Addicts podcast is your destination for staying informed about the latest developments from the animation world.
Overly Animated Podcast
Explore the animated realm with the "Overly Animated Podcast." Hosted by Dylan Hysen, this podcast delves deep into popular animated series such as Steven Universe, Rick and Morty, and Miraculous. Delivered with a serious commitment to the art of animation, you'll find in-depth discussions and entertaining insights that make this podcast a must-listen for animation enthusiasts.
RubberOnion Animation Podcast
RubberOnion Animation Podcasts, the brainchild of Brooklyn Animator Stephen Brooks, is your ultimate destination for insightful tutorials, engaging community forums, and thrilling live events. Dive into the captivating world of animation with this dynamic podcast, where Stephen Brooks and Rob Yulfo, seasoned animators, unravel the magic of the craft. Tune in for exclusive interviews with industry experts, step-by-step tutorials that demystify animation techniques, and lively discussions on the latest news-of-the-week reactions. Whether you're an aspiring animator or a seasoned professional, this podcast promises a wealth of knowledge and inspiration, making it a must-listen for animation enthusiasts worldwide. Join the conversation, enhance your skills, and stay updated with the latest trends – all in one place, the RubberOnion Animation Podcast.
Directing Animation Livecast
Step into the fascinating world of animation direction with "Directing Animation Livecast." Hosted by accomplished director and animator, Scott Wiser, this podcast provides in-depth conversations with top producers and directors in the Animation Industry. As Scott embarks on his journey to direct his first animated feature film, he shares a wealth of knowledge and insights on what it takes to be a successful animation director. From deep-dive discussions with leading animation producers to Scott's personal recounting of his directorial journey, this monthly podcast is an invaluable resource for anyone interested in animation direction. Don't miss out on this treasure trove of wisdom and expertise in the world of animation!
School of Motion Podcast
The School of Motion Podcast is a go-to resource for Motion Graphics (MoGraph) enthusiasts, offering valuable insights from industry professionals. This podcast delves deep into the geeky world of animation software like Adobe After Effects, Cinema 4D, Photoshop, and Illustrator, making it an essential listen for those looking to enhance their skills. It doesn't just stop at software tutorials; the podcast also explores the business and art of Motion Design, providing a holistic approach to the industry. Moreover, by featuring interviews with leading creatives, the School of Motion Podcast not only keeps you updated on key feature changes but also unlocks a treasure trove of insights, tips, and tricks for success in the world of animation.
The School of Motion Podcast is your gateway to a wealth of knowledge in the animation field, ensuring that both beginners and seasoned professionals can keep their skills sharp and stay ahead of the curve. Dive into this podcast to elevate your animation expertise and discover the secrets to thriving in this creative industry.
What A Cartoon! Podcast
Created by the same dynamic team behind the immensely popular Talking Simpsons podcast, 'What A Cartoon!' offers a delightful and educational experience. Each week, the hosts explore a different cartoon, examining everything from the art of animation to captivating storytelling and its impact on pop culture. With Henry and Bob's engaging and lighthearted approach, this podcast promises a fantastic weekly listen for animation lovers of all ages. Tune in and uncover the magic behind your favorite animated classics.
Mograph Podcast
Unleash your creative potential with the Mograph Podcast, brought to you by the trusted animation education platform, Mograph. Hosted by Dave Koss and Matt Milstead, this weekly podcast not only empowers you with the latest animation software updates but also equips you with essential tips for establishing your professional brand as an animator. Discover practical guides for managing clients and contracts, and navigate the intricacies of the animation industry with confidence. Join us as we explore what's new, what we're learning, and how you can elevate your animation game. Don't miss out on this valuable resource for animation enthusiasts and professionals alike.
Conclusion
Animation enthusiasts, rejoice! These top 10 animation podcasts on Spotify cover a wide spectrum of topics within the animation world, from the art and craft of animation to reviews, industry insights, and even labor issues. Whether you're a budding animator, a seasoned professional, or simply a fan of animated storytelling, these podcasts have something for everyone. So, dive in and start exploring the fascinating world of animation through your headphones. Happy listening!
If you are interested in listening to a variety of podcasts, you may want to check out the best podcasts in various genres such as cricket, true crime, horror, sci-fi, motivational, spiritual, food, parenting, entrepreneurship, for kids, World War II, home automation, learning new languages, starting a podcast, history, finance, cryptocurrency, football, mental health, and wildlife
FAQs
1. What is an animation podcast?
Animation podcasts are audio programs that focus on various aspects of animation, including discussions about animated films and series, interviews with animators, industry insights, and more. They provide a convenient and engaging way to learn about and stay updated on the world of animation.
2. Are these podcasts suitable for beginners in animation?
Yes, several podcasts on the list are suitable for beginners. "The Animation Network" and "The AFA Podcast," for instance, offer valuable insights and advice for those looking to start a career in animation.
3. Are these podcasts only for professional animators or animators-to-be?
No, these podcasts cater to a wide audience. While some podcasts provide industry-specific insights, others, like "Animation Addicts Podcast" and "Talking Simpsons," focus on general discussions about animated movies and shows that can be enjoyed by fans of animation.
4. Are these podcasts only about animation movies and series?
While many podcasts on the list do discuss animated movies and series, several others cover a broad spectrum of topics, such as animation techniques, career advice, labor issues, and more.
5. Can I access these podcasts for free on Spotify?
Yes, you can access these podcasts for free on Spotify. Spotify offers a wide range of podcasts across various genres, including animation, without any cost. You can simply search for the podcast's name within the Spotify app and start listening.
6. How often are new episodes released on these podcasts?
The release schedule varies from one podcast to another. Some podcasts have a weekly schedule, while others may release episodes less frequently. You can check the individual podcast descriptions or their respective Spotify pages for information on their release schedules.
7. Can I suggest topics or ask questions to the podcast hosts?
Many podcast hosts are open to listener engagement. They often encourage suggestions, questions, and feedback from their audience. You can usually find contact information or social media links for the hosts on the podcast's official webpage or social media profiles.
8. Do these podcasts provide a diverse range of animation topics and perspectives?
Yes, the selection of podcasts on this list is diverse, covering various animation-related topics and offering different perspectives. Whether you're interested in the art of animation, industry insights, or entertainment, you'll find something suitable.
9. How can I stay updated with the latest episodes of these podcasts?
You can stay updated by following these podcasts on Spotify. When you follow a podcast, new episodes will appear in your "Followed" section. You can also subscribe to their email newsletters or follow them on social media for updates.
10. Are there other animation podcasts on Spotify not mentioned in the article?
Yes, there are many more animation podcasts available on Spotify. The list in the article provides a starting point, but there are numerous other podcasts that cater to different animation interests. You can explore more by searching within the Spotify app or checking recommendations based on your preferences.
Remember that the availability and details of these podcasts may change over time, so it's always a good idea to visit their Spotify pages for the latest information and episodes.
About Author
The Podcasting Research Team is a dynamic and passionate group of young researchers who are dedicated to exploring the world of podcasting. Whether you're a podcast creator, a marketer, or simply a curious listener, the work of The Podcasting Research Team can provide valuable insights into the trends and best practices in the podcasting world.