Ahoy, podcast enthusiasts! If you're fascinated by the world of naval history, maritime adventures, and everything that makes the high seas so captivating, you're in the right place. We've scoured the depths of Spotify to bring you the ultimate list of the Top 10 Best Naval Podcasts. From riveting stories of naval battles to in-depth explorations of life aboard a navy vessel, these podcasts are your compass to the most captivating maritime content. So, hoist the anchor and let's dive into the world of naval podcasts.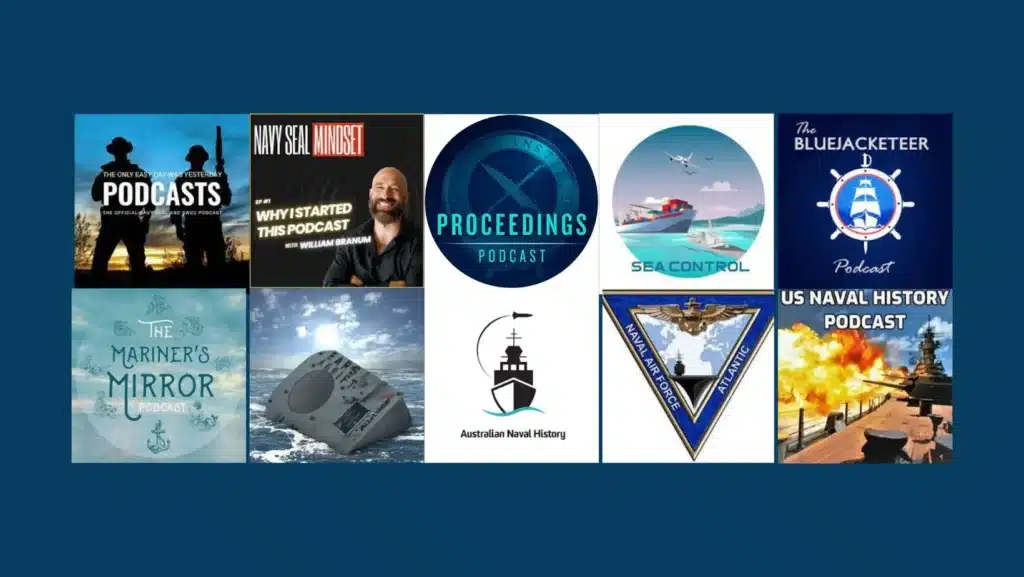 "Navy SEAL Mindset" is your ultimate resource for personal and professional growth, hosted by the experienced 26-year Navy SEAL veteran, William Branum. Drawing from his wealth of knowledge, Branum provides invaluable lessons learned on the battlefield and reveals how these principles can be applied to enhance your everyday life, excel in business, elevate your leadership skills, and cultivate a resilient mindset. With each episode, he imparts practical insights and actionable strategies that transform the way you tackle challenges, conquer obstacles, and achieve success.
This podcast covers a wide array of topics, from effective goal setting to strategic decision-making, teamwork and collaboration, self-discipline, and adapting to adversity. Branum shares captivating stories from his time in the field, shedding light on the principles and techniques that allowed him and his team to navigate high-pressure situations with precision and composure. Whether you aspire to be a better leader, excel in your profession, or simply seek personal growth, the "Navy SEAL Mindset" podcast empowers you to harness the unwavering determination, mental fortitude, and resilience exemplified by the Navy SEAL ethos. Tune in for a transformative journey towards unlocking your full potential and embracing the mindset of a true Navy SEAL, equipped with the tools to conquer your battles and seize opportunities in all aspects of life.
The Proceedings Podcast
"The Proceedings Podcast by The Naval Institute is your go-to source for in-depth discussions on all things related to sea power and global security. As a private, not-for-profit educational institution dedicated to advancing professional, literary, and scientific understanding of these critical issues, The Naval Institute brings you a weekly podcast hosted by Ward Carroll, the Director of Outreach, and Bill Hamblet, the Editor-in-Chief of Proceedings. Dive into the latest happenings in the Sea Services, stay updated with the most recent news from USNI News, explore compelling stories from Proceedings and Naval History magazines, and enjoy insightful interviews with Naval Institute authors. Don't miss out on the valuable insights shared on this podcast, where Deputy Editor Bill Bray occasionally joins the discussion."
Sea Control
Experience maritime excellence with 'Sea Control,' the flagship podcast by CIMSEC. Dive into the depths of maritime security, history, and all things naval with each captivating episode. Discover riveting discussions and expert insights that explore the world of seafaring, ensuring you stay well-informed on the latest maritime developments. Whether you're a naval enthusiast or a history buff, 'Sea Control' is your compass to navigate the vast ocean of knowledge in the realm of maritime affairs. Tune in to chart a course through compelling naval discussions and fascinating maritime stories
Bluejacketeer Navy Podcast" is a weekly podcast presented by the dedicated members of West Franklin FFA. This engaging show serves as a platform to champion and highlight the outstanding potential of our FFA members, emphasizing their journey towards premier leadership, personal development, and successful careers. Additionally, the podcast features insightful discussions with accomplished FFA Alumni members, community influencers, and agribusiness leaders, allowing them to recount their experiences within the FFA and the profound influence this organization has had on their lives. Dive into the world of FFA excellence and personal growth with the "Bluejacketeer Navy Podcast.
Dive deep into the heart of Naval Special Warfare with "The Official Navy Podcast." Offering exclusive insights from experts, insiders, and real SEAL and SWCC operators, this podcast is your gateway to understanding the extraordinary world of special warfare. Gain invaluable knowledge about special warfare training, fitness regimens, motivation techniques, mental toughness strategies, and the intricate application process straight from those who live the dream. "The Only Day Was Yesterday" is not merely the title of this podcast; it embodies the ethos of Naval Special Warfare. As the official U.S. government Navy SEAL and SWCC podcast, it provides an authentic glimpse into the challenges and triumphs faced by these elite forces. Join us on this exhilarating journey, where every episode uncovers the grit, determination, and unparalleled dedication that define the Naval Special Warfare community.
Explore the depths of naval history with the Naval History Podcast. Journey through remarkable moments in the United States' naval heritage, from the daring raids led by John Paul Jones in Scotland to the heroic feats of the Navy during World War II. This podcast is your portal to the captivating world of naval history, guiding you through the Cold War era and into the present day. Uncover the stories of courage, strategy, and innovation that have shaped the U.S. Navy's legacy, all while gaining valuable insights into the naval world's impact on the modern geopolitical landscape."
Dive into the heart of naval history and discover the incredible maritime adventures that have left an indelible mark on the world. Join us as we journey through time, exploring the bravery and achievements of the U.S. Navy and its heroes. Don't miss a single episode, and let the Naval History Podcast be your compass to the rich and storied history of American naval excellence.
Explore 'All Things Naval Aviation' with Rear Adm. John Meier, Commander of Naval Air Force Atlantic. This podcast provides a comprehensive look at the world of Naval Aviation, covering its historical milestones and future advancements. Operating from Norfolk, Virginia, the Type Command manages a significant presence, overseeing six nuclear-powered aircraft carriers, 54 aircraft squadrons, 1,200 aircraft, and a diverse community of 43,000 officers, enlisted personnel, and civilians along the East Coast of the United States. For valuable insights into the past, present, and future of Naval Aviation, don't miss a single episode of this engaging podcast. Stay connected for upcoming episodes that promise to delve even deeper into this exciting field.
Discover the rich maritime heritage of Australia with the Australian Naval History Podcast. Dive deep into the fascinating tales of Australia's naval past as historians and veterans explore various aspects of naval history each week. Whether it's gripping accounts of historic battles or in-depth examinations of submarine classes, this podcast offers expert analysis and thoughtful reflections on the incredible history of Australia's military at sea. Produced by the esteemed Naval Studies Group at UNSW Canberra, in collaboration with the Submarine Institute of Australia, the Australian Naval Institute, Naval Historical Society, and the Seapower Centre – Australia, this podcast is your gateway to a treasure trove of naval knowledge. Don't miss out on this captivating journey through time. The introductory music, 'Duke of York,' sets the perfect tone for your exploration and is used with the kind permission of the RAN Band.
Ears Adrift
Immerse yourself in inspiring sailor life stories, quirky U.S. Navy anecdotes, and the unique camaraderie of being a Shipmate, all within the captivating episodes of the 'Ears Adrift' podcast. This podcast offers a treasure trove of naval adventures, making it a must-listen for maritime enthusiasts. Discover the fascinating world of the U.S. Navy through engaging narratives that bring to life the experiences of those who serve. From naval history to the everyday life of sailors, 'Ears Adrift' delivers a delightful blend of storytelling and naval culture, making it a top choice for anyone seeking an authentic naval experience through their headphones.
The Mariner's Mirror Podcast
"The Mariner's Mirror Podcast" stands as the world's premier maritime and naval history podcast. With a unique blend of historical intrigue and contemporary maritime adventures, this podcast offers a captivating voyage through time. Hosted by Dr. Sam Willis, it presents an engaging array of current global maritime projects, including shipwreck excavations, the restoration of historical vessels, and the fascinating world of classic yachts and tall ships. With exclusive behind-the-scenes access to exhibitions, museums, and archives worldwide, listeners gain unprecedented insights into the maritime world. This podcast, presented in collaboration with the Society for Nautical Research and the Lloyd's Register Foundation, breathes life into the past through primary sources and accounts, making it a must-listen for history enthusiasts and maritime aficionados alike.
Conclusion
From naval history to modern maritime technology, there's a podcast here for everyone with a passion for the high seas. These Top 10 Best Naval Podcasts on Spotify promise to immerse you in the world of naval adventures, history, and culture. So, whether you're a navy enthusiast, history buff, or simply intrigued by the vast blue expanse, set sail with these remarkable podcasts. Fair winds and following seas, podcast aficionados!
If you are interested in listening to a variety of podcasts, you may want to check out the best podcasts in various genres such as cricket, true crime, horror, sci-fi, motivational, spiritual, food, parenting, entrepreneurship, for kids, World War II, home automation, learning new languages, starting a podcast, history, finance, cryptocurrency, football, mental health, and wildlife
FAQs
What is a naval podcast?

A naval podcast is an audio show that focuses on topics related to naval history, maritime culture, navy operations, and various aspects of life on the high seas. These podcasts cover a wide range of subjects within the naval and maritime sphere.

Are these podcasts only for naval enthusiasts?

While some of the podcasts are specifically tailored to naval enthusiasts and history buffs, others offer a broader appeal. There are options for those interested in naval technology, maritime mysteries, or even lighthearted naval comedy.

Where can I listen to these naval podcasts?

You can listen to these naval podcasts on Spotify, one of the most popular streaming platforms for podcasts. Simply search for the podcast titles mentioned in the article, and you'll find them there.

Are these podcasts free to listen to on Spotify?

Yes, most podcasts on Spotify are free to listen to, although some may offer premium content or ad-free listening for a fee. However, the majority of the content mentioned in the article is readily available to all Spotify users.

Are these podcasts regularly updated with new episodes?

Most of the podcasts mentioned have a consistent release schedule, with new episodes available on a weekly or bi-weekly basis. Check the individual podcast pages on Spotify for specific release information.

Do I need to have a Spotify subscription to listen to these podcasts?

While a free Spotify account allows you to access most of these podcasts, a premium subscription may offer features like offline listening and ad-free content. It's not a requirement, but it can enhance your podcast experience.

Can I suggest topics or naval stories for these podcasts to cover?

Most podcasts encourage listener engagement and may have channels, such as websites or social media, where you can suggest topics or share your own naval stories. Check the podcast's official platforms for more information on how to get involved.

Are there any podcasts that specifically focus on contemporary naval affairs and technology?

Yes, "The Maritime Podcast" and "Naval Technology: The Podcast" are excellent choices for those interested in contemporary naval matters, including technology advancements and modern naval operations.

Are there podcasts suitable for younger audiences who are interested in naval history?

While some of the podcasts mentioned may include content suitable for younger audiences, it's recommended that parents or guardians review the content to ensure it aligns with their children's age and interests.

What if I'm more interested in naval fashion and lifestyle?

If you're into the world of naval-themed fashion and lifestyle, "Something Navy Podcast" offers a unique perspective on this subject. While it's not a traditional naval podcast, it explores the culture and style associated with naval themes.
About Author
The Podcasting Research Team is a dynamic and passionate group of young researchers who are dedicated to exploring the world of podcasting. Whether you're a podcast creator, a marketer, or simply a curious listener, the work of The Podcasting Research Team can provide valuable insights into the trends and best practices in the podcasting world.