In a world where podcasts have become a powerful medium for sharing stories, experiences, and knowledge, there is a podcast for virtually every interest and niche. For those who are passionate about stuttering, whether as individuals who stutter or as supporters seeking to understand the challenges faced by their loved ones, there are some remarkable podcasts available on Spotify. These podcasts offer valuable insights, personal stories, and expert advice, making them essential listening for anyone interested in the world of stuttering. In this article, we will explore the top 10 stuttering podcasts on Spotify that cater to stuttering podcast addicts and anyone looking to gain a deeper understanding of this communication disorder.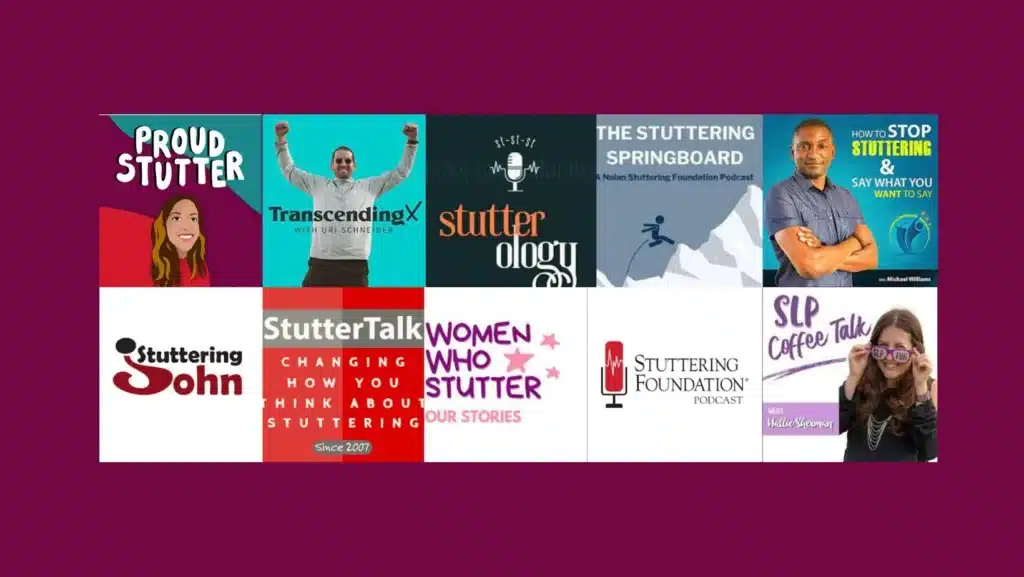 Stutterology Podcast
Discover the "Stutterology" podcast, where a person who stutters (PWS) takes the lead in unraveling the journey of stuttering. In a world where speech therapy doesn't always provide all the answers, "Stutterology" invites you to embark on a transformative exploration. Together, we'll dispel misconceptions, embrace the true essence of stuttering, and empower those who stutter. Whether you're a parent, caregiver, speech-language pathologist (SLP), ally, or a PWS yourself, "Stutterology" offers a supportive community to foster acceptance and understanding. Join us on this enlightening path to empower individuals who stutter and celebrate their unique voices. Unlock the world of "Stutterology" today.
Proud Stutter
Are you ready to change how we perceive stuttering? Tune in to Proud Stutter, an Ambie Award-nominated podcast hosted by Maya Chupkov, a dedicated stuttering advocate. Join her in reshaping the narrative around stuttering and disability through insightful conversations. As a fellow stutterer, Maya's mission is to shift societal norms, and she brings this passion to every episode. Based in San Francisco with her fiancé and beloved dog, Maya invites you to engage with these transformative discussions, where we challenge stereotypes and redefine our understanding of stuttering, all one conversation at a time.
Here's How to Stop Stuttering and Say What You Want
Unlock your full speech potential with Michael Williams, a renowned Speech Coach Specialist with over two decades of experience. In this transformative podcast, Michael offers a scientifically-based system to help you overcome stuttering and speak with confidence. Whether you've stuttered for years or are grappling with public speaking fears, this podcast is your gateway to clear, calm, and confident communication.
Michael's empathetic journey from a 25-year stutterer to a leading Speech Coach Specialist uniquely equips him to guide you on your path to fluency. He understands the isolation, frustration, and anxiety that often accompany speech difficulties. With a clientele of professionals from around the globe, including doctors, lawyers, engineers, and scientists, Michael's expertise is sought after by experts themselves.
Join the ranks of those who have transformed their speech under Michael's guidance. While this podcast offers inspiration, encouragement, and valuable strategies, it's important to note that it complements Michael's complete system rather than serving as a substitute. Take the first step toward confident, articulate speech and explore the world of fluent communication with Michael Williams.
The Stuttering Springboard
Discover "The Stuttering Springboard," a dedicated podcast designed to empower and support young individuals on their journey to becoming the best versions of themselves. This podcast serves as a guiding light, offering valuable insights and strategies for young people who stutter as they springboard to the next level of personal growth and communication excellence. Hosted by experts in the field, each episode explores various facets of stuttering, providing practical advice, inspiring success stories, and tools to boost self-confidence. With a focus on fostering resilience and embracing one's unique voice, "The Stuttering Springboard" is your go-to resource for achieving personal and communicative success.
Explore topics like effective speech therapy techniques, building self-esteem, and navigating social interactions with confidence. Join us on this empowering journey as we help young people who stutter unlock their full potential and thrive in every aspect of their lives. Subscribe to "The Stuttering Springboard Podcast" on Spotify today and springboard towards a brighter, more confident future.
Transcending Stuttering with Uri Schneider
Transcending Stuttering with Uri Schneider" is an inspirational podcast that delves deep into the journey of overcoming adversity. Hosted by Uri Schneider, this podcast explores the lives and lessons of real-life heroes who have faced the challenges of stuttering and triumphed over them. Through a blend of meticulous research, clinical expertise, and personal experiences, Uri, along with a global community of peers and mentors, unravels new paths to transcend stuttering and unlock one's fullest potential. Tune in to discover powerful stories and valuable insights that go beyond stuttering, guiding you on your own journey to becoming the best version of yourself.
Stuttering Foundation Podcast
The "Stuttering Foundation Podcast" is a valuable resource for individuals who stutter, their families, and professionals in the field. Hosted by the Stuttering Foundation, a trusted organization dedicated to providing resources and support, this podcast covers a wide range of topics related to stuttering. Whether you're seeking clinical insights, parent education, or inspiring personal stories, this podcast has you covered. With a focus on clinical skills development, support, and awareness, the "Stuttering Foundation Podcast" is your go-to source for up-to-date information on stuttering. Join the conversation and stay informed about this important communication disorder through their informative discussions, workshops, and personal stories.
The Stuttering John Podcast
The Stuttering John Podcast" is your go-to destination for a unique blend of comedy and political commentary. Hosted by Stuttering John Melendez, famous for his appearances on "The Howard Stern Show" and "The Tonight Show with Jay Leno," this podcast offers a refreshing take on current political events. John Melendez, known for his prank call to Donald Trump, has transformed into a Democratic Political Pundit with a mission: to hold accountable the party he labels as the "GQP" – the Grand QAnon Party. Join John as he fearlessly takes on corruption, fascism, and misinformation while injecting humor into the discourse. Stay informed, entertained, and engaged with "The Stuttering John Podcast.
My Stuttering Life
Discover "My Stuttering Life," a podcast that offers a candid glimpse into the daily challenges and triumphs of a person who stutters. With a mission to navigate life with 80% fluency, this podcast embraces the power of positivity as the ultimate tool for overcoming stuttering-related obstacles. As a husband, father, USAF Gulf War Veteran, and entrepreneur, the host employs a versatile set of skills to achieve success in all aspects of life. Through this podcast, he aims to share his journey, inspiring others to embrace their stutter, build confidence, stay determined, and lead a life filled with optimism. If you're a person who stutters (PWS), "My Stuttering Life" reassures you that you are not alone on this empowering journey of self-discovery and resilience.
SLP Coffee Talk
"SLP Coffee Talk" is a must-listen podcast designed to motivate and inspire school-based Speech-Language Pathologists (SLPs). If you're an SLP looking for practical tips, strategies, and low-prep therapy ideas to boost your confidence and simplify your planning, this podcast is your go-to resource. Tune in to gain valuable insights and stories from an experienced SLP who understands the challenges and demands of the school-based therapy environment. Whether you're a seasoned professional or just starting your SLP journey, "SLP Coffee Talk" offers a rich source of expertise and inspiration to enhance your practice and make a meaningful impact on the lives of your students.
In this podcast, you'll discover a treasure trove of knowledge and real-world experiences that will help you excel in your role as a school-based SLP. With each episode, you'll gain the tools and motivation needed to step into your therapy room with renewed confidence and plan your sessions with ease. "SLP Coffee Talk" is your companion on the journey to becoming a more effective and empowered SLP, making a positive difference in the lives of the students you serve.
The "Women Who Stutter Podcast," hosted by Pamela Mertz, offers a compelling platform for women who stutter to share their unique stories and experiences, providing valuable insights into living with stuttering. This podcast delves into the complex emotions surrounding stuttering, from the fears and challenges to the ultimate triumphs. As each guest candidly shares their journey, listeners gain a deeper understanding of the stuttering community's strength, resilience, and unwavering support for one another. Join host Pamela Mertz and her inspiring guests as they break down barriers and inspire confidence, making "Women Who Stutter Podcast" an essential resource for those seeking empowerment and connection within the stuttering community.
StutterTalk is a pioneering non-profit organization passionately committed to fostering open and honest conversations about stuttering. As the first and longest-running podcast dedicated to stuttering, StutterTalk has been a beacon of support and knowledge since its inception in 2007. With an extensive library of over 700 insightful podcasts, their reach extends across 180 countries. Whether you're an individual navigating the complexities of stuttering, a concerned family member, or a professional in the field, StutterTalk offers a treasure trove of valuable content that continues to make a meaningful impact in the global stuttering community.
Incorporating their wealth of experience and expertise, StutterTalk's podcasts delve into various facets of stuttering, featuring interviews with experts, individuals who stutter, and speech-language pathologists. By embracing a global audience and encouraging dialogue, StutterTalk has become a trusted platform where people from diverse backgrounds can find inspiration, guidance, and camaraderie on their stuttering journeys. Explore their extensive podcast collection to gain a deeper understanding of stuttering and join a supportive community that spans the globe.
Conclusion
These top 10 stuttering podcasts on Spotify offer a diverse range of perspectives, insights, and resources for those interested in the world of stuttering. Whether you're a person who stutters, a speech-language pathologist, a friend, or family member of someone who stutters, these podcasts provide a wealth of information and support. So, tune in, learn, and connect with the stuttering community through these incredible podcasts.
If you are interested in listening to a variety of podcasts, you may want to check out the best podcasts in various genres such as cricket, true crime, horror, sci-fi, motivational, spiritual, food, parenting, entrepreneurship, for kids, World War II, home automation, learning new languages, starting a podcast, history, finance, cryptocurrency, football, mental health, and wildlife
FAQs
Q1: What are stuttering podcasts?
A1: Stuttering podcasts are audio programs that focus on topics related to stuttering, including personal experiences, therapy, advocacy, and more. They provide a platform for individuals who stutter, speech-language pathologists, and experts to share their insights and stories.
Q2: How can I listen to these stuttering podcasts?
A2: You can listen to these podcasts on popular podcast platforms like Spotify, Apple Podcasts and many others. Simply search for the podcast title on your preferred platform and start streaming or downloading episodes.
Q3: Are these podcasts only for people who stutter?
A3: No, these podcasts are for everyone interested in stuttering, including individuals who stutter, speech-language pathologists, family members, friends, and anyone seeking to learn more about stuttering and its various aspects.
Q4: What can I expect to find in these podcasts?
A4: These podcasts cover a wide range of topics related to stuttering, such as personal stories, therapy approaches, advocacy efforts, humor, self-acceptance, and expert advice. Each podcast has its unique style and focus, offering a variety of perspectives and insights.
Q5: Are these podcasts informative for speech-language pathologists and therapists?
A5: Absolutely. Several of these podcasts feature interviews with speech-language pathologists and experts in the field. They provide valuable information on therapy techniques, research, and best practices for professionals working with individuals who stutter.
Q6: How can I get involved in the stuttering community through these podcasts?
A6: You can get involved by listening to the episodes, participating in discussions, reaching out to hosts or guests, and sharing your own experiences if you're comfortable. Many of these podcasts have associated online communities or social media groups where you can connect with like-minded individuals.
Q7: Are these podcasts suitable for children and teenagers who stutter?
A7: Some of these podcasts may be appropriate for older children and teenagers who stutter, depending on the content and language used. Parents and guardians should preview episodes to determine suitability for younger audiences.
Q8: Can I recommend these podcasts to someone who stutters or their family members?
A8: Absolutely! These podcasts can be a valuable resource for individuals who stutter and their loved ones. They offer insights, support, and a sense of community that can be beneficial for anyone touched by stuttering.
Q9: Do I need to pay to access these podcasts?
A9: Most of these podcasts are available for free on popular podcast platforms. You can listen to episodes without any subscription or payment, making them accessible to a wide audience.
Q10: Where can I find more information about each podcast mentioned in the article?
A10: You can usually find more information about each podcast, including episode lists, host details, and contact information, on their respective podcast platform pages, official websites, or associated social media accounts.
About Author
The Podcasting Research Team is a dynamic and passionate group of young researchers who are dedicated to exploring the world of podcasting. Whether you're a podcast creator, a marketer, or simply a curious listener, the work of The Podcasting Research Team can provide valuable insights into the trends and best practices in the podcasting world.