Are you a cinephile, a Hollywood enthusiast, or someone who just can't get enough of the glitz and glamour of Tinseltown? If so, you're in for a treat because we've scoured the podcasting universe to bring you the crème de la crème of Hollywood Reporter podcasts available on Spotify. From exclusive industry insights to celebrity interviews and breaking entertainment news, these podcasts have it all. Get ready to immerse yourself in the world of Hollywood like never before. Let's dive into the top 10 Hollywood Reporter podcasts you don't want to miss.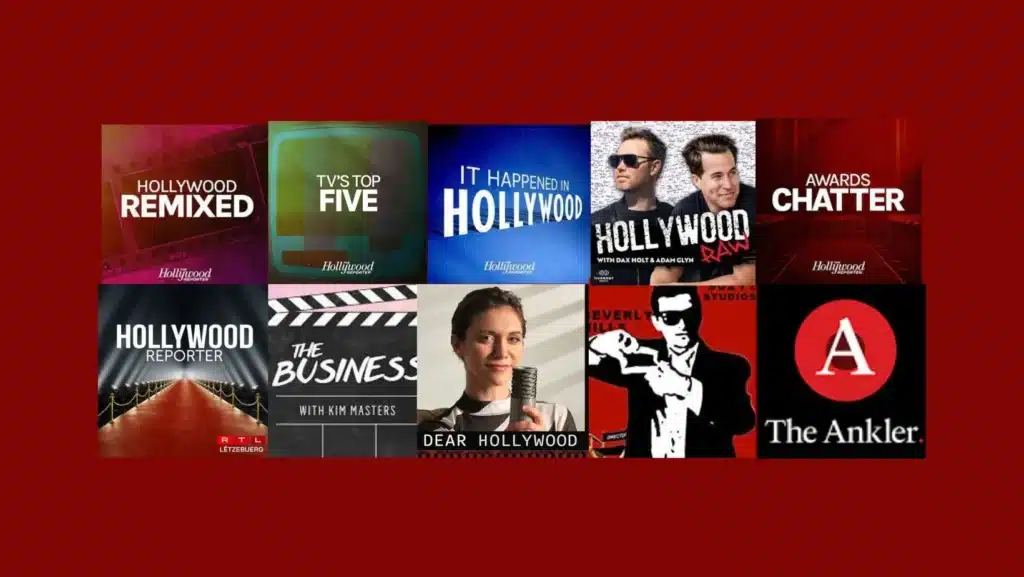 TV's Top 5
Dive deep into the heart of the television industry with "TV's Top 5," a dynamic podcast featuring The Hollywood Reporter's West Coast TV Editor, Lesley Goldberg, and Chief TV Critic, Daniel Fienberg. In each engaging episode, the duo expertly dissects the latest industry headlines, providing listeners with a comprehensive analysis of the ever-evolving TV landscape. The podcast is thoughtfully structured into five segments, offering listeners an insightful breakdown of current and upcoming shows, coupled with a critical examination of the most recent TV news.
What sets "TV's Top 5" apart is its commitment to delivering exclusive content. Each weekly episode includes a captivating, in-depth interview with either a seasoned showrunner, offering a glimpse into the industry's powerhouse minds, or an emerging new voice, promising fresh perspectives on the horizon of television. Hosted by the knowledgeable and passionate duo, Lesley Goldberg and Daniel Fienberg, this podcast promises a front-row seat to the latest TV trends and insider insights. Stay ahead of the curve by subscribing today, and don't miss out on the future episodes that are bound to shape the future of television.
Awards Chatter
"Awards Chatter" is your exclusive ticket to captivating and in-depth interviews with some of the most fascinating and accomplished individuals in the world of show business. Hosted by the renowned Scott Feinberg, this podcast provides an insider's perspective on the entertainment industry. Dive into engaging conversations that reveal the untold stories, career journeys, and insights of Hollywood's brightest stars, filmmakers, and industry trailblazers. Whether you're a film buff, a TV enthusiast, or simply curious about the entertainment world, "Awards Chatter" delivers riveting discussions that will keep you coming back for more. Subscribe now to stay connected with the movers and shakers of showbiz.
It Happened In Hollywood
Welcome to "It Happened In Hollywood," the podcast where Senior Writer at The Hollywood Reporter, Seth Abramovitch, invites listeners on an enchanting journey behind the scenes of Hollywood's most unforgettable pop culture moments. In this captivating series, Seth delves into the historical events and fascinating anecdotes that have shaped the entertainment industry, providing a rare insider's perspective. What sets this podcast apart is its exclusive lineup of special guests – individuals who were not just witnesses but active participants in these iconic moments. In a town where the past often paves the way for the future, Seth Abramovitch gives you a front-row seat to Hollywood's golden age, allowing you to relive the magic of yesteryears. Join us for an immersive experience, exploring the glamour, intrigue, and allure of the entertainment world, one compelling story at a time.
Don't miss out on this opportunity to discover the secrets, scandals, and triumphs that have defined Hollywood. Subscribe now to "It Happened In Hollywood" and let Seth Abramovitch guide you through a captivating narrative filled with exclusive insights, ensuring you're always in the know about the industry's most intriguing tales. Stay tuned for a treasure trove of stories that will transport you to the heart of Hollywood's history, where the past comes to life in the most vivid and engaging way possible.
Hollywood Remixed
"Hollywood Remixed" is an illuminating podcast presented by The Hollywood Reporter, spearheaded by the talented host Rebecca Sun. This diversity-centric podcast takes a deep dive into essential themes within the world of entertainment, focusing on characters and stories that have historically lacked proper representation or have been inaccurately portrayed in pop culture. In each engaging episode, "Hollywood Remixed" features an expert co-host who provides valuable insights, along with a noteworthy special guest whose recent work serves as a beacon of progress in representation. The podcast not only revisits iconic classics but also introduces listeners to hidden cinematic gems, offering a profound exploration of how past films and television series have influenced the evolution of diversity and representation in contemporary media.
Rebecca Sun, the captivating host, guides listeners through this enriching journey, while the podcast is skillfully produced by Matthew Whitehurst. As "Hollywood Remixed" tackles vital subjects, it serves as a vital resource for those interested in understanding the impact of film and television on societal progress and cultural diversity, making it a must-listen for both industry insiders and entertainment enthusiasts alike.
RTL – Hollywood Reporter
"Discover 'RTL – Hollywood Reporter-D'Aktualitéit aus der Dramwelt,' your gateway to the latest updates from the world of entertainment. Presented by Pit Biwer, in Los Angeles, this podcast brings you insightful commentary and news on the drama-filled Hollywood scene. Stay in the loop with exclusive insights, celebrity interviews, and industry trends as we delve into the heart of the entertainment capital. Join us as we explore the glitz, glamour, and behind-the-scenes action that make the entertainment world so captivating. Subscribe now to stay informed and entertained with the latest happenings straight from Los Angeles."
The Business
"The Business" is a dynamic weekly podcast that brings you into the heart of the entertainment industry. Hosted by renowned journalist Kim Masters, whose expertise shines through as a reporter for The Hollywood Reporter, this show delivers a lively discussion of the latest in entertainment industry news. Beyond the headlines, "The Business" provides a behind-the-scenes peek into the world of Hollywood, featuring in-depth interviews with industry giants, including directors, producers, writers, and actors. Each episode is a fascinating exploration of the creative minds shaping the entertainment landscape. Produced by KCRW, this podcast ensures you're always in the know about what's happening in Tinseltown. Notable past guests have included legendary figures like Norman Lear, visionary director Ava DuVernay, Hollywood icon Matt Damon, and the multi-talented Ice Cube.
Dear Hollywood
Child stardom, a captivating yet troubling facet of Hollywood, conceals a shadowy underbelly. Rising young talents often find themselves entangled in tales of addiction, financial ruin, and despair. What fuels this perilous journey from toddler stardom to trainwreck? Why does it persist, and what's your connection to it?
Join host Alyson Stoner on a revelatory journey as she shares intimate firsthand accounts, supplemented by expert insights and actionable plans to reshape the entertainment industry. This podcast seeks to shed light on the dark corners of child stardom, offering inspiration for your own life path and healing process. Don't miss out on new episodes every Friday as we expose the hidden truths of Hollywood. It's time for change.
The Ankler Podcast
Discover the latest insights into Hollywood's ever-evolving business landscape with "The Ankler Podcast." Join the Ankler team and industry insiders as they dissect the hottest business headlines, power struggles, and emerging trends that are molding the future of the entertainment industry. Stay ahead of the curve by tuning in to this authoritative podcast that provides invaluable insider knowledge and expert analysis of Hollywood's inner workings."
90211 Studios
90211 Studios is a hub of creativity and talent located at 8592 Wilshire Blvd, Beverly Hills 90211. This dynamic studio brings together a group of highly skilled artists who collaborate to produce compelling podcasts and television series. Their collective expertise and dedication result in content that not only captivates but also entertains audiences across various mediums.
One of their standout podcasts is #FILTERED90211. This show provides a friendly, filtered perspective on the lives and challenges of aspiring artists as they navigate the fiercely competitive landscape of Hollywood. With an inside look at the trials and triumphs of emerging talent, #FILTERED90211 offers valuable insights and engaging storytelling that keeps listeners hooked. Join this journey into the heart of Hollywood's creative scene and experience the raw, unfiltered truth of the entertainment industry through the voices of those who are striving to make their mark.
Hollywood RAW Podcast
Hollywood RAW Podcast, your portal to the uncharted depths of the entertainment industry. Brace yourself for an unfiltered journey through Hollywood, unlike anything you've experienced before. This podcast is your backstage pass to the real, raw, and uncensored world of celebrities. Join our hosts, entertainment news veteran Dax Holt and NYC photojournalist Adam Glyn, as they peel back the curtain and provide an unvarnished look at the lives of A-listers under the relentless gaze of the public eye.
In each episode, you'll not only hear from the stars themselves but also gain exclusive insights from the paparazzi, bodyguards, and private flight attendants who orbit the glittering world of fame. Discover what your favorite celebrities are truly like when the cameras stop rolling. Get ready to delve into the heart of Hollywood, where authenticity reigns supreme, only on the Hollywood RAW Podcast. Subscribe now and join us in uncovering the untold stories and candid moments that define the entertainment capital of the world.
Conclusion
These top 10 Hollywood Reporter podcasts on Spotify offer a treasure trove of entertainment knowledge, insider insights, and exclusive interviews. Whether you're an industry insider or simply an avid fan of Hollywood, these podcasts will keep you informed, entertained, and engaged. So, grab your headphones, subscribe to your favorites, and let the Hollywood magic unfold in your ears. Hollywood Reporter podcasts are your backstage pass to the glitz, glamour, and grit of the entertainment capital of the world.
If you are interested in listening to a variety of podcasts, you may want to check out the best podcasts in various genres such as cricket, true crime, horror, sci-fi, motivational, spiritual, food, parenting, entrepreneurship, for kids, World War II, home automation, learning new languages, starting a podcast, history, finance, cryptocurrency, football, mental health, and wildlife
FAQs
Q1: What is the Hollywood Reporter Podcast?
A1: The Hollywood Reporter Podcast is the official podcast of The Hollywood Reporter, covering various aspects of the entertainment industry, including film, television, and celebrity interviews. It provides exclusive insights and interviews with Hollywood's biggest stars and creators.
Q2: How can I listen to these podcasts?
A2: All the Hollywood Reporter podcasts mentioned in the article are available on Spotify, one of the leading podcast platforms. You can listen to them for free by downloading the Spotify app on your smartphone or accessing the Spotify website on your computer.
Q3: Are these podcasts suitable for industry professionals and fans alike?
A3: Absolutely! Whether you're a film industry professional seeking in-depth insights or a fan looking for entertaining content, these podcasts cater to both audiences. They offer a mix of industry knowledge, behind-the-scenes stories, and engaging discussions suitable for everyone.
Q4: Are these podcasts regularly updated with new episodes?
A4: Yes, most of the Hollywood Reporter podcasts featured in the article regularly release new episodes. Subscribing to these podcasts on Spotify ensures you stay up-to-date with the latest industry trends, interviews, and entertainment news.
Q5: Can I access these podcasts for free?
A5: Yes, you can access all the podcasts listed in the article for free on Spotify. While Spotify does offer a premium subscription with additional features, listening to these podcasts does not require a subscription. You can enjoy the content without any cost.
Q6: Can I download episodes to listen offline?
A6: Yes, Spotify allows users to download episodes for offline listening. This feature is available to both free and premium users. You can download your favorite episodes while connected to the internet and listen to them without an internet connection later.
Q7: Are there any specific episodes recommended for beginners?
A7: While all episodes offer valuable content, beginners might enjoy starting with introductory or flagship episodes of each podcast. These episodes often provide an overview of the podcast's themes and cover essential topics that serve as a great starting point for new listeners.
Q8: How often are new episodes released?
A8: The release frequency varies for each podcast. However, most podcasts aim for a regular release schedule, which can range from weekly to monthly. You can stay updated by subscribing to the podcasts on Spotify, ensuring you don't miss any new episodes.
Q9: Can I share my favorite episodes with friends on social media?
A9: Yes, Spotify allows users to share episodes or entire podcasts with friends on various social media platforms. You can easily share the content you love with your social circle, spreading the joy of Hollywood Reporter podcasts.
Q10: Where can I find more information about each podcast and its hosts?
A10: Additional information about each podcast, including host details and episode summaries, can be found on Spotify's platform. You can explore the podcast's profile on Spotify to learn more about the hosts, their backgrounds, and the topics they cover in their episodes.
About Author
The Podcasting Research Team is a dynamic and passionate group of young researchers who are dedicated to exploring the world of podcasting. Whether you're a podcast creator, a marketer, or simply a curious listener, the work of The Podcasting Research Team can provide valuable insights into the trends and best practices in the podcasting world.