In our ever-evolving world, addressing climate change and embracing sustainable practices has become more crucial than ever. Podcasts have emerged as a powerful platform to educate, inspire, and engage individuals in conversations about environmental conservation. If you're passionate about sustainability and looking for the best sources of information, you're in luck! We've curated a list of the top 10 carbon podcasts available on Spotify that will help you navigate the complex landscape of climate change, carbon reduction, and the future of our planet.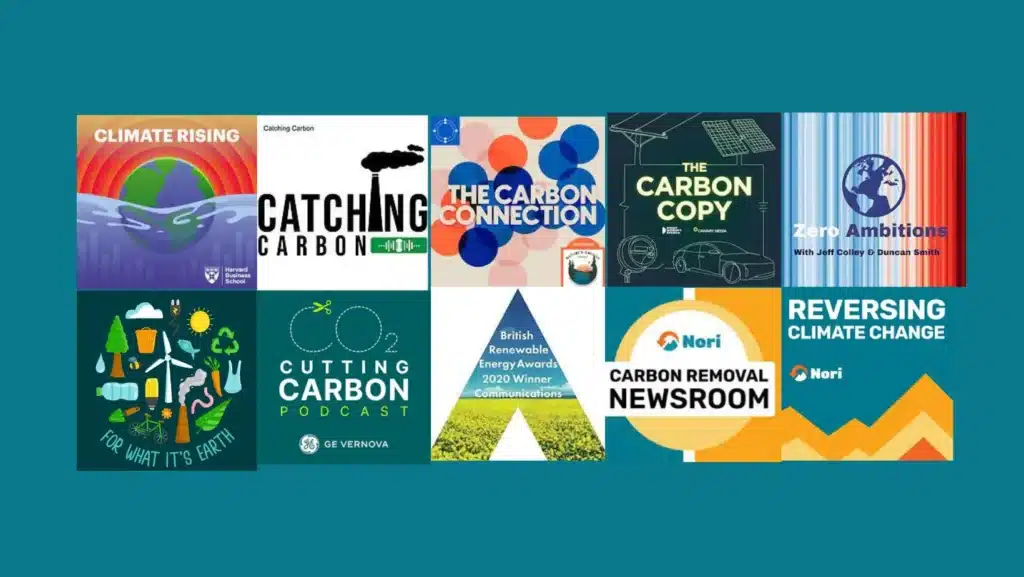 The Carbon Copy
The Carbon Copy is a dynamic narrative news show that offers in-depth insights into the transformative trends reshaping our carbon-based economy. Join host Stephen Lacey every week as he delves into the latest business and technology developments, shedding light on the ascent of clean energy, the ongoing battle against fossil fuels, and the dramatic metamorphosis of our energy system. This podcast is a collaborative production by Post Script Media and Canary Media, making it your go-to source for staying informed about the ever-evolving landscape of sustainable energy solutions and carbon reduction strategies
Reversing Climate Change
Reversing Climate Change is a compelling podcast that explores the collaborative efforts of various individuals, groundbreaking technologies, and forward-thinking organizations dedicated to the critical mission of removing carbon dioxide from our atmosphere and ultimately reversing the effects of climate change. Hosted by experts in the field, this podcast delves into the most innovative strategies and solutions to combat the climate crisis. Whether you're passionate about environmental sustainability or looking to stay informed about the latest advancements in carbon reduction, "Reversing Climate Change" provides valuable insights, actionable ideas, and thought-provoking discussions. Tune in to join the conversation and discover how we can collectively make a positive impact on our planet's future.
For those seeking a deeper understanding of climate change mitigation, "Reversing Climate Change" offers a treasure trove of knowledge. From exploring cutting-edge carbon capture technologies to shedding light on the inspiring work of eco-conscious organizations, this podcast is a must-listen for anyone committed to addressing one of the most pressing challenges of our time. Stay informed, inspired, and empowered to take meaningful steps towards a sustainable, carbon-neutral future by subscribing to "Reversing Climate Change" on your favorite podcast platform today
Catching Carbon
Are you concerned about the future of Carbon Dioxide and its implications? Look no further than 'Catching Carbon-Changing the way you think about CO2.' This podcast offers an in-depth exploration of the security of CO2 supply, allocation strategies, Force Majeure considerations, cutting-edge carbon capture techniques, industry insights, and more. Stay informed about the latest developments and gain valuable insights into the world of CO2 by subscribing to this podcast. Join the conversation and become part of the community that is reshaping the way we view and use Carbon Dioxide.
Climate Rising
Dive into the pressing issue of climate change and its influence on the business world with 'Climate Rising.' This insightful podcast brings together influential voices from the realms of business, policy, and Harvard Business School faculty to discuss the profound impact of climate change on various business aspects. From strategic decisions on location and technology to product development, marketing, and customer engagement, 'Climate Rising' explores the wide spectrum of challenges and opportunities that managers face. Join industry leaders as they share invaluable insights, shedding light on what businesses are currently doing and what steps they can take to confront climate change effectively. Stay informed and inspired by tuning in to 'Climate Rising' and discover the strategies that businesses should adopt to navigate the climate change landscape successfully.
For What It's Earth
"For What It's Earth" is your go-to podcast for concise, insightful discussions on pressing environmental, climate change, and sustainability issues. Hosted by the knowledgeable duo, Emma Brisdion and Lloyd Hopkins, this podcast brilliantly breaks down complex scientific concepts into digestible, bite-sized pieces. With a commitment to making a positive impact, the show explores practical actions we can take to foster a greener planet. Tune in for illuminating conversations that empower you to be part of the solution in the fight against climate change,
Emma Brisdion and Lloyd Hopkins, the dynamic hosts of "For What It's Earth," are on a mission to demystify environmental challenges and inspire change. Dive into their informative discussions that bridge the gap between science and action. Discover how you can play a meaningful role in safeguarding our planet's future. Don't miss out on this engaging podcast that equips you with the knowledge and motivation to make a real difference in the world of sustainability. Stay informed, stay inspired, and join the movement for a more eco-conscious tomorrow.
Zero Ambitions Podcast
Dive into the world of sustainability and the built environment with the "Zero Ambitions Podcast." Hosted by Jeff Colley, Dan Hyde, and Alex Blondin, this engaging podcast explores the multifaceted challenges and complex problems facing the built environment. With no single solution in sight, the hosts embark on a journey to dissect and discuss various aspects of sustainability and best practices. Join them as they bring in knowledgeable guests who share insights on how to make a meaningful difference in the field of sustainability. If you're passionate about environmental conservation and eager to learn about innovative solutions, this podcast is your go-to source for valuable information and inspiring conversations.
Carbon Removal Newsroom
"Carbon Removal Newsroom" by Nori is a captivating panel show that offers insightful discussions on the latest developments in the field of carbon removal. With a focus on current events and emerging trends, this podcast brings together experts and thought leaders to dissect the ever-evolving landscape of carbon reduction strategies. Stay updated with the most recent news, innovations, and policies related to carbon removal as you tune in to this informative and engaging podcast.
In "Carbon Removal Newsroom," you'll gain valuable insights into the dynamic world of carbon removal, helping you stay informed about the latest technologies and initiatives aimed at mitigating climate change. Whether you're a sustainability enthusiast, an environmental advocate, or simply curious about the future of our planet, this podcast is a valuable resource for understanding the ongoing efforts to combat carbon emissions and create a more sustainable world. Join the conversation and stay in the know with "Carbon Removal Newsroom" by Nori, your gateway to the latest developments in carbon removal.
BetaTalk – The Renewable Energy and Low Carbon Heating Podcast
Discover the award-winning "BetaTalk – The Renewable Energy and Low Carbon Heating Podcast." This podcast, presented by Nathan Gambling, known as BetaTeach on Twitter, recently clinched the prestigious British Renewable Energy Awards 2020 communication category, recognizing its outstanding contribution to enhancing awareness and championing positive change for renewables and clean technology. Nathan engages in insightful discussions about energy and the transition to low carbon technologies, such as solar thermal and heat pumps, with some of the industry's most accomplished renewable engineers. With a unique talent for identifying exceptionally skilled heating engineers who are actively working to decarbonize our homes and buildings, BetaTalk offers a comprehensive and expert-driven perspective on the sustainable energy landscape.
For those passionate about renewable energy and sustainable heating solutions, BetaTalk is your go-to resource. Tune in to stay updated on the latest developments in the field, gain valuable insights from top industry experts, and join the conversation on the transition to a greener, more sustainable future. With its track record of excellence and commitment to promoting clean energy technologies, BetaTalk is a must-listen for anyone looking to make informed choices and contribute to a low carbon future.
Cutting Carbon
Explore the future of climate change dialogue with the 'Cutting Carbon' podcast series by GE Gas Power. Dive deep into the essentials of decarbonization, uncover the latest technologies driving change, and discover practical ways to integrate them into the future of electricity generation. Hosted by Jeff Goldmeer, known as GE's 'fuel guy,' this podcast brings together a diverse range of guests and perspectives, making it a valuable resource for anyone passionate about sustainable energy solutions. Have questions or innovative ideas? Tune in to 'Cutting Carbon' and be part of the conversation shaping our planet's future."
The Carbon Connection
The Carbon Connection is your source for uplifting discussions centered around climate change. This podcast is a beacon of hope, featuring thought-provoking dialogues that inspire advocacy and empower individuals to be part of the solution. Be a part of a community dedicated to changing our future for the better. Tune in to gain a deeper understanding of climate issues, discover ways to make a positive impact, and stay connected with the evolving world of environmental sustainability. Join the conversation, drive change, and shape a brighter tomorrow with "The Carbon Connection" podcast.
Conclusion
As we navigate the challenges of climate change, these top 10 carbon podcasts on Spotify provide valuable insights, inspiration, and actionable steps towards a more sustainable future. Tune in to these informative shows and become a part of the global movement to reduce carbon emissions and protect our planet for future generations. Together, we can make a difference.
If you are interested in listening to a variety of podcasts, you may want to check out the best podcasts in various genres such as cricket, true crime, horror, sci-fi, motivational, spiritual, food, parenting, entrepreneurship, for kids, World War II, home automation, learning new languages, starting a podcast, history, finance, cryptocurrency, football, mental health, and wildlife
FAQs
What are carbon podcasts, and why are they important?

Carbon podcasts are audio shows that focus on topics related to carbon emissions, climate change, and sustainability. They are essential as they provide valuable insights, information, and inspiration for individuals interested in reducing their carbon footprint and contributing to a greener world.

How can I access these carbon podcasts on Spotify?

To access these podcasts, simply download the Spotify app on your mobile device or visit the Spotify website on your computer. Search for the podcast titles mentioned in the article, and you can start listening for free.

Are these podcasts suitable for beginners with limited knowledge about carbon emissions and sustainability?

Yes, many of the podcasts on this list cater to individuals with varying levels of knowledge. They often feature episodes that provide foundational information and gradually delve deeper into advanced topics, making them suitable for beginners and experts alike.

Can I subscribe to these podcasts for free on Spotify?

Yes, you can subscribe to and listen to these podcasts for free on Spotify. While there may be some optional premium features, access to the podcasts themselves does not require a subscription fee.

Are these podcasts updated regularly with new content?

Yes, most of the podcasts mentioned in the article are updated regularly with fresh episodes. You can expect to find new discussions, interviews, and insights on carbon reduction and sustainability topics.

Is there a specific order in which I should listen to these podcasts, or can I start with any of them?

You can start with any of the podcasts on the list, as they cover a wide range of topics related to carbon emissions and sustainability. Feel free to choose the one that aligns with your interests or the host's style that resonates with you the most.

Are there episodes that discuss practical ways to reduce my carbon footprint?

Yes, many of the podcasts on this list include episodes that provide practical tips and strategies for reducing your carbon footprint. They often feature discussions on sustainable living, eco-friendly practices, and climate-conscious choices.

Can I listen to these podcasts offline on Spotify?

Yes, if you have a Spotify Premium subscription, you can download episodes of these podcasts to listen to them offline. This is a convenient option for those who want to listen without using data.

Are there transcripts available for these podcasts for those with hearing impairments?

The availability of transcripts may vary from one podcast to another. Some podcast hosts provide transcripts for their episodes, while others may not. Check the podcast's website or contact the host for specific information on transcripts.

How can I get in touch with the hosts or provide feedback on these podcasts?

Most podcast hosts have websites, social media profiles, or email addresses where you can reach out to them or provide feedback. Visit their official platforms or follow their instructions on how to connect with them directly.
About Author
The Podcasting Research Team is a dynamic and passionate group of young researchers who are dedicated to exploring the world of podcasting. Whether you're a podcast creator, a marketer, or simply a curious listener, the work of The Podcasting Research Team can provide valuable insights into the trends and best practices in the podcasting world.