Well, we always think of the vibrant history of human evolution, experiences and various kind of Sex and Cast evolution, but LGBTQ narratives and their experiences are left unheard, unseen why?
There is no answer to these questions.
But in the recent decades, there is lot of change in the digital societal attitudes, behaviors and work ethics due to the advent of digital platforms and various powerful forces that are reshaping the mainstream. So, as we all had shared and enjoyed this pride month, we embark on a journey to explore the transformation of these narratives from the fringes to the center stage of global conversations.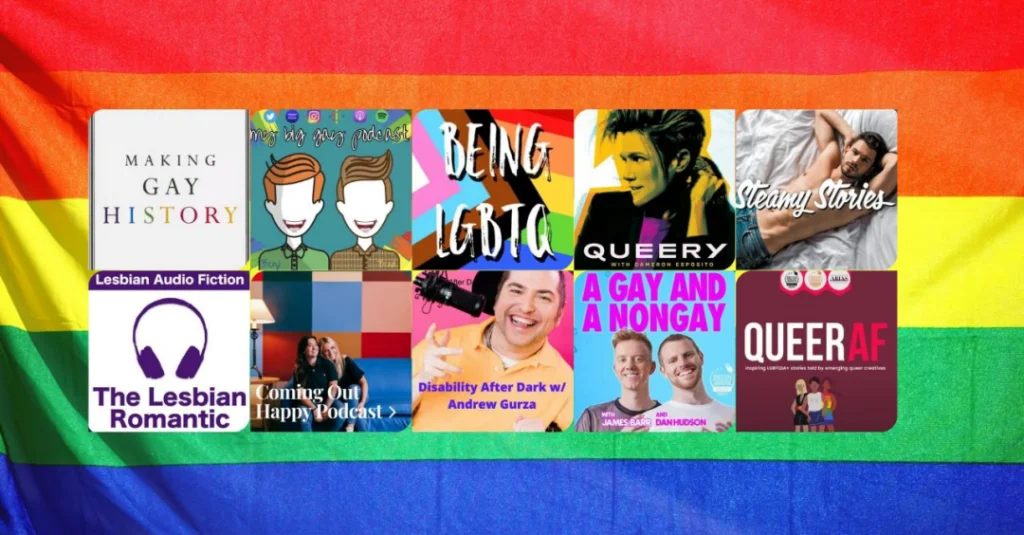 In this special blog edition, we shine a spotlight on a collection of internationally famous podcasts that have played a pivotal role in amplifying LGBTQAI+ voices. These podcasts transcend geographical boundaries, uniting people with shared experiences and fostering understanding among listeners from all walks of life.
Through these audio narratives, we witness the kaleidoscope of emotions, challenges, and triumphs that define the LGBTQAI+ journey. Join us as we navigate through a curated selection of podcasts that have boldly ventured where few have dared, carving out spaces of acceptance, education, and celebration.
From insightful interviews to compelling storytelling, these podcasts are a testament to the resilience and diversity of the LGBTQAI+ community. Together, we'll embark on a transformative exploration of how these narratives have evolved, from the margins of society to the heart of the global conversation.
Welcome to a world where LGBTQAI+ stories are no longer confined to the periphery but stand proudly at the forefront of international dialogue.
Making a gay History: LGBTQAI+ oral Histories from the archives By Eric Marcus
Step into the intimate world of LGBTQAI+ history with "Making Gay History." Hosted by Eric Marcus, this groundbreaking podcast presents personal portraits of both well-known and long-forgotten champions, heroes, and witnesses to history. Through rare archival interviews, listeners are transported into the lives of trailblazers who have played pivotal roles in shaping the LGBTQAI+ movement. Join us on this journey through time as we uncover the stories that have paved the way for greater acceptance and understanding.
My Big Gay Podcast
Join hosts Benji and Brad on "My Big Gay Podcast," an LGBTQAI+ comedy show that offers a hilarious and heartfelt glimpse into gay life in London and beyond. As two single gay men in their 30s, they navigate the complexities of careers, romance, and friendships with charm and wit. Packed with celebrity interviews, games, competitions, and listener stories, this podcast is the gay version of "Bridget Jones's Diary meets Sex and the City." Tune in for a delightful and entertaining experience that celebrates the joys and challenges of queer existence.
Being LGBTQ
Hosted by LGBTQ advocate Sam Wise, "Being LGBTQ" is a one of the best podcast that amplifies the voices of the LGBTQ community. Through insightful interviews, this podcast strives to represent those who feel underrepresented, discussing the latest issues impacting the community.From civil rights to LGBTQ music artists, "Being LGBTQ" covers a wide range of topics, creating an informative and friendly space for listeners worldwide.
Join us as we celebrate the diversity and strength of the LGBTQAI+ community and engage in meaningful conversations that inspire change and understanding.
Queery with Cameron Esposito – Comedian Cameron Esposito interviews LGBTQ+ artists, activists, and personalities
Sit in on hour-long conversations between host and standup comic, Cameron Esposito, and some of the brightest luminaries in the LGBTQAI+ family. In "Queery," Cameron explores individual stories of identity, personality, and the shifting cultural matrix around gender, sexuality, and civil rights. Through candid and insightful interviews with LGBTQ+ artists, activists, and personalities, this podcast offers a unique perspective on the lives and experiences of diverse members of the LGBTQAI+ Community.
Steamy Stories: JC Calciano, Ben Palacios & Casey Alcoser
Immerse yourself in a world of sweet and sexy gay romance with "Steamy Stories." Hosted by award-winning filmmaker and author JC Calciano, this podcast offers monthly short stories filled with love, passion, and play. Each tale is a unique exploration of LGBTQAI+ romance, making it the ultimate choice for gay m/m fiction. Join the growing community of romance enthusiasts by tuning in to "Steamy Stories" and experiencing the magic of Bromo sexual love.
The Lesbian Romantic Podcast: Sigrid Dufraimont
Dive into the enchanting world of lesbian romance with "The Lesbian Romantic Podcast." Created as an immersive audio experience, this podcast brings you heartwarming, thrilling, and suspenseful romance stories. Written by Sigrid Dufraimont, each episode will leave you smiling, blushing, or on the edge of your seat. Whether you're a romance enthusiast or new to the genre, "The Lesbian Romantic Podcast" promises to deliver captivating storytelling and unforgettable characters.
Coming Out Happy Podcast
This podcast is another outstanding themed podcast ,hosted by coaches Dani and Keely from Coming Out Happy, this podcast delves into all things LGBTQAI+ wellness, lifestyle, and connections. Whether you seek guidance or simply want to engage in insightful conversations about queer life, this podcast has something for everyone. Join the Coming Out Happy community and embark on a journey of self-discovery, self-love, and queer empowerment.
Disability after Dark by Cripple and Co Productions
Prepare to explore disability stories that are often left in the dark with "Disability After Dark." Hosted by Disability Awareness Consultant Andrew Garza, this podcast offers real and unfiltered conversations about disability, sexuality, and everything else related to the disability experience. Through candid discussions, "Disability After Dark" sheds light on the aspects of being disabled that are rarely talked about, providing a platform for authentic stories and diverse perspectives.
A Gay and Non-Gay: by James Barr and Dan Hudson
A Gay and Non-Gay" challenges the rhetoric of hate and fosters friendships between gay and nongay individuals. Hosted by James Barr and Dan Hudson, this podcast offers a hilarious take on love, friendship, and sex. With an independent and fundamentally kind approach, the show invites everyone, regardless of their identities, to listen, learn, and connect. Discover the unique dynamics of this dynamic duo and join the conversation on love and relationships.
Queer AF: Inspiring LGBTQIA + Stories told by emerging Queer Creative
"QueerAF" is an award-winning podcast with beyond-the-binary stories about queerness, sexuality, gender, and identity. Created by budding LGBTQIA+ audio producers, this podcast gives voice to inspiring and vital stories. With a focus on collaboration and support for queer creative, "QueerAF" offers a diverse range of perspectives from members of the LGBTQAI+ community. Join us on this journey of discovery and empowerment as we celebrate the vibrant and multifaceted world of queerness.
Homo Sapience
Homo Sapiens celebrates and explores queer life, culture, and identity through interviews with members of the LGBTQ+ community. Every Thursday, Chris Sweeney chats with fascinating people from all walks of life to gain insight into their unique experiences and perspectives. From artists and activists to businesspeople and entertainers, guests will share their stories, provide advice, and offer a window into the beautiful, diverse world of the LGBTQ+ community. Every episode will surely be an inspiring, thought-provoking, interactive experience the listeners (this means you!) can join too.
Conclusion
From intimate oral histories to heartwarming romance stories, these internationally famous podcasts have paved the way for greater visibility, understanding, and acceptance of the LGBTQAI+ community. Through candid conversations, insightful interviews, and captivating storytelling, they have brought to light the diverse experiences, struggles, and triumphs of LGBTQAI+ individuals worldwide.
As we celebrate Pride Month, let us continue to uplift and amplify LGBTQAI+ voices, supporting these podcasts and others that promote inclusivity and equality. Together, we can create a more accepting and compassionate world where love knows no boundaries and everyone is celebrated for who they are.
About Author
Sonal Shah is a versatile content creator and passionate advocate for podcasting. She is an accomplished podcaster, Sonal has now transitioned into the role of a content editor for The Podcasting. With a deep understanding of the medium and a love for storytelling, she crafts engaging and informative content that celebrates the art of podcasting. Through their work, she shares valuable insights, industry trends, and expert tips, empowering aspiring podcasters to create meaningful and impactful shows.
If you are interested in listening to a variety of podcasts, you may want to check out the best podcasts in various genres such as cricket, true crime, horror, sci-fi, motivational, spiritual, food, parenting, entrepreneurship, for kids, World War II, home automation, learning new languages, starting a podcast, history, finance, cryptocurrency, football, mental health, and wildlife.