It is more important than ever to understand geopolitics in the fast-paced, globally connected world of today. Global nations, economies, and communities are shaped by geopolitics, the study of the relationship between geographic geographical location, political processes, and international power dynamics. Staying informed on these complicated issues is essential for both individuals and nations as they deal with difficulties that are becoming more and more complex, such as shifting alliances, developing technology, resource competition, and global pandemics.
We can understand the motives, conflicts, and alliances that govern international affairs by using the contextual information that geopolitics provides. It aids in our understanding of a complicated web of alliances, socioeconomic reliance, and cultural interactions which shape the world in which we live.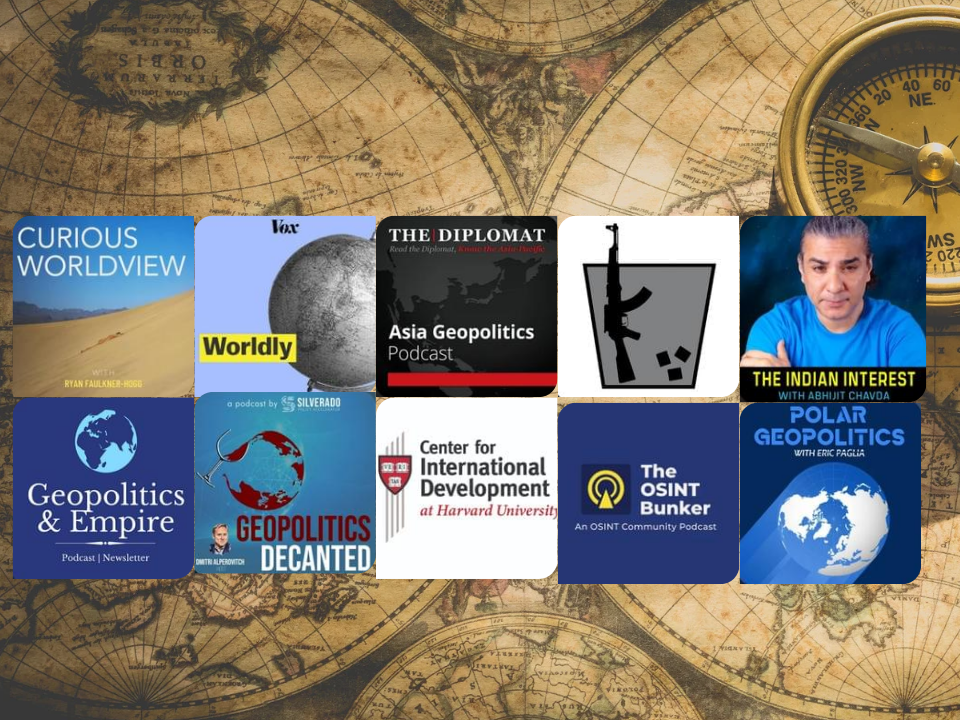 Now a days Geopolitical Podcasts have become a powerful and easily accessible tool for studying the subtle aspects of geopolitics in this environment. These podcasts present a distinctive combination of in-depth analysis, professional judgment, and captivating storytelling that brings the complexity of global affairs to our ears.
In this blog, we'll explore some of the top geopolitical podcasts that showcase these traits and enabling us to learn about the complexities of the globe from the comfort of our headphones.
These podcasts provide an easy way to get started to understand the most fundamental issues and opportunities affecting the world, regardless of your field of proficiency in diplomatic circles or your level of interest in geopolitics.
The following podcasts have become more liked format for exploring geopolitics and learning about international relations:
Curious worldview podcast: hosted by Ryan Faulkner-Hogg
The podcast includes conversations with a wide spectrum of Geopolitical specialists, including authors, investigative journalists, and geopolitical strategists. The podcast provides insightful information on a range of worldwide challenges, including international relations and global developments. The series of episodes explores a wider range of topics in addition to geopolitics and can give listeners a thorough insight of several facets of the global situations.
Worldly By Vox media
The Vox Media podcast "Worldly" provides an interesting and enlightening investigation of world affairs, geopolitics, and international relations. The podcast, is presented by a group of skilled reporters and specialists, explores a wide range of subjects that have an impact on the world we live in.
The hosts breakdown complex geopolitical issues, conflicts, diplomacy, world economics, climate change and more by offering historical context, multiple points of view, and insightful commentary. And more over sometime the discussions go beyond the news headlines and give listeners a deeper grasp of the fundamental causes of global happenings.
"Worldly" stands out for its dedication to examining how these events affect people's lives and how choices made on the international stage have profound consequences. You will get the background information and context you need to understand the current situation and get around the global from senior writer Zack Beauchamp, senior global editor Jennifer Williams, and staff defense writer Alex Ward. The podcast connects with some major person's interviews, conversations, and expert insights.
Asia Geopolitics Podcast: The diplomat
The top scholars in international relations and Asia-Pacific studies Ankit Panda and Catherine Putz bring their knowledge to the fore through this podcast. They have a thorough knowledge of the history, border controls, and political dynamics of the Asia pacific affairs as writers and analysts for The Diplomat.
The Asia-Pacific area, which includes a wide range of countries, cultures, and strategic interests, is a hub of geopolitical activity. The "Asia Geopolitics Podcast" stands out as a source of knowledge on the region's geopolitical interests and international affairs in the midst of this complex network. Their discussion on each issues uncovers a world that is frequently hidden in doubt for listeners seeking clarity.
War on the rocks Podcast
The "War on the Rocks Podcast" is the place to go if you're searching for a podcast that explores this complex sphere of geopolitics in an unconventional manner. This podcast, which is hosted by Ryan Evans, explores topics related to strategy, military, and international affairs. It delivers a distinctive blend of knowledgeable insights, lively debates, and a hint of relaxation.
Each episode of the podcast brings together different voices that provide a spectrum of experience with a variety of guests that range from warriors to professors, bureaucrats to intelligence agents. These insightful discussions go beyond the obvious and provide listeners with an extensive understanding of world dynamics.
The Indian Interest Podcast
The "Indian Interest Podcast," hosted by Abhijit Chavda, takes listeners on a thought-provoking trip through the intricate world of geopolitical developments, current events, and international affairs. This podcast distinguishes from above all because it focuses on how India sees and engages with the global landscape in a world full of various perspectives. Listeners are led through a series of enlightening talks by Abhijit Chavda that showcase India's distinctive position on major geopolitical challenges.
The podcast reveals the processes that influence India's position on the worldwide stage, from foreign policy to international partnerships. Every episode of "The Indian Interest Podcast" is an in-depth review of the complexities of world events with a focus on India's national interest. With this podcast Listeners get introduced to a rich tale that not only informs but also encourages contemplation thanks to Abhijit Chavda's captivating manner and professional insights.
Geopolitics and Empower Podcast
The "Geopolitics & Empire Podcast" covers a wide range of geopolitical, international, and empowerment-related subjects. The podcast's guests come from a variety of experiences and viewpoints, and the main goal of the podcast is to discuss and explore multiple points of view on current international affairs.
Each subject brought by host touch us on important concerns like social injustice, the linkages between big historical occurrences, migration and refugees, and financial control. The podcast has great to give in- depth discussions and analysis if these subjects interest you. But, be aware that these debates can occasionally turn difficult because they may present divergent viewpoints that raise question on what is generally accepted. I personally request always approach such podcast with an analytical mind and a willingness to learn.
Geopolitics Decanted by Silverado
"Geopolitics Decanted" is an educational podcast that explores in-depth analysis and expert interviews on a range of international issues, particularly those related to geopolitics. The subjects discussed, such the conflict in the Ukraine, the great power rivalry with China, semiconductors, and cyber security, are all important ones having wide-ranging effects on international relations, security, and technology.
The podcast stands out from common superficial coverage that frequently dominates mainstream media because of its emphasis on presenting in-depth debates and expert opinions. The podcast appears to target to an audience interested in acquiring a thorough grasp beyond simply brief podcast bites by examining the complexity and nuanced aspects of big global concerns.
The conversations get constitutionality and authentic from the host's experience as the Chairman of Silverado Policy Accelerator, it's a non-profit organization dedicated to supporting strategic, economic, and technology policy solutions. The podcast "Geopolitics Decanted" could be interesting to you if you like insightful analysis and in-depth explorations of global concerns. Podcasts like this one can help you develop a better-informed opinion on complicated subjects, but it's always a good idea to seek out additional perspectives and maintain your critical eye over the information you're given.
Harvard Center for International Development
One of the best geopolitical podcast, Harvard Center for International Development Podcast, where we discuss the difficulties of advancing civilization and the problems that still plague us in a world that is always changing. The podcast emphasis on our revolutionary development work which is even more important as we address issues like unequal access to healthcare and education, environmental degradation, and economic disparities before doing any major new development.
The Center for International Development (CID), which has its headquarters at the esteemed Harvard Kennedy School, is at the forefront of addressing these urgent problems head-on. Our goal is to provide doors for practical responses in the area of international development. At CID they care more about the real world's implications than merely theory. Through the podcast they are promoting ideas that pave the way to a thriving world through capacity-building education, cutting-edge research that affects development policies, and the coming together of brilliant minds.  With the help of this knowledgeable podcast, they deliver global development concerns from all imaginable perspectives.
This podcast takes you on a trip that is both instructive and transformative, combining academic ideas with real-world experiences. The Harvard Center for International Development Podcast is here to serve as your guide to understanding, participating in, and advancing global development in a world that is changing quickly. So why wait just go and listen.
The OSINT Bunker by The OSINT BOYS
This the Military News and Defense Podcast, your go-to resource for in-depth analysis of the defense and security spheres. The podcast offers the most recent developments, analysis, and discussions that define the global military environment, hosted by the amazing team of DefenceGeek, Osinttechnical, AnAustinThing2, and geoallison. This podcast is produced in association with the highly esteemed UK Defense Journal, is an incredible source of information for anyone interested in learning about the complexities of military operations, geopolitics, and national security.
Through this podcast we can investigate the tales that are concealed under the headlines, discover secret stories, and analyze the strategic thinking that influences the development of defense plans around the globe. This podcast promises to present thought-provoking topics that range from the tactical to the strategic, whether you're a seasoned defense fan or a curious newbie for war news and information. Get yourself prepared to explore the world of military news and defense. And keep up with the rapidly changing world of international security.
Polar Geopolitics
"Polar Geopolitics" by Eric Paglia is a podcast that focuses on examining the complex connections between accelerating climate change, global interests, and other geopolitical variables in the Arctic and Antarctic areas. Experts from a variety of fields, including government, economics, ecology, research, infrastructure, and societal issues, appear to be brought together in the podcast to debate a wide range of themes related to these polar regions (arctic and Antarctica).
A podcast like "Polar Geopolitics" can be a great resource for individuals interested in understanding the complex relationships at work given the importance of these regions in terms of climate change, natural resources, and international politics.
Conclusion
In conclusion, the exploration of geopolitics provides a rich tapestry of perspectives, research, and debates that influence how we perceive the world. In this blog, we've explored a chosen list of the top 10 geopolitics podcasts, which serve as knowledge-beacons in this intricate area. These podcasts offer a variety of perspectives and levels of expertise, ranging from in-depth explorations of historical events that have affected the geopolitical landscape of the world to in-the-moment assessments of current international relations.
Listening to these podcasts allows you to gain new perspectives, engage strategic evaluations and gain important insights while also expanding your awareness of global dynamics. Keep in mind that the dynamic nature of geopolitics necessitates ongoing education and involvement, and that these podcasts provide a priceless chance to do just that as you navigate the complexity of our linked world.
Let these podcasts be your guides as you go out on your geopolitical exploration journey, leading you through the complex maze of world politics and issues. The podcasts featured above are evidence of the strength of human curiosity, intellect, and dialogue in understanding the complexities of geopolitics in our large Earth.
Frequently Asked Questions (FAQs) on Geopolitical Podcasts
What are geopolitical podcasts?
Geopolitical podcasts are audio content that focuses on discussions, analysis, and insights related to global politics, international relations, and world affairs. These podcasts delve into the complex interactions between nations, geopolitical conflicts, and their impact on various aspects of society.
Why should I listen to geopolitical podcasts?
Geopolitical podcasts offer valuable insights into current global events, international policies, and diplomatic relationships. They provide listeners with a deeper understanding of how world affairs shape economies, societies, and political landscapes, making them ideal for those interested in staying informed about global developments.
Who are the hosts of geopolitical podcasts?
Geopolitical podcasts are hosted by experts in the field of international relations, political science, history, journalism, and diplomacy. Many hosts bring extensive experience and knowledge to provide accurate and well-researched content.
Are these podcasts suitable for beginners in geopolitics?
Yes, many geopolitical podcasts cater to both beginners and seasoned enthusiasts. Some podcasts offer comprehensive explanations of terms and events to ensure that listeners with varying levels of familiarity can follow the discussions.
How often are new episodes released?
The frequency of new episodes varies from podcast to podcast. Some podcasts release episodes weekly, while others may have a bi-weekly or monthly schedule. Subscribing to your chosen podcasts ensures you receive notifications when new content is available.
Can I listen to these podcasts for free?
Yes, many geopolitical podcasts are available for free on various podcast platforms. However, some podcasts may offer premium content or ad-free versions for a subscription fee.
How can I listen to geopolitical podcasts?
You can listen to geopolitical podcasts on popular podcast platforms such as Spotify, Apple Podcasts, Google Podcasts, Stitcher, and more. Simply search for the podcast title or host's name on your preferred platform and start streaming.
Are there podcasts specifically focused on certain regions?
Yes, there are podcasts that specialize in specific regions or countries, providing in-depth analysis of the geopolitical dynamics unique to those areas. These podcasts offer insights into local politics, conflicts, and relationships.
Can I engage with podcast hosts or fellow listeners?
Some podcasts offer online communities or social media platforms where listeners can engage with hosts and fellow listeners. This provides an opportunity to ask questions, share thoughts, and participate in discussions related to the podcast episodes.
How do I choose the right geopolitical podcast for me?
Consider your level of interest and familiarity with geopolitics, your preferred hosting style (interviews, solo discussions, panel discussions), and whether you're looking for general overviews or in-depth analysis. Reading reviews and listening to a few episodes can help you find the podcasts that resonate with you.
Remember that geopolitical podcasts can provide valuable insights and perspectives on global events, making them a valuable resource for anyone interested in international affairs.
If you are interested in listening to a variety of podcasts, you may want to check out the best podcasts in various genres such as cricket, true crime, horror, sci-fi, motivational, spiritual, food, parenting, entrepreneurship, for kids, World War II, home automation, learning new languages, starting a podcast, history, finance, cryptocurrency, football, mental health, and wildlife.
About Author
Sonal Shah is a versatile content creator and passionate advocate for podcasting. She is an accomplished podcaster, Sonal has now transitioned into the role of a content editor for The Podcasting. With a deep understanding of the medium and a love for storytelling, she crafts engaging and informative content that celebrates the art of podcasting. Through their work, she shares valuable insights, industry trends, and expert tips, empowering aspiring podcasters to create meaningful and impactful shows