If you're fascinated by tales of bravery, stealth, and unmatched courage, you're in for a treat. Special Forces podcasts provide an insider's look into the world of elite military units, sharing gripping stories, insightful interviews, and invaluable lessons from the most elite warriors on the planet. In this article, we've curated the top 10 Special Forces podcasts on Spotify, so you can dive deep into their remarkable experiences. From declassified missions to exclusive interviews, these podcasts are your gateway to the world of the finest soldiers.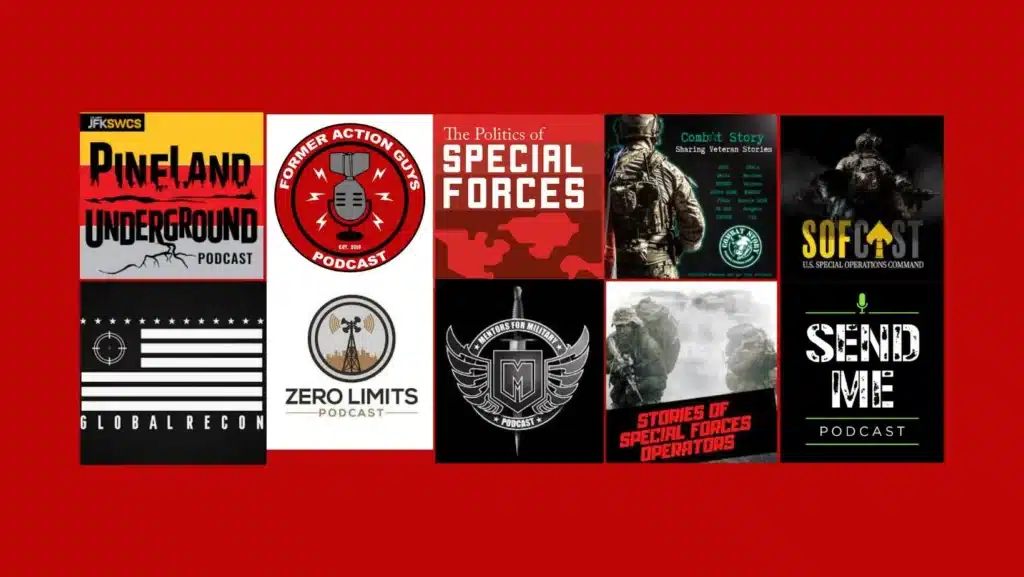 Combat Story
Combat Story – Real combat stories from the military's elite" is a captivating podcast that delves into the harrowing and awe-inspiring experiences of veterans who have served on the front lines, in cockpits, and in the foxholes. This podcast is a treasure trove of courageous, outrageous, and surreal tales from those who've faced the toughest challenges in combat. It features in-depth interviews with a diverse range of military personnel, including JTACs, Special Operators (Delta), Special Forces, Jet Pilots, Combat Aviators, Infantrymen, Marines, and veterans with over 50 years of combat experience. Listeners can expect to hear about the most grueling missions these veterans encountered, how they navigated through them, their initial combat experiences, their paths into the military, and how they adjusted to life after leaving the combat zone. "Combat Story" provides an invaluable opportunity to gain insight into the world of these extraordinary individuals and their journeys through the crucible of war.
In "Combat Story," you'll find an immersive exploration of the trials and triumphs that define military service. With interviews that peel back the layers of combat experiences, this podcast offers a unique perspective on the lives of those who have dedicated themselves to protecting their nations. Whether you're a military enthusiast or simply curious about the realities of combat, "Combat Story" offers a gripping narrative that is both educational and deeply human, showcasing the resilience, bravery, and sacrifices of the men and women who have served their countries in the most challenging of circumstances. Dive into this podcast to discover the untold stories of military heroes and the indomitable spirit that drives them.
Stories of Special Forces Operators
In the "Stories of Special Forces Operators" podcast, you'll find an unparalleled collection of the world's bravest and most resilient individuals. As you listen to their extraordinary stories, you'll be immersed in a world of unmatched courage and determination. These gripping tales provide an exclusive insight into the lives of Special Forces Operators, offering a firsthand account of their remarkable journeys, the obstacles they've overcome, and the victories they've achieved. If you're in search of awe-inspiring narratives that shed light on the elite realm of Special Forces, this podcast should be at the top of your list. Join us now and prepare to be enthralled by the unforgettable stories that await. Discover the unsung heroes of the world and their incredible accomplishments through the "Stories of Special Forces Operators" podcast.
Politics of Special Forces 
Explore the dynamic world of special operations with "Politics of Special Forces," a thought-provoking 10-part limited podcast series co-hosted by Kevin D. Stringer and H. Christian Breede. This series dissects the intricate relationship between geopolitics and elite military units, shedding light on how these forces may adapt in an era of great power competition. Featuring in-depth discussions with experts from academia and seasoned practitioners spanning Canada, the United States, and beyond, "Politics of Special Forces" drives essential dialogues about the shifting roles of these elite forces. Proudly sponsored by the Kingston Consortium on International Security in collaboration with Queen's University's Centre for International and Defence Policy (CIDP), this podcast offers invaluable insights into the evolving landscape of global security.
SOFcast
SOFcast, the official podcast of U.S. Special Operations Command, offers an exclusive opportunity to gain insights from members of America's elite special operations forces. Delve into the world of leadership, challenges, and current issues faced by these exceptional individuals. Tune in to hear from a diverse range of special operations personnel, including Navy SEALs, Army Green Berets, Army Rangers, Marine Raiders, Air Force Special Operators, pilots, medics, communicators, and more. Discover their stories, experiences, and the remarkable journeys that define their dedication and courage.
Pineland Underground
Discover a treasure trove of military insights with "Pineland Underground," the official podcast of the U.S. Army John F. Kennedy Special Warfare Center and School, stationed at Fort Liberty, North Carolina. Join SGM Riley and MAJ Holzmann as they lead you on an awe-inspiring bi-monthly journey through the world of Special Warfare. This podcast is a relentless pursuit of excellence, offering real and un-restricted access to the captivating realm of military operations. With their bold approach, the hosts delve deep into topics that matter, providing a unique perspective that's both informative and engaging. Whether you're a military enthusiast or someone seeking a behind-the-scenes look at Special Warfare, "Pineland Underground" promises to deliver relentless awesomeness in every episode. Tune in to stay updated on the latest developments in the world of military training, tactics, and more.
Mentors for Military Podcast
If you're searching for a laid-back yet insightful podcast experience, look no further than the "Mentors for Military Podcast." Picture a gathering of veterans in a cozy living room, each with their favorite adult beverage, engaged in a conversation that dives deep into captivating topics. This podcast captures that authentic essence, inviting you to join the discussion with your own metaphorical chair and beverage. Hosted by military veterans, the show brings in real people as guests, each with a compelling message to share. Get ready for unfiltered, real talk that delves into a variety of subjects, making this podcast a valuable source of genuine insights and engaging conversations.
Mentors for Military Podcast offers an authentic and insightful listening experience. With military veterans as hosts and real guests sharing their messages, it's a place for genuine, unfiltered conversations. Join in for thought-provoking discussions and engaging content that spans a wide range of topics.
Zero Limits Podcast
Zero Limits Podcast, expertly hosted by Australian Veteran Matty Morris, offers an invigorating dose of motivation and inspiration. This podcast is your gateway to the extraordinary stories of high achievers from across the globe who embrace the "zero limit" attitude towards life. With Matty as your guide, you'll embark on a journey through riveting conversations that empower you to conquer any challenge and achieve your loftiest goals. By sharing these remarkable "zero limit" stories, Matty ensures that listeners are not just entertained but also equipped with the mindset and motivation they need to make their aspirations a reality. Tune in and get ready to be inspired by these dynamic individuals who defy limits and set a new standard for success.
Whether you're seeking personal growth, entrepreneurial insights, or simply a boost of motivation, the Zero Limits Podcast delivers it all. Through candid conversations and valuable takeaways, you'll learn how these extraordinary individuals overcame hurdles, shattered boundaries, and reached unprecedented heights in their respective fields. Matty's infectious enthusiasm and commitment to sharing the stories of these high-achieving humans make this podcast a must-listen for anyone looking to unlock their true potential and embrace the limitless possibilities that life has to offer. Join the journey with Zero Limits Podcast and discover the power of the "zero limit" mindset.
Send Me
Introducing the "Send Me" Podcast by SOCOM Athlete, your ultimate source for Special Operations career preparation in America. This podcast is a treasure trove of wisdom and training advice straight from Special Operators, including Navy SEALs, Army Green Berets, Rangers, USAF PJs, USMC Recon, and more, who share their incredible stories and life insights. Hosted by Jason Sweet, a former U.S. Special Operator with a unique background in sports and academics, this podcast offers a diverse perspective on the world of elite warriors.
Notably, Jason Sweet and his father Maurice etched their names in American history by serving as Air Force Pararescuemen (PJs) on the same team simultaneously. Since the establishment of SOCOM Athlete in 2017, Jason and his team of expert instructors have positively impacted over 1,000 students nationwide. Many of their students have successfully enlisted or commissioned into the U.S. Military, completing their special operations training pipelines. With offerings like the nationwide military-sponsored event known as "Hell Day," as well as online training group chats spanning the United States, highly qualified instructors, tailored workout prep programs, and personalized meal plans, SOCOM Athlete stands as the premier resource for Special Operations career preparation in America. Dive into the "Send Me" Podcast and tap into this wealth of knowledge and experience.
Global Recon
If you're searching for a podcast that delves deep into the world of Special Operations, look no further than the "Global Recon Podcast." Hosted by John Hendricks, this show brings you exclusive insights and conversations with American Intelligence professionals and Special Operations personnel. Covering a wide array of topics including historical events, current affairs, medical breakthroughs, and geopolitics, it offers a holistic perspective on these critical subjects. Whether you're a history buff, a current events enthusiast, or someone interested in the intricacies of modern warfare, this podcast is a valuable resource. Join John Hendricks on "Global Recon Podcast" to explore the fascinating world of intelligence and Special Operations.
Former Action Guys Podcast
Former Action Guys Podcast is your gateway to unheard stories from veterans, first responders, and more, presented in a relaxed and engaging conversational format. This podcast provides a platform for individuals to share their experiences and insights about their careers and personal lives that often go untold. Hosted by Justin Cramer, a former Marine JTAC Evaluator with a remarkable 12-year military career that includes 5 deployments to Iraq, Afghanistan, and service on the USS Makin Island. Justin's extensive background with units like 1st ANGLICO, 10th Marine Regiment, and 3rd Battalion 6th Marine Regiment adds depth and authenticity to the discussions, making Former Action Guys Podcast a must-listen for anyone interested in the real-life experiences of those who have served in high-stress environments.
In this podcast, expect candid conversations that flow naturally, allowing the audience to gain a deeper understanding of the challenges and triumphs faced by veterans and first responders. Justin's firsthand experiences and expertise as a JTAC Evaluator bring a unique perspective to the show, making it an informative and compelling listen for those eager to explore the untold stories of our real-life heroes. Whether you have a military background or simply appreciate the sacrifices and dedication of those who serve, Former Action Guys Podcast is a valuable addition to your podcast playlist.
Conclusion
If you're a Special Forces enthusiast or simply curious about the world of elite military units, these top 10 Special Forces podcasts on Spotify have you covered. From gripping stories and declassified missions to exclusive interviews with legendary figures like Marcus Luttrell and Sam Harris, these podcasts offer a front-row seat to the action-packed world of Special Forces. So, gear up and start listening to these incredible podcasts today.
If you are interested in listening to a variety of podcasts, you may want to check out the best podcasts in various genres such as cricket, true crime, horror, sci-fi, motivational, spiritual, food, parenting, entrepreneurship, for kids, World War II, home automation, learning new languages, starting a podcast, history, finance, cryptocurrency, football, mental health, and wildlife
FAQs
Q1: What are Special Forces podcasts?
A1: Special Forces podcasts are audio shows that focus on the world of elite military units, such as Navy SEALs, Green Berets, and other Special Operations forces. These podcasts typically feature discussions, interviews, and stories related to the training, missions, and experiences of these elite warriors.
Q2: Why should I listen to Special Forces podcasts?
A2: Special Forces podcasts provide a unique and insider's perspective into the world of elite military units. They offer gripping stories, valuable insights, and often feature interviews with Special Forces veterans, providing a deeper understanding of their training, tactics, and missions.
Q3: Are these podcasts suitable for someone with no military background?
A3: Absolutely! While some podcasts may delve into technical details, many of them are designed to be accessible to a general audience. They provide fascinating stories and insights that can be enjoyed by both military enthusiasts and those new to the topic.
Q4: Are these podcasts available for free on Spotify?
A4: Yes, all the podcasts mentioned in the article are available on Spotify, and you can listen to them for free. However, some podcasts may offer premium or ad-free versions for a subscription fee.
Q5: Can I download episodes to listen offline on Spotify?
A5: Yes, Spotify offers the option to download podcast episodes for offline listening. This is particularly useful if you want to enjoy the podcasts during times when you don't have an internet connection.
Q6: Is there a specific order in which I should listen to these podcasts?
A6: There's no specific order to listen to these podcasts. You can start with the ones that pique your interest the most or explore them in any order you prefer. Each podcast offers a unique perspective on Special Forces, so you can choose based on your preferences.
Q7: Are these podcasts updated regularly with new content?
A7: Most of the podcasts mentioned in the article do release new episodes regularly. The frequency of updates may vary from weekly to monthly, depending on the podcast. You can subscribe to your favorite podcasts to stay updated on their latest content.
Q8: Are there podcasts that focus on specific Special Forces units or individuals?
A8: Yes, several podcasts in the list focus on specific Special Forces units or individuals. For example, the "Special Forces Podcast: Marcus Luttrell Edition" features insights from Marcus Luttrell, a former Navy SEAL and author of "Lone Survivor." These specialized podcasts offer in-depth perspectives on particular aspects of Special Forces.
Q9: Can I interact with the hosts or other listeners of these podcasts?
A9: Many podcasts have associated online communities or social media profiles where you can interact with hosts and fellow listeners. Additionally, some podcasts encourage listener engagement by taking questions or feedback through email or social media.
Q10: How do I access these podcasts on Spotify?
A10: To access these podcasts, you can simply open the Spotify app on your device, search for the podcast title using the search bar, and click on the podcast you want to listen to. From there, you can start streaming or download episodes for offline listening.
Remember, listening to Special Forces podcasts can be an engaging and educational experience, allowing you to gain insights into the world of these elite warriors from the comfort of your own headphones.
About Author
The Podcasting Research Team is a dynamic and passionate group of young researchers who are dedicated to exploring the world of podcasting. Whether you're a podcast creator, a marketer, or simply a curious listener, the work of The Podcasting Research Team can provide valuable insights into the trends and best practices in the podcasting world.