Podcasts have taken the world by storm, offering a treasure trove of engaging, informative, and entertaining content. If you're in the UK and a Spotify user, you're in luck! We've curated a list of the top 10 best podcasts available for free on Spotify. From true crime to comedy and everything in between, there's something for everyone.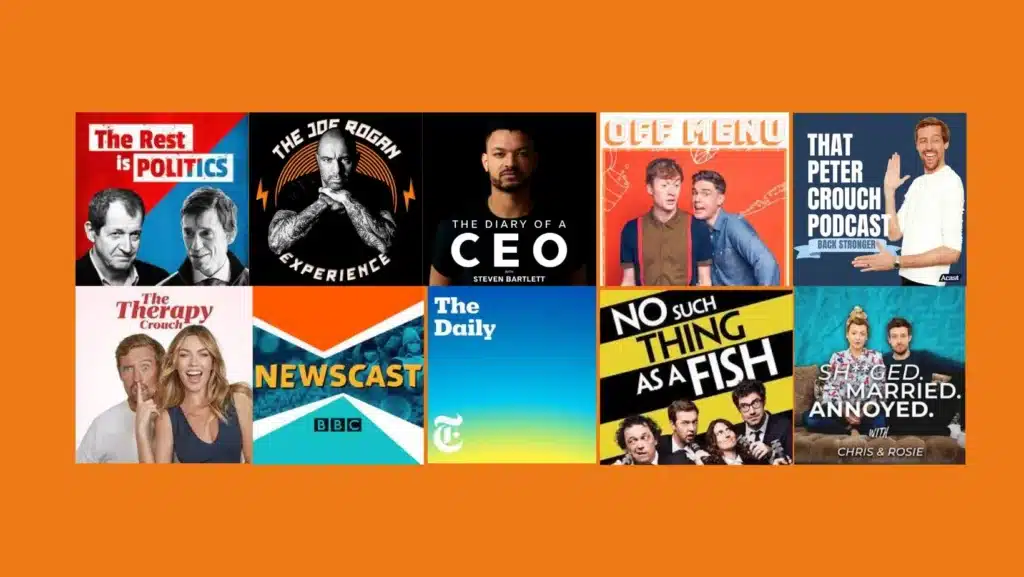 The Joe Rogan Experience
"The Joe Rogan Experience" is an immensely popular long-form conversation podcast hosted by the renowned comedian Joe Rogan. With a diverse array of guests, including comedians, actors, musicians, MMA fighters, authors, and artists, this podcast offers an engaging and wide-ranging exploration of topics. Joe Rogan's distinctive interviewing style, characterized by its depth and authenticity, has made the show a go-to platform for in-depth discussions on a multitude of subjects.
From hilarious anecdotes to profound insights, "The Joe Rogan Experience" transcends traditional podcast boundaries, providing listeners with an opportunity to delve deep into the minds of fascinating individuals. Whether you're interested in humor, intellectual discourse, or simply an entertaining and enlightening conversation, Joe Rogan's podcast is a treasure trove of content that continues to captivate audiences around the world. Join the conversation and discover why "The Joe Rogan Experience" is a must-listen for those seeking engaging, thought-provoking discussions.
The Diary of a CEO with Steven Bartlett
"The Diary of a CEO" podcast, hosted by the insightful Steven Bartlett, offers listeners an unfiltered and captivating journey into the extraordinary lives of culture-shapers, achievers, and storytellers. With each episode, Steven engages in profound conversations with some of the world's most influential individuals, experts, and thought leaders. This curiosity-driven exploration seeks to unearth untold truths, shed light on unlearned lessons, and provide invaluable insights that enhance the lives of both the host and the audience.
What sets "The Diary of a CEO" apart is its unparalleled rawness, honesty, and emotional depth. True to its name, the podcast feels like a personal diary entry, sharing the kind of candid experiences and revelations that are seldom disclosed. Steven Bartlett's dedication to authenticity creates an intimate atmosphere that transcends traditional interviews, making this podcast an extraordinary source of wisdom and inspiration.
Tune in to "The Diary of a CEO" to embark on a journey that promises unfiltered wisdom and profound life lessons from those who have made an indelible mark on our culture and the world.
Off Menu with Ed Gamble and James Acaster
"Off Menu with Ed Gamble and James Acaster" is the culinary-comedic podcast that's taking the UK by storm. Comedians Ed Gamble and James Acaster play hosts at their fantastical restaurant, where each episode welcomes a special guest who gets to craft their ultimate dream meal. From choosing the perfect starter to sipping on the ideal drink, this podcast serves up a delightful blend of humor and gastronomy. It's a unique dining experience where the menu is limited only by the imagination, and you're invited to pull up a virtual chair and join in the feast of laughter and food fantasies.
Sh**ged Married Annoyed
Step into the candid world of Rosie and Chris Ramsey with the "Sh**ged Married Annoyed" podcast, where unfiltered conversations take center stage. In a world full of distractions, this podcast offers a refreshing escape as the Ramseys delve into life's myriad facets. From relationships to arguments, annoyances to parenting, and the journey of growing up, they cover it all. With each episode, they open the floor to questions from the public and even share insights from a surprise celebrity guest, adding a delightful twist to every conversation. Tune in for a dose of laughter, relatability, and genuine, unscripted moments that make this podcast a delightful escape from the ordinary.
That Peter Crouch Podcast
That Peter Crouch Podcast is a captivating blend of entertainment and sports, offering listeners an exclusive backstage pass to the world of professional football. Hosted by the dynamic trio of Peter Crouch, Chris Stark, and Steve Sidwell, this podcast is not just about the game; it's a journey into the heart and soul of football.
Episodes of That Peter Crouch Podcast serve as an invaluable guide on what it takes to be a professional footballer. However, it's more than just insights into the sport; it's a delightful exploration of everything from the inner workings of dressing rooms to the high-stakes world of transfers and the quirks of football managers. The podcast delves into football confessions, humorous anecdotes, and intriguing details of the modern game that will leave any football enthusiast hooked.
Since its launch, That Peter Crouch Podcast has enjoyed a remarkable rise to fame, consistently ranking among the most popular podcasts in the UK. In 2019 alone, it garnered an impressive 12 million listens, a testament to its widespread appeal. Notably, the podcast's journey evolved in April 2022 when it made a strategic move from the BBC to a commercial partnership with Acast, expanding its reach even further.
The success of That Peter Crouch Podcast speaks volumes, having received accolades such as the 2019 British Podcast Awards, Spotlight Award. The judges praised its ability to offer a fresh perspective on football, enriching discussions around one of the nation's favorite pastimes. Brimming with wit and personality, this podcast has united football enthusiasts regardless of their club allegiances. Furthermore, it clinched a silver award for "Best Sports Show" at the 2020 Audio and Radio Industry Awards.
In a simple word, That Peter Crouch Podcast is your ticket to a world where football meets entertainment, humor thrives, and the secrets of the beautiful game are unveiled. Whether you're a die-hard football fan or simply someone looking for engaging content, this podcast delivers it all.
The Rest Is Politics
In "The Rest Is Politics," two distinguished figures from the heart of the political arena, former Downing Street Director of Communications and Strategy Alastair Campbell and cabinet minister Rory Stewart, come together in a unique collaboration transcending political divides. This insightful podcast provides an exclusive peek behind the curtain of Westminster, offering an insider's perspective on the intricacies of politics both domestically and on the global stage. As they engage in thoughtful discourse, Campbell and Stewart masterfully exemplify the art of disagreeing agreeably, rekindling a sense of respectful dialogue in a polarized world.
"The Rest Is Politics" is your portal into the inner workings of the political world. With Alastair Campbell and Rory Stewart as your guides, you'll gain an enriched understanding of the machinations of power, both at home and abroad. This podcast is not just a source of valuable insights; it's a testament to the importance of civil discourse and the potential for constructive conversation, even in the most contentious of arenas. Whether you're a political enthusiast or simply curious about the forces that shape our world, "The Rest Is Politics" is a must-listen that promises to educate, engage, and inspire.
No Such Thing As A Fish
"No Such Thing As A Fish" is a highly acclaimed podcast originating from the creative minds behind the hit BBC show QI. Hosted by Dan Schreiber, along with James Harkin, Andrew Hunter Murray, and Anna Ptaszynski, this engaging British podcast series offers a weekly dose of captivating discoveries and intriguing tidbits.
In each episode, the dynamic team known as "The QI Elves" presents their favorite facts that they've stumbled upon during the week. The podcast's regular presenters, including James Harkin, Andrew Hunter Murray, Anna Ptaszynski, and Dan Schreiber, share their unique insights, and occasional guest presenters make appearances as well. When one of the core presenters is unavailable, fellow QI elves Alex Bell and Anne Miller step in seamlessly.
Since its inception, "No Such Thing As A Fish" has garnered an impressive following, boasting over 700,000 subscribers. Apple recognized its brilliance in 2014, naming it the "Best New Podcast" of the year. The podcast continued to shine, winning the prestigious "Internet Award" at the Chortle Awards in both 2015 and 2016. In 2018, it clinched the Heinz Oberhummer Award for Science Communication, solidifying its status as a top-tier podcast.
With over 450 episodes available as of February 2023, each lasting between 30 minutes and an hour, "No Such Thing As A Fish" consistently delivers a fresh episode every Friday. Dive into a world of fascinating facts and join the ranks of its dedicated listeners who eagerly await each new installment.
Newscast
Newscast, a daily British podcast produced by BBC News, offers a comprehensive snapshot of the day's top news, political developments, and key talking points. As your go-to source for the latest updates, this podcast keeps you informed and engaged with the pressing issues of the United Kingdom.
With an impressive track record as the most-listened-to podcast on BBC Sounds, Newscast consistently secures its position as the UK's leading news podcast. The dynamic hosting duo, featuring BBC's chief political correspondent Adam Fleming and political editor Chris Mason, ensures that you receive a balanced and insightful perspective on the day's events. Tune in to Newscast to stay informed about the UK's political landscape and the stories shaping the nation
The Therapy Crouch
"The Therapy Crouch," the uproarious and insightful podcast hosted by the dynamic duo, Abbey Clancy and Peter Crouch. In this smash hit series, we invite you to join us on a weekly journey where we fearlessly explore the trials, tribulations, and triumphs of navigating complex relationships.
Step into safe haven, where no topic is off-limits, and expect the unexpected. Brace yourself for a rollercoaster of emotions, from tears and tantrums to uproarious laughter. Abbey and Peter, along with their listeners, embark on a captivating exploration of the myriad challenges and joys that come with the ever-mysterious realm of human connections. Whether you're seeking relationship advice, a dose of humor, or a candid look into the highs and lows of love, "The Therapy Crouch" is your go-to podcast for all things heartwarming and hilarious.
The Daily
"The Daily" is not just another news podcast; it's the epitome of what news should sound like. Hosted by the dynamic duo of Michael Barbaro and Sabrina Tavernise, this podcast brings you the most significant stories of our time, all expertly crafted by some of the world's finest journalists. In just twenty minutes a day, five days a week, "The Daily" delivers a comprehensive and concise overview of the day's top news stories, ensuring you're well-informed and up to date. Whether you're an early riser or catching up later in the day, you can count on "The Daily" to be ready by 6 a.m., making it the perfect companion for your daily commute or morning routine.
With "The Daily," you'll dive deep into critical issues, gain insights from seasoned reporters, and uncover the stories that truly matter. This podcast goes beyond the headlines, offering in-depth analysis and perspectives that help you understand the world's complexities. Stay ahead of the curve and make informed decisions with "The Daily," where journalism excellence meets the convenience of a daily news briefing. Subscribe now and join the millions who rely on "The Daily" for their daily dose of essential news.
Conclusion
With these top 10 podcasts available for free on Spotify in the UK, your listening experience just got a whole lot more exciting. From comedy to history, feminism to linguistics, there's an array of engaging content waiting for you to explore. So, plug in your headphones, hit play, and let the podcast journey begin!
Note: Availability of podcasts on Spotify may vary, and some episodes or content may be subject to change or require premium access.
If you are interested in listening to a variety of podcasts, you may want to check out the best podcasts in various genres such as cricket, true crime, horror, sci-fi, motivational, spiritual, food, parenting, entrepreneurship, for kids, World War II, home automation, learning new languages, starting a podcast, history, finance, cryptocurrency, football, mental health, and wildlife
Frequently Asked Questions about the Best Podcasts in the UK

1. Are these podcasts really free on Spotify?
Yes, all the podcasts listed in our article are available for free on Spotify. You can listen to them without needing a premium subscription.
2. Can I download these podcasts for offline listening?
Yes, Spotify allows you to download episodes for offline listening. Simply click the download button next to the episode you want to save.
3. Do I need a Spotify account to listen to these podcasts?
Yes, you'll need a Spotify account to access and listen to podcasts on the platform. You can sign up for a free account if you don't have one already.
4. Are these podcasts exclusive to the UK or can I listen to them from anywhere?
These podcasts are accessible worldwide. While some may have a UK focus or origin, anyone with a Spotify account can enjoy them regardless of their location.
5. Can I leave reviews or comments on these podcasts?
Yes, you can leave reviews and comments on most podcast episodes on Spotify. Your feedback can help other listeners discover great content.
6. How often are new episodes released for these podcasts?
The release schedules for podcasts vary. Some release new episodes weekly, while others may have a different schedule. You can check the podcast's description or website for specific details.
7. Can I suggest a podcast for inclusion in this list?
We'd love to hear your podcast recommendations! Feel free to share your suggestions with us, and we'll consider them for future lists.
8. Are there any age restrictions on these podcasts?
The age suitability of podcasts varies. Some may contain explicit content or mature themes, so it's advisable to check the podcast's content warnings and age ratings, if available.
9. How can I subscribe to these podcasts?
To subscribe to a podcast on Spotify, simply click the "Follow" button on the podcast's main page. This way, you'll receive updates and notifications when new episodes are released.
10. Are there ads or interruptions while listening to these podcasts for free on Spotify? – Spotify offers both free and premium versions. Free accounts may include ads or sponsor messages during episodes. Upgrading to a premium account can provide an ad-free listening experience.
Enjoy your podcast journey on Spotify, and feel free to explore the diverse content these podcasts offer!
About Author
The Podcasting Research Team is a dynamic and passionate group of young researchers who are dedicated to exploring the world of podcasting. Whether you're a podcast creator, a marketer, or simply a curious listener, the work of The Podcasting Research Team can provide valuable insights into the trends and best practices in the podcasting world.