I am sure if you are reading this, then it is confirmed you are a fan of horror stories. Through this article, we will confirm you that you are in for a treat with Pocket FM. The platform is home to some of the best horror stories in Hindi that will send chills down your spine. In this article, we have compiled a list of the top 10 most popular Pocket FM horror stories in Hindi that you should listen to.-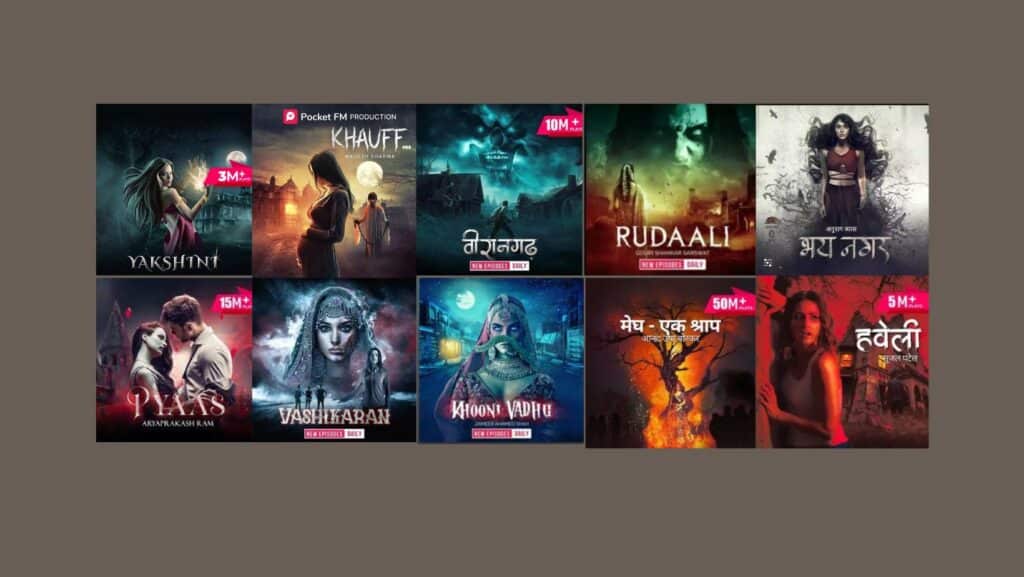 Yakshini
Yakshini was a beautiful creature who created a commotion in the villages of Banglamuda and Rangkamucha. She used to cross the River Kishnoi at night to have sex with men and make them her prey. The villagers were terrified by her actions and believed that the graveyard Kothi belonged to Yakshini. To prevent her from causing harm, the villagers, along with religious leaders of various religions, closed the Kothi.
The closure of the Kothi stopped deaths in the village as the cremation pit was closed. However, after thirteen years, Yuga reopened the burial pit. As soon as the pit was opened, Yakshinis started hunting men crossing the Kishnoi River. Surprisingly, she started making victims not only of men but also of women. The reason behind her actions is said to be a curse that she received from another world.
The above is a brief description of Yakshini, a popular horror story available on Pocket FM. This spine-chilling story by Anand Usha Borkar will keep you on the edge of your seat.
Vashikaran
In this story, listeners are taken on a journey through the dark and twisted supernatural world. Banjaran, who was drowned in a well, returns as a vengeful spirit and starts inflicting harm on the villagers of Pali. The villagers, unaware of her true identity and power, are helpless against her wrath. However, they soon learn of an ancient technique called Vashikaran, which can be used to capture the spirit of an evil entity.
Fast forward 25 years, and a group of young friends decides to play a dangerous game of calling spirits in the very same village where Banjaran's curse was brought to life. As they play the game, they unwittingly awaken Banjaran's spirit, setting off a series of terrifying events that will keep readers on the edge of their seats.
Neha Jha's Vashikaran is a gripping horror story that delves deep into the consequences of revenge and the power of ancient supernatural techniques. It is a tale that will make listeners question their beliefs in the paranormal and leave them with a sense of unease long after they finish reading.
Veeraan-gadh
Veeraan-gadh is a deserted citadel that has been closed for years. The shadow of death lingers in this haunted village, and the doors of the palace that have been closed for years suddenly reopen. This marks the beginning of a series of strange and terrifying events.
Prabhat and Neelam Bharadwaj come to set up a factory on the adjoining land of Birangad, only to mysteriously disappear into the haunted mansion. Their son, Siddhartha, sets out to find them, but his life is also plunged into misery when he reaches Birangad. It is said that no one who enters this terrible village can ever leave.
There are many unsolved mysteries surrounding the palace, and Siddhartha vows to unravel them all and free the villagers from the curses and evil forces that haunt them. However, the task seems impossible as the palace has hundreds of doors that cannot be opened until the riddles are solved.
Will Siddhartha be able to fight against the evil forces? Will he solve the dangerous riddles of the deserted castle and uncover the truth about his parents' disappearance? Or will he face the same fate as his parents?
Get ready to embark on a painful and thrilling journey as the haunted mansion reveals its secrets, driving you crazy. The deserted fort of Veeraan-gadh is where these terrors and dangers will appear doubly, leaving you trembling with fear.
Khooni Vadhu
Khooni Vadhu is a spine-chilling horror story about a temple shrouded in mystery. The temple is known to be abandoned, but it is believed that the ghost of a wandering bride haunts it, preying on men in the nearby village. Can Chetan escape the clutches of this vengeful spirit, and what secrets does the temple hold?
The eerie atmosphere of Khooni Vadhu will send shivers down your spine. The temple, once a place of worship, now stands abandoned and shrouded in darkness. The villagers avoid it at all costs, for they believe that the spirit of a bride who died tragically still lingers there. It is said that any man who enters the temple at night becomes the bride's prey.
Chetan, a brave young man, dared to challenge the curse and entered the temple. But he soon realized that he was not alone. The bride's spirit was there, and she had no intention of letting him leave alive. Chetan had to unravel the mystery of the Khooni Vadhu to break the curse and escape the wrath of the wandering bride.
Will Chetan survive the nightmarish ordeal and uncover the secrets of the temple? Khooni Vadhu is a gripping tale of horror that will keep you on the edge of your seat.
Rudaali
Rudaali is a spine-chilling horror story by Aradhya, featuring Chandrakala, a Rudali residing in Mayapur village, who performs the last rites of people after their death. Chandrakala possesses an extraordinary power that the villagers are unaware of. She has a 12-year-old daughter who also has some supernatural abilities.
One day, when the village sarpanch's daughter commits suicide, Chandrakala is called upon to perform the last rites. However, she refuses to do so after learning about the cause of the young girl's death. Despite her warning, the sarpanch forces her to perform the last rites. And soon, Chandrakala's warning comes true, and people in the village start dying one after another.
As the mystery unfolds, it is revealed that the young girl's death was not a suicide but a murder. Chandrakala knew the secret because of her psychic abilities, which enabled her to communicate with spirits. However, the villagers didn't believe her and paid a hefty price for their ignorance.
As more and more people die, Chandrakala decides to use her powers to save the village. But can she do it alone? Will the villagers listen to her this time, or will they ignore her again? The story's gripping plot and unexpected twists will keep you on the edge of your seat until the very end.
PYAAS
"PYAAS" is a thrilling horror story available on Pocket FM, about a young girl named Mugdha who moves to Shimla with her mysterious and wealthy family. After joining college, strange events begin to occur, including the disappearance of a boy who had a crush on her, and the deaths of several residents, all found drained of their blood. Mihir Khurana, a promising student at Mugdha's college, becomes suspicious of her involvement in his friend's disappearance. Despite his suspicions, Mihir is drawn towards Mugdha. The story unfolds the mystery surrounding Mugdha's family and their connection to the murders, along with the complex relationship between Mugdha and Mihir. The story leaves the listener with a sense of suspense and intrigue, pondering over the truth behind the events and the characters' motivations. If you're a fan of horror stories, then PYAAS is definitely one of the must-listen horror stories on Pocket FM.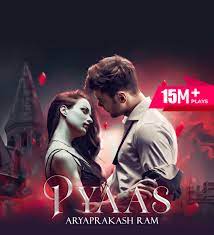 Khauff
Khauff – A spine-chilling horror story about Priya, whose life turns upside down just two days before her wedding. A terrifying devil enters her life and kills her fiancé Aditya. But that's not all, the devil impregnates Priya with his child, leaving her traumatized. Within a day, Priya gives birth to the devil's child, and things start to take a dark turn. The child starts haunting her, and Priya's life becomes a living nightmare as she tries to uncover the truth behind the devil's intentions. With an eerie atmosphere and a gripping plot, Khauff is a must-listen for horror enthusiasts.
Megh – Ek Shraap
Megh – Ek Shraap is a spine-chilling horror story that revolves around the lives of Rudra and Tanvi, two lovers caught in the midst of a series of mysterious events. The story begins with the discovery of a woman's charred remains, 18 years after her death. The discovery sets off a chain of events that bring forth the curse of Megh – a mysterious entity that is said to bring bad luck to the village of Kishangarh.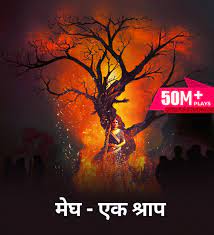 As the story unfolds, Rudra and Tanvi find themselves embroiled in the mysteries of Megh, trying to uncover the truth behind the ancient traditions that seem to be tied to the curse. However, as they delve deeper, they realize that there is more to the curse than meets the eye. The curse not only affects the village but also their personal lives, and they soon find themselves in a fight for their survival.
Megh – Ek Shraap is a haunting tale of love, betrayal, and vengeance, that will keep you on the edge of your seat till the very end. Will Rudra and Tanvi be able to break the curse of Megh and uncover the truth behind the mysterious woman's death? Or will they fall victim to the curse themselves? Listen to this tale of fear and horror on PocketFM to find out.
Bhay Nagar
Bhay Nagar is a tale of a girl who finds herself trapped between two terrifying time-cycles, struggling to survive in both her past and present. The story is set in the eponymous town of Bhay Nagar, where strange occurrences have been happening for many years. The main character, a young girl, is haunted by visions of her past life in the town, where she is constantly chased by an unknown entity.
As she navigates through her present life, the girl starts to unravel the secrets of her past and the mysterious town. She discovers that Bhay Nagar has a dark and sinister history, with several unexplained deaths and disappearances over the years. The townsfolk believe that a supernatural force is behind these incidents, and they fear for their lives.
The girl soon realizes that she is connected to the town's dark past in more ways than one. She uncovers a shocking truth about her own identity and the reason for her haunting visions. As she delves deeper into the mystery, she discovers that the supernatural force that is terrorizing the town is none other than a vengeful spirit seeking retribution for an old injustice.
Bhay Nagar is a thrilling horror story that will keep you on the edge of your seat. It is a tale of fear, survival, and the fight for justice in the face of overwhelming darkness. Will the girl be able to break free from the clutches of the supernatural force, or will she become its next victim? Only time will tell.
Haweli
The horror story "Haweli" is about Antara, who moves into her ancestral mansion with her college friends after her mother starts a new life with her second husband. Little did Antara know, the mansion was full of mysteries and secrets waiting to be uncovered. Soon after moving in, Antara's boyfriend, Tushar, experiences something unfortunate, leading Antara and her gang to witness something horrific in the house.
Listeners can join Antara's journey by tuning into Pocket FM and delving into the spine-chilling tale of "Haweli". Discover what happens to Tushar and how Antara deals with the paranormal activities that take place in the mansion. The story is sure to keep the audience at the edge of their seats and leave them with a sense of dread and horror. Listen to "Haweli" on Pocket FM to uncover the dark secrets that lie within the walls of the ancestral mansion.
Conclusion
In conclusion, Pocket FM is a treasure trove for horror enthusiasts who are looking for their next thrilling fix. From the creepy Yakshini to the spine-chilling Haweli, there is no shortage of terrifying stories to keep you up at night. Each story is unique and well-written, with talented authors and narrators bringing them to life. Whether you're a die-hard horror fan or a newbie to the genre, Pocket FM's horror stories will leave you with a sense of dread and an insatiable craving for more.
About Pocket FM APP
As an Indian audio streaming platform, Pocket FM provides its users with a wide range of audio content across various genres in multiple languages. The app has a simple and intuitive interface that allows users to easily access and listen to their preferred content.
The app offers an extensive collection of audiobooks, podcasts, and stories in different categories, including motivational speeches, self-help books, and spiritual content. Additionally, it features entertainment content such as horror and suspense stories that keep users on the edge of their seats. Pocket FM also enables users to create custom playlists and download content for offline listening.
Another standout feature of the app is its ability to provide personalized recommendations based on the user's listening history and preferences. This ensures that users are continuously discovering new and exciting content that aligns with their interests.
Users can also engage with content creators by leaving comments and ratings, which creates a sense of community and enhances the listening experience. Pocket FM is available for free on both Android and iOS devices, but certain content on the app may require a subscription or in-app purchases to access. Overall, Pocket FM is a great platform for anyone looking to explore and discover audio content in various genres and languages.
FAQs
Q: What is Pocket FM?
A: Pocket FM is a popular audio streaming app that offers a wide range of audio content, including audiobooks, podcasts, and radio shows.
Q: What are horror stories?
A: Horror stories are narratives that are designed to evoke feelings of fear, terror, or disgust in their audience. They typically feature supernatural or otherworldly elements, such as ghosts, demons, or monsters.
Q: What are the most popular horror stories on Pocket FM?
A: Some of the most popular horror stories on Pocket FM include Yakshini, Vashikaran, Khooni Vadhu, and Rudaali.
Q: Who are the authors of these horror stories?
A: The authors of these horror stories vary, but they include Anand Usha Borkar, Neha Jha, Nimit Vora, Zameer Ahmed Shah, Aradhya, Saumya Dubey, Mahesh Sharma, Anuraag Vyas, and Ritu.
Q: Are these horror stories suitable for all ages?
A: It depends on the individual story. Some horror stories on Pocket FM may contain content that is not suitable for all ages, such as violence, gore, or sexual themes. It is important to read the descriptions and ratings of each story before listening to determine if it is appropriate for you or your audience.
Q: Can I listen to these horror stories for free on Pocket FM?
A: Yes, you can listen to these horror stories for free on Pocket FM. However, some stories may have premium features or require a subscription to access all episodes or content.
Q: How can I access these horror stories on Pocket FM?
A: To access these horror stories on Pocket FM, you can download the app on your mobile device and search for the titles in the search bar. Alternatively, you can browse the "Horror" genre category to find similar stories.
About Author
The Podcasting Research Team is a dynamic and passionate group of young researchers who are dedicated to exploring the world of podcasting. Whether you're a podcast creator, a marketer, or simply a curious listener, the work of The Podcasting Research Team can provide valuable insights into the trends and best practices in the podcasting world.