"News is the first draft of history" By Ben Bradlee News has taken multiple reformation to connect to its audience. Starting from Newspaper, Radio, Television and now Digital integration which certainly helped to reach faster than it used to be earlier. For all the news junkies, it's good news that many mainstream media publications and big media houses are also started streaming news through podcast nowadays. Now let's talk about Top 10 most popular News Podcast for World News for all the podcast lovers!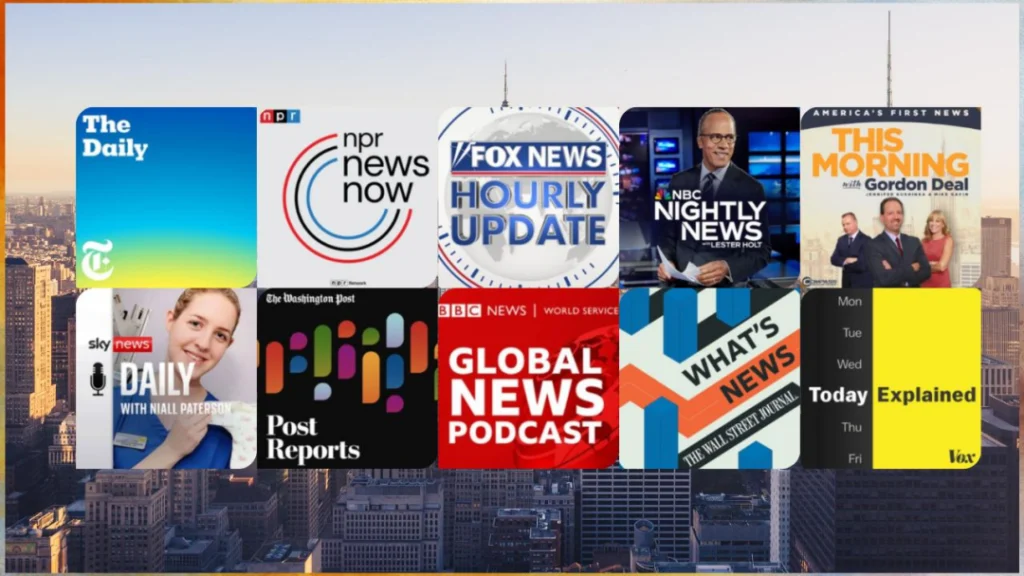 The Daily Powered by The New York Times is one of the best news podcast you should not miss. The quality of news as well the audio is well-defined to their about page – "This is what the news should sound like". This news podcast is hosted by Michael Barbaro. If you subscribe, they will notify the latest episode as soon as it publishes.
NPR NEWS NOW one of the best news podcast which delivers top stories from business, politics, health, science, technology, music, arts and culture globally in an hourly basis.
Fox News Radio is also hourly broadcast podcast which cater national and international news in all sector. As they promote it saying – Just say: "Alexa, play the news from FOX." and as per the listeners demand this is ranked as one of the best news podcast for world news.
NBC Nightly News Podcast is one of the finest and best news podcast which provides reports and analysis of every day's most the newsworthy national and international content. This is hosted by Lester Holt
This is one of the most popular news podcast which serves all the latest news around the world. This is hosted by Gordon Deal and Jennifer Kushinka. Their content is purely as they say lively blend of intelligent information, humor, and expert analysis to morning radio.
The Sky News Daily is one of the popular news podcasts which clearly out stand with the topical researched content with proper analysis and excellent delivery which marks it one of the top 10 news podcast category
Post Reports is one of the best news podcast for news junkies. This podcast is powered by The Washington Post with their unparalleled reporting, excellent expert insight and unbiased clear analysis. This podcast is hosted by Martine Powers, asking the questions you didn't know you wanted to be answered.
As the name indicates, the Global News Podcast caters all the news globally. This news podcast is powered by BBC World Service. This is one of the old and popular news podcast having a global listenership.
What's News from the house of the Wall Street Journal is one of the best news podcast. It streams the trending topic and business news that move markets and the world with exclusive content insight and quality analysis from the award-winning reporters that broke the stories. This show is hosted by Annmarie Fertoli and Luke Vargas.
Today, explained with carrying creative thumbnail, ranking one of the most popular news podcast in global index. News comes at you fast. This podcast is hosted by Sean Rameswaram and Noel King. In every episode, they feature the finest reporters from the Vox Media Podcast Network and beyond with excellent content insight – a must-listen for news junkies!
These are the top10 news podcasts which will make your podcasting journey. You can listen to them in google podcast, Spotify and apple podcast, If you want to check the top 10 podcasters and their listenership do check here.