"A woman is like a tea bag; you never know how strong it is until it's in hot water" Eleanor Roosevelt
As the world is witnessing a significant change is women empowerment in every sector, and we have seen in the podcasting world too. As the globe is celebrating women day on 8th March, we are dedicating our blog to all women who joined into the world of podcasting and successfully won listener's heart. If you are podcast lover and want to listen some of the best podcasts, then here you go – presenting the Top 10 Best Podcasts For Women By Women Podcaster.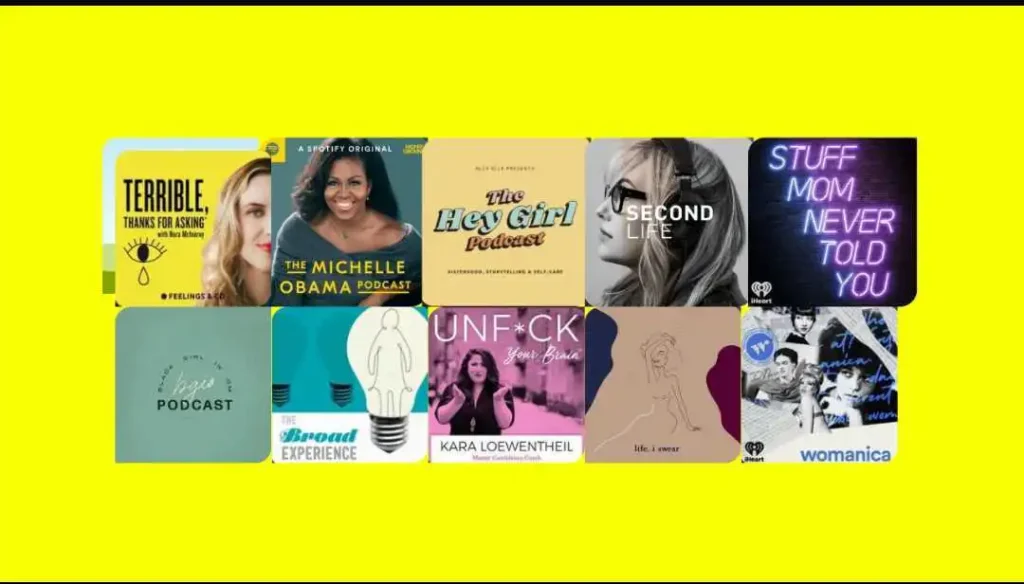 A podcast that honestly answers the question of How are you? Hosted by @noraborealis, from American Public Media. If you start to listen this podcast, we can bet as you can also do shout out to it as one of the best podcasts for women.
The Michelle Obama Podcast
The Michelle Obama Podcast is one of the best podcasts for women. This podcast features the former First Lady diving deep into conversations with loved ones—family, friends, and colleagues—on the relationships in our lives that make us who we are

Hey, girl. Titled podcast is one of type of women podcast that unites the voices of phenomenal women near and far and one of the best podcasts for women of all ages. Created with sisterhood and storytelling in mind, author Alex Elle sits down with people who inspire her. From friends to family members and strangers, the hey, girl
This is one of the podcast which ranked one of the best podcasts for women by women podcaster for women because of the content. Second Life is hosted by Hillary Kerr, as she chronicles the career changes that can come at any age in the podcast, where she hosts some candid conversations and provide the incredible backstories behind some of today's most powerful founders and influencers.
Stuff mom never told you
Like the podcast name, this podcast also one of the finest podcast curated by our research team which ranked one of the top 10 best podcasts for women This podcast is hosted by Anney and Samantha which carries the conversation of what it is to identify as female through research-based discussion around feminism and how it impacts everyday life.
As the podcast say about itself, they are creating space for black women to breathe easy with a mission to hold and catalyze healing within black women around the world on their unique journeys towards wholeness. It supports the necessary transformation, spiritual awakening, consciousness shifts, and intergenerational healing occurring within the diaspora. With this mission, it stands as one of the best podcasts for women.
The Broad Experience, is one of the best podcast for women, by one of the finest women podcaster, Ashley Milne-Tyte who is a writer and public radio reporter based in and around New York. The Broad Experience podcast streams excellent content on womanhood, their careers.
Un F*ck Your Brain is the best podcast for women, especially who struggle with anxiety, self-doubt, and imposter syndrome. If you know you've accomplished a lot professionally, but still secretly feel like you're unqualified. If you want to feel confident, but you worry about what everyone else thinks about you…if you want to succeed but fear failure…this podcast is for you. In this podcast, each episode carries information on how to overcome social conditioning and your own self-critical thoughts so that you can reduce your anxiety and insecurity, boost your self-confidence, and get what you want in life. Because of the thematic content approach, this podcast will definitely win the heart of all women.
Life, I swear is another best podcast for women which shares reflections from Black women about trials in their lives that have helped them heal, connect and process. This podcast is hosted by Chloe Dulce Louvouezo. A continuation of her published book, Chloe shares conversations and personal prose centered on personal stories that offer insights told through the lens of Black women.
This is one of the best podcast for women as per its listeners ranking. This is Interesting, informative, and absolutely one of the bingeworthy podcast. The content is meticulously researched, featuring and telling the stories of women you may or may not know — but definitely should. This podcast is hosted by Jenny Kaplan and supported by Wonder Media Network
Many thanks for checking out this blog, if you want to read how the podcasting is helping to shape the industry in different sector do check out our Why Podcasting! Once again, let's echo and cheers to the ladies who are signing in a million hearts through podcasting.
About Author
The Podcasting Research Team is a dynamic and passionate group of younger researchers who're devoted to exploring the arena of podcasting. Whether you're a podcast author, a marketer, or honestly a curious listener of podcasting, the work of The Podcasting Research Team can offer treasured insights into the traits and exceptional practices inside the podcasting industry.