Tuberculosis is a contagious bacterial disease that affects millions of people worldwide. While it can be a serious and potentially life-threatening condition, there are many resources available for education, prevention, and treatment. One of the most convenient and accessible resources for information about TB is podcasts.
In this article, we will introduce you to the top 10 best tuberculosis podcasts that you can listen to today. These podcasts provide a wide range of information on TB, including diagnosis, treatment, prevention, research, and personal stories. Whether you're a healthcare professional, a TB patient, or someone interested in learning more about the disease, these podcasts offer valuable insights and information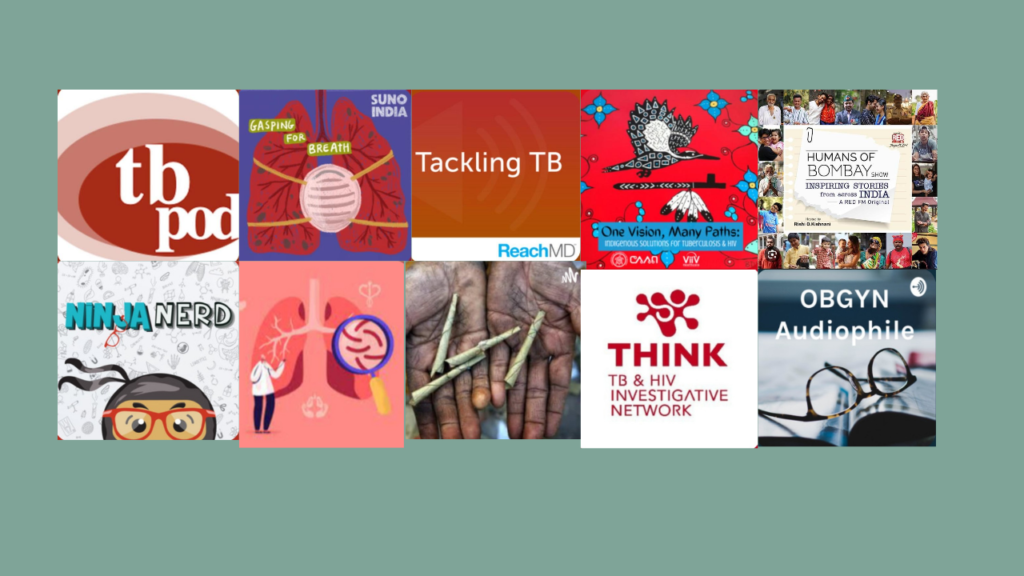 The TBPod is a podcast dedicated to providing insights to clinicians and policymakers who are looking after patients with tuberculosis. These podcasts offer valuable discussions with experts in the field of tuberculosis, including clinicians, researchers, policymakers, and advocates, shedding light on their work and expertise. Despite being a major cause of death worldwide, tuberculosis still affects many people, particularly migrants arriving in Australia and New Zealand, with about 1300 reported cases in Australia and 300 in New Zealand each year, including cases of multi-drug resistant (MDR) TB. The Australian government has pledged to eliminate TB globally by 2030, but achieving this goal necessitates the development of innovative strategies backed by high-quality research and with national and international reach. These podcasts aim to inform and engage those interested in tuberculosis by featuring conversations with leaders in the field, keeping you up-to-date on the latest developments and insights.
Gasping For Breath is a groundbreaking narrative podcast series that takes a deep-dive into the topic of tuberculosis in India. Hosted by senior health journalist Menaka Rao, this podcast provides a comprehensive and thought-provoking exploration of the impact of tuberculosis on Indian society.
As India's first podcast on tuberculosis, Gasping For Breath Season 1 is a must-listen for anyone interested in public health and global health issues. The podcast features in-depth reporting and interviews with experts in the field, as well as personal stories from individuals affected by the disease.
With its engaging storytelling and insightful analysis, Gasping For Breath Season 1 is a powerful and informative podcast that sheds light on an important public health issue. Don't miss out on this groundbreaking series. Tune in now to learn more about tuberculosis in India.
Discover the Tackling TB podcast, your go-to resource for expert insights into tuberculosis. Despite not being frequently discussed, tuberculosis affects millions worldwide, with up to 13 million carrying the latent infection that can remain undetected for years and even become fatal if not caught early. In this podcast, leading experts in public health and infectious disease share their knowledge on current guideline recommendations, testing methods, and the crucial role of primary care physicians in conducting risk-based screening protocols. Join the fight against tuberculosis and stay informed with Tackling TB.
Looking for a podcast that delves into the ongoing struggle with tuberculosis (TB) among Indigenous people in Canada? Look no further than One Vision, Many Paths. Host Jen Quesnel talks with leading Indigenous policy makers, researchers, nurses, and community organizers who are at the forefront of the TB response. Across four informative episodes, guests explore Indigenous-led solutions, policy changes, and best practices that are crucial to meeting the goal of eliminating TB in Canada by 2030.
One Vision, Many Paths is a powerful exploration of the impact of TB on First Nations, Métis, and Inuit communities in Canada. Recorded and produced on Treaty Six territory, this podcast is brought to you by Communities, Alliances & Networks (CAAN), a non-profit organization that supports Inuit, Métis and First Nations people by generating community-driven responses to HIV and AIDS, TB, and other sexually transmitted and blood borne infections. With support from ViiV Healthcare Canada, One Vision, Many Paths gives voice to the experiences and perspectives of those who are directly impacted by TB, while providing inspiration and hope for a healthier future.
The Humans of Bombay Show, hosted by Shannon Court, is a podcast that showcases inspirational and motivational stories from all over India. In one of its episodes, the podcast features Gladson Peter, a musician who refused to give up on his passion for music despite being diagnosed with tuberculosis.
During the episode, Gladson shares his story of how he overcame tuberculosis and became India's first 'One Man Band' by singing and playing 13 instruments simultaneously. His story is a testament to the power of perseverance and pursuing one's passions. Tune in to this episode to learn more about Gladson's journey and how he achieved his dreams despite the odds stacked against him.
Looking to ace your medical board exams? Look no further than the Ninja Nerd Podcast! Hosted by Zach and Rob, this podcast delivers the most important information you need to crush your exams and apply your knowledge clinically. In an upcoming episode, "Rob and Zach will be talking about Tuberculosis," covering everything from the introduction to the disease to its diagnosis and treatment.
In this episode, the Ninja Nerd Podcast will delve into the causes and pathophysiology of Tuberculosis, as well as its clinical features and physical exam findings. Plus, you'll gain valuable insights into the diagnosis and treatment of the disease, helping you prepare for your board exams and succeed in your clinical practice. Don't miss this episode and other informative content from the Ninja Nerd Podcast!
Tuberculosis is a serious illness that has affected millions of people worldwide. However, despite medical advancements, many patients still experience delayed treatment, which can have devastating consequences. In this TB Podcast, it delves into the factors that contribute to these delays and what can be done to address them. Tune in to gain a deeper understanding of tuberculosis and its impact on patients.
Join on this informative journey as we explore the inner workings of tuberculosis and its effects on patients. Through our discussion, This will uncover the reasons why patients may experience delays in treatment and what can be done to improve access to care. Don't miss out on this eye-opening episode that sheds light on a crucial public health issue.
The Disease in the Developing World podcast sheds light on the prevalent health issues faced by developing countries. Among the leading infectious causes of death in these regions are respiratory tract infections, diarrheal diseases, tuberculosis, malaria, and AIDS, accounting for over 90% of fatalities. Tuberculosis, in particular, is a significant health threat and is responsible for a significant portion of these deaths.
The podcast delves into the challenges of treating tuberculosis in the developing world and provides insights into the latest advancements in diagnosis, treatment, and prevention. By highlighting the impact of this disease on communities and individuals, the podcast aims to raise awareness and encourage action towards improving health outcomes in developing countries. Tune in to the Disease in the Developing World podcast to stay informed about the latest developments in global health and learn how you can make a difference.
THINK is a non-profit organization that conducts clinical research to alleviate the suffering caused by Tuberculosis and HIV. Founded in 2013, the organization has since expanded to include Training and Health Systems Strengthening. THINK collaborates with academic institutions, global partners, and pharmaceutical companies to develop new tools and support the Department of Health in improving prevention, diagnosis, and treatment of these diseases.
In particular, THINK has been at the forefront of producing Tuberculosis podcasts that provide valuable information to those who are affected by the disease. These podcasts cover a wide range of topics related to Tuberculosis, including prevention, diagnosis, and treatment options. By leveraging the power of podcasting, THINK is able to provide accessible and engaging information to those who need it the most. The organization's commitment to using innovative and effective approaches to tackle Tuberculosis and HIV makes it an important player in the fight against these diseases.
If you're looking for an informative and engaging podcast about Tuberculosis in pregnancy, look no further than OBGYN Audiophile! This podcast offers free audio files with practice questions and answers to help those studying for their OBGYN oral examination. The Tuberculosis in pregnancy episode is a great pop quiz for those who provide antenatal care and a perfect refresher for GYN specialist fellows.
You listen to this podcast while exercising, commuting, or doing your dishes. With a focus on Tuberculosis in pregnancy, this episode offers valuable insights and information for healthcare professionals and students alike.
In summary, if you're interested in learning more about Tuberculosis in pregnancy, check out OBGYN Audiophile's podcast episode on the topic. With practice questions and answers, this podcast is perfect for those studying for their OBGYN oral examination or looking for a refresher on the subject. Don't forget to visit their website for even more helpful files and resources!
About Author
The Podcasting Research Team is a dynamic and passionate group of young researchers who are dedicated to exploring the world of podcasting. Whether you're a podcast creator, a marketer, or simply a curious listener, the work of The Podcasting Research Team can provide valuable insights into the trends and best practices in the podcasting world.