It's almost a new year and a new you! And perhaps, in this new year, the new you want to start a podcast! Whatever your reasons for wanting to join the amazing world of podcasting, you're most definitely going to want to learn as much about the industry as you possibly can.
Starting a podcast can be a daunting task, especially if you're new to the world of podcasting. However, with the right resources, it can be an incredibly rewarding experience. In this blog post, we'll be discussing the top 10 podcasts that will teach you how to start a podcast, completely free of charge. From equipment to editing, these podcasts will provide you with the knowledge and skills you need to get your podcast up and running. Whether you're just starting out or looking to improve your existing podcast, these resources will help you take your show to the next level.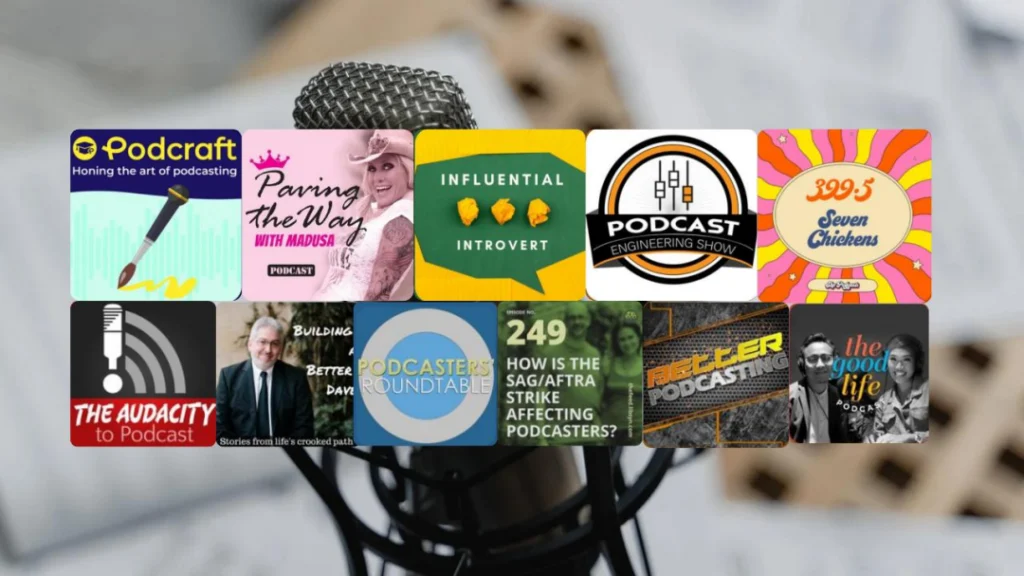 Produced by The Podcast Host, Podcraft's byline is "Honing the art of podcasting," and that is exactly what this show sets out to do. Each season, a different topic is covered and explored in-depth, giving you all you need to master that aspect of your show. Podcraft's main aim is to take you from beginner to pro by equipping you with the skills you need to make your name in the industry. So whether you want to learn how to market or monetize your podcast, how to create valuable.
If you're really pressed for time but still want to learn all you can about podcasting, then 5 Minute Mondays is the perfect show for you! In all of, you guessed it, 5 minutes, you'll get solid, practical tips and user-friendly information to help you launch a successful podcast and produce a quality show for the long haul.
Sarah Mikutel wants to help your show succeed through her podcast, Podcasting Step-By-Step. Whether you're brand new to podcasting, or you've been at this for a while but just need a boost, this show is for you. While Sarah gives a lot of actionable advice and no-nonsense information, she's also great at dishing out genuine motivation and will even virtually hold your hand as you navigate your challenges or the bumps along the way.
If you're looking for all the info on the technical side of podcasting that you could possibly want, look no further than The Podcast Engineering Show. Host Chris Curran, along with his guests, navigates the ins and outs of the podcasting equipment you should be using, how to maximize your software and insider tips on how to get the best audio quality for your show.
Hosted by Elsie Escobar and Jessica Kupferman, She Podcasts is another incredible resource if you're looking to start a podcast or looking for some cool ladies to help you along your journey. Their episodes are insightful, full of personality, and a lot of fun – not to mention, packed with all the information, tips, and tricks you could possibly need for starting and maintaining a successful podcast.
Another invaluable podcast for podcasting is The Audacity To Podcast, hosted by expert podcaster, Daniel J. Lewis. This show offers easy-to-follow, step-by-step guidelines, in-depth information, and honest insight into the many facets of podcast creation and publication. Everything you could ever need to launch or improve your podcast can be found on this show.. All things podcasting are discussed in-depth, but with the wit and charisma to keep you coming back for more. The content is top-notch and the answers and advice Daniel gives will see you podcasting with the pros in no time!
Hosted by podcasting pro, Dave Jackson, School of Podcasting is one of, if not the longest-running podcast focused on podcasting, starting way back in 2005. Each episode features thorough, honest discussions centered on a particular aspect of the podcasting industry, and the order of the day is always honest, real, and highly-valuable answers, feedback, and insights.
The Podcasters' Roundtable is less about the "how-to's" of podcasting and more about the issues and challenges podcasters face. Hosted by podcasting pros in their own right, Ray Ortega (The Podcaster's Studio), Dave Jackson (School of Podcasting) and Daniel J. Lewis (The Audacity to Podcast), the focus of the show is equipping and helping their fellow podcasters grow and develop their skill set.
The Feed is Libsyn's official podcast and another great resource for new and experienced podcasters alike. Hosted by Rob Walsh and Elsie Escobar, each episode features podcasting essentials, up-to-date information, a lot of best podcasting practices, as well as the all-important dos and don'ts!
We now present to you Better Podcasting. Stephen Jondrew and Stargate Pioneer host this weekly podcast which zeroes in on all aspects of podcasting and how to elevate your show to the next level, with a specific focus on the Hobby Podcaster. The show is informative, unbiased, full of valuable content, and entertaining. It serves as a really great playbook for getting into the podcasting game.
The Good Life Project podcast turns your living room, car, or weekend run into an intimate conversation with some of the most inspiring, well-known guests, and everyday people. Through interviews filled with thought-provoking questions, host Jonathan Fields asks guests to share something unfiltered about their life, and how they've turned those experiences into powerful messages of hope and happiness.
Starting a podcast can be an exciting and fulfilling experience, but it can also be overwhelming. With the right resources, however, you can overcome any challenges and create a successful podcast. The podcasts listed in this blog post are some of the best in the industry, providing valuable information and guidance on how to start a podcast, completely free of charge. So, whether you're just starting out or looking to improve your existing podcast, be sure to check out these top 10 podcasts and take your show to the next level.Who knows, maybe one day you'll be the one advising the next wave of would-be podcasters! Until then, give these shows a listen, learn all you can, and you'll achieve all you set out to and more!
About Author
The Podcasting Research Team is a dynamic and passionate group of young researchers who are dedicated to exploring the world of podcasting. Whether you're a podcast creator, a marketer, or simply a curious listener, the work of The Podcasting Research Team can provide valuable insights into the trends and best practices in the podcasting world.
If you want to start your own podcast, check our free podcasting guide.