Selecting the appropriate podcast equipment is a critical factor that can impact the overall quality of your podcast. However, this task doesn't have to be daunting. Regardless of whether you're a novice or an expert, you can peruse our comprehensive equipment checklist to determine the necessary tools for recording your podcast.
Our guide offers a breakdown of the top podcast equipment options for every budget, including podcast microphones, shock mounts, and recording software. We're here to guide you through the process of creating a stellar podcast setup that meets your needs.
Podcast Equipment: Key Factors to Consider Before Making Your Purchase
When preparing to purchase equipment for your podcast, it's important to consider your recording setup first. Will you be recording remotely or in a studio with guests? It's essential to plan ahead before making any purchases. If you plan on recording with multiple hosts or guests, ensure your equipment has enough ports to support everyone. Consider the Audio-Technica ATH-M30x headphones, which work well for both single and multiple hosts. You can purchase two, three, or four pairs, depending on your needs. If you're using more than one microphone, you'll need a USB interface or mixer that can accommodate all of the necessary XLR mic connections. Additionally, don't forget to have extra equipment on hand for guests.
Another crucial factor to keep in mind is the recording environment. Your microphone choice should account for the unique sound quality of each environment. If you plan on recording remotely, choose software that provides high-quality sound, no matter where you are.
Finally, establish a budget before purchasing your podcast equipment. Whether you're just starting or are already experienced, it's important to decide on a budget that works for you and your co-hosts. You can balance cost and quality, even if you don't have a lot to spend initially. You can always upgrade and purchase additional equipment as your audience grows.
Essential Podcasting Equipment: A Beginner's Guide to Getting Started
To start your podcasting journey, it's recommended that you equip yourself with the following essentials:
Microphone(s)
Headphone(s)
Recording software or a digital audio workstation
An audio interface or mixer
A camera (if video recording is desired)
Additionally, you may want to consider getting some of these extra items:
A pop filter
Lighting equipment
A Mic Arm
A shock mount
Let's take a closer look at each of these podcasting equipment. If you're on a tight budget and looking for podcasting equipment under $100, we have a separate guide for you. However, if you're more flexible with your budget, check out the video below and read on for our top recommendations for both beginners and professionals alike.
Must-Have Podcast Equipment Essentials
Microphones
To get started with your podcast, it is recommended that you have the appropriate equipment. One of the essential components is the microphone, and you have two options: dynamic or condenser mics. While condenser microphones offer better sound quality, they are more sensitive and not suitable for noisy environments. Dynamic microphones, on the other hand, are affordable, do not require external power, and are ideal for loud environments.
Additionally, you need to consider the polar pattern, which determines the directionality of the microphone. Cardioid microphones pick up sound from the front and are commonly used in podcasts. For connection cables, beginners may prefer USB microphones since they are easy to set up and connect directly to your computer or other power sources with a USB input. XLR mics, on the other hand, require an external power source such as an audio interface and provide more control over recording.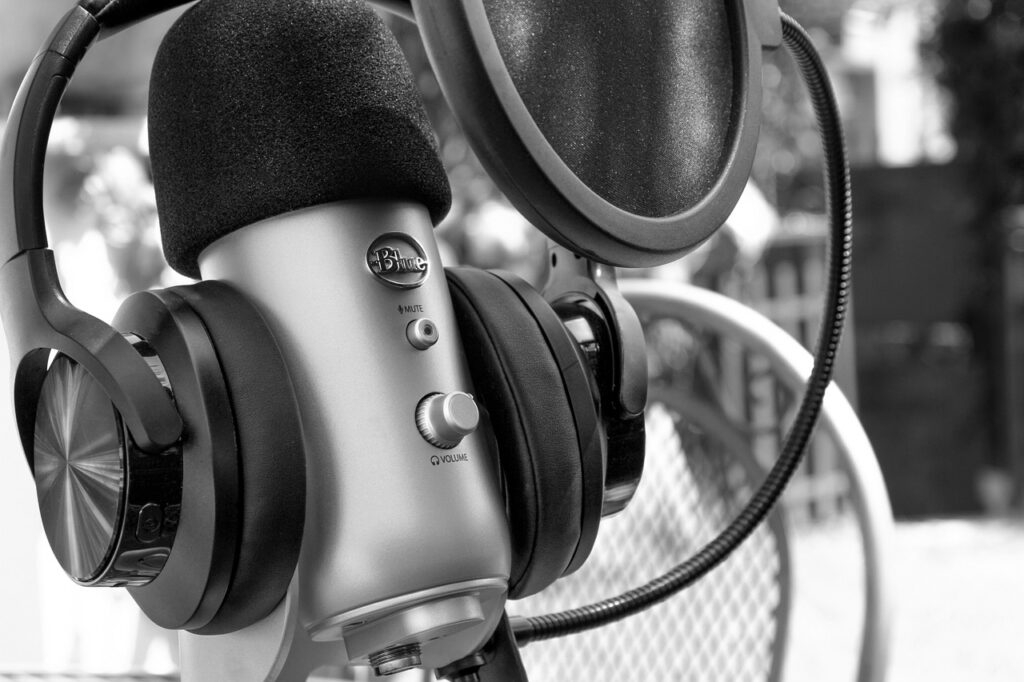 If you're looking for some of the best podcast microphone options, you might consider the following:
Pyle PDMICR42SL Classic Retro Microphone : This dynamic Pyle Classic Retro microphone has a cardioid polar pattern and built-in pop filter. It stands out with its unique retro look and uses an XLR connector.
ATR2100-USB: The ATR2100-USB is a cardioid dynamic, handheld microphone with both USB and XLR output. It plugs directly into your computer and doesn't require recording software.
MXL 990 Condenser Microphone : The MXL 990 produces professional sound quality for digital and analog recordings and comes with a shock mount included in the price.
Shure MV7: The Shure MV7 microphone has both USB and XLR output and features automatic noise reduction for clearer recordings.
Heil Sound PR 40 Dynamic Cardioid Studio Microphone : Consider the Heil PR 40 if you're looking to upgrade your equipment. It comes with a microphone arm and shock mount but is a little pricey.
Blue Yeti USB Mic: The Blue Yeti is an affordable and easy-to-use mic with adjustable polar patterns. However, it is rather sensitive and not suitable for noisy environments.
For more detailed information on podcast microphones, you can refer to our podcast microphone guide.
Headphones
Next on the list: Headphones. Podcasters need this indispensable tool to monitor and fine-tune the audio quality during recording and editing. Fortunately, there are excellent headphone options available to fit any budget.
Audio-Technica ATH-M30x : For beginner podcasters, the Audio-Technica ATH-M30x headphones are a great choice. These headphones provide superior value at a reasonable cost, delivering both comfort and functionality.
Shure SRH440 : Another wallet-friendly option, the Shure SRH440 headphones have received high ratings and are optimized to work with numerous professional audio devices.
Beyerdynamic DT 770 PRO : For maximum comfort, the Beyerdynamic DT 770 PRO headphones should be your top pick. These versatile headphones can connect with mobile, studio, and other audio devices.
Audio-Technica ATH-M50x :The Audio-Technica ATH-M50x headphones are part of the same series as the ATH-M30x. However, they offer an extended frequency range and wireless capabilities.
Sennheiser Momentum 3.0 : These Sennheiser headphones are an excellent investment for both novice and experienced podcasters. They feature noise-blocking capabilities, both wired and Bluetooth options, and long battery life.
Sony MDR1AM2/B : When you're ready for an upgrade, consider these lightweight Sony headphones. They allow you to hear sounds across the entire spectrum that lower-quality equipment might miss.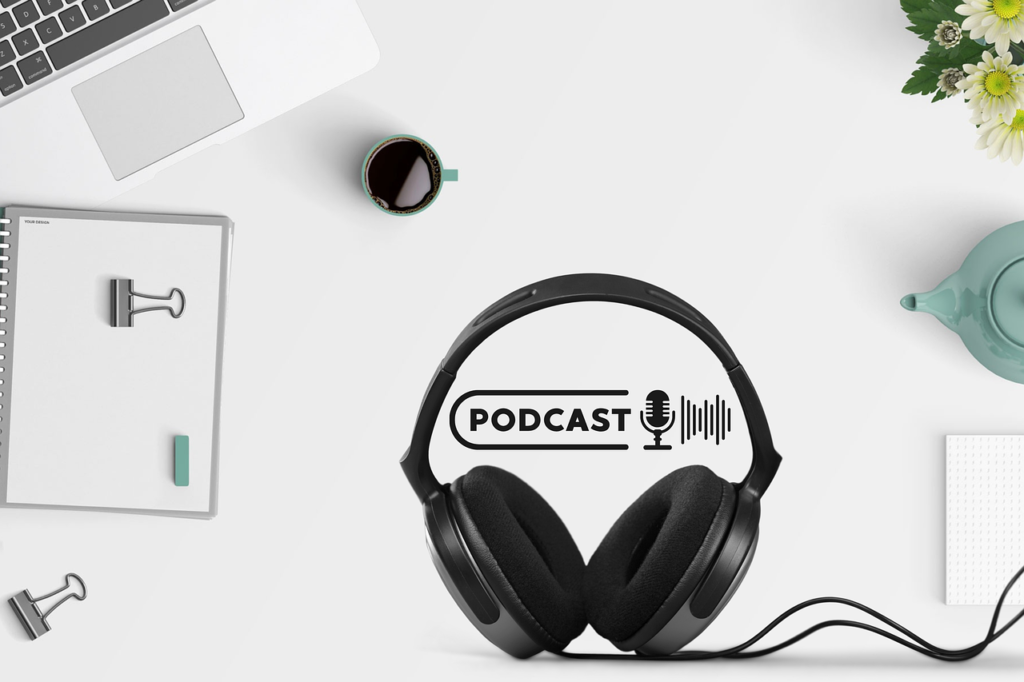 Audio Interface
An audio interface is a tool that simplifies connecting your recording equipment to your computer by converting your recordings into a digital format that's readable by your computer. If you're using XLR microphones or recording with multiple speakers and want separate tracks, it's essential. However, it may not be necessary if you're using a USB mic.
For beginners looking to set up a podcast, the Midiplus Smartface II audio interface is an excellent choice as it works with most computer operating systems and offers basic features.
Although a bit pricey, the Focusrite Scarlett 2i2 Studio 3rd Gen USB Audio Interface Bundle provides excellent value due to the additional equipment it includes with the audio interface itself.
The MOTU 8pre USB is a great choice for those looking to upgrade their podcast equipment, as it offers up to 16 inputs.
Mixers
In order to optimize your podcast setup, it may be beneficial to incorporate a mixer, particularly if you have multiple hosts or guests or plan to record various types of audio. It's essential to consider the number of channels the mixer can handle, the presence of preamps, and its compatibility with other equipment before making a selection.
For podcasters on a budget, the Behringer Xenyx 802 is an excellent entry-level mixer that provides eight inputs, two mic preamps, and noise-canceling features. The Allen & Heath ZEDi-10 is a mid-level option that boasts low-frequency noise identification and elimination capabilities, as well as four USB inputs and outputs for those using USB equipment.
The Rode RODECaster Pro is a specialized mixer designed specifically for podcasters, providing outstanding functionality. However, it's crucial to ensure that you need all of its features before investing in it to avoid paying for unnecessary features.
Video Cameras
Keeping your podcast audience engaged is crucial, and incorporating visual elements is one effective way to achieve this goal. Adding videos and images to your podcast can make it more entertaining and versatile. Fortunately, there are numerous podcast cameras available in the market to choose from, and your investment will determine the quality of your output.
For starters, the Kickteck Full HD 1080p camcorder is an excellent choice if you're new to podcasting. It offers quality videos and images at a reasonable price, making it a cost-effective option for those who are not willing to spend much on video equipment.
Meanwhile, the Sony HDR-CX405/B camera is a great pick for beginners or those with moderate experience in podcasting. It boasts a remarkable feature in record time, allowing you to capture uninterrupted footage for hours.
If you're looking to upgrade and willing to spend a bit more on your video recording equipment, consider the Nikon COOLPIX B500. It offers better quality than basic podcast cameras and is perfect for podcasters who want to take their production to the next level.
Lastly, the Panasonic HC-V770 Camcorder is ideal for podcasters who want to livestream their shows because of its WiFi functionalities. It is pricier than other basic podcast cameras, but it is a worthy investment for those who want to produce high-quality video content.
Lighting
If you plan on using cameras for your podcast, it's essential to have adequate lighting. This not only ensures that your viewers can see you clearly, but it also enhances your appearance. While a lighting kit isn't always necessary, you can use natural light or a simple ring light. However, if you're recording in a dimly lit environment, a proper lighting kit can make a significant difference.
The Fancierstudio Lighting Kit 2400 Watt Professional Video Lighting Kit is an affordable option that provides all the necessary basics to set up your podcast.
For more lighting options, the Neewer 2 Packs Dimmable Bi-Color 480 LED Video Light and Stand Lighting Kit is an excellent choice. The LED panel adjusts quickly and accommodates different lighting needs.
If you want complete control over how your viewers see you, the GVM RGB LED Video Lighting Kit, 800D Studio Video Lights with APP Control is an excellent option. It offers eight different types of light and APP control.
Although pop filters are not essential, they do make a significant difference in the quality of your sound. Pop filters act as a barrier between you and your microphone to reduce plosive sounds. Fortunately, pop filters are relatively affordable. The Shure PS-6 Popper Stopper is compatible with most stands and is adjustable, while the Nady MPF-6 is a budget-friendly option with a swivel mount for easy positioning.
Microphone Stand
When recording a podcast, it's important to have a steady microphone that doesn't produce unnecessary sound or alternating volume levels. Holding a microphone for an entire recording session can be tiring and impractical. That's why using an arm to prop up your mic is a smart idea. Here are three recommended options for your podcast setup that can help you achieve a more professional sound:
TONOR Studio Suspension Scissor Boom Arm: This adjustable mic arm from TONOR is perfect for beginners. It comes with adapters to work with various microphones and shock mounts, so you can use it with your existing equipment.
Gator Frameworks Deluxe Desk-Mounted Broadcast Microphone Boom Stand: The Frameworks microphone arm is a durable and noise-reducing option that can be mounted to any size desk or table. With a 360-degree adjustability, you can position your mic exactly where you need it.
CUIJU Adjustable Microphone Arm: The CUIJU arm is versatile, as it can be mounted to any surface or used with the included stand. It adjusts quickly and locks into place, providing stability during recording. It also includes a shock mount to minimize unwanted noise.
Remember, using a microphone arm is a simple way to improve the quality of your podcast recordings. These three options are just a starting point, but they are all great choices for anyone looking to enhance their setup.
Shock Mount
A shock mount is a device that securely attaches a microphone to a mic arm during recording sessions. By providing stability, it effectively minimizes unwanted noise in your recordings.
The LyxPro MKS1-B Condenser Spider Microphone Shockmount is specially designed for condenser mics and features anti-vibration and isolation capabilities that effectively reduce unwanted noise. With its affordable price point, this shock mount offers excellent value for money.
The Sabra Som SSM-1 is an adjustable shock mount suitable for use with any microphone type, and it can accommodate mic diameters of up to 2 inches.
The Rycote 44901 Invision USM is a universal shock mount that can be used with any type of mic. Its unique shape is designed to prevent unwanted noise caused by mic movements during recording sessions.
Digital Recorder
When it comes to recording audio on the move, a portable digital recorder can be a useful tool to have. Although not necessary for initial podcast setups, these devices can come in handy for capturing audio on the go.
The ZHKUVE Rechargeable Sound Audio Recorder is a great option for those looking for a portable recorder. It allows for easy transfer of audio files by plugging directly into a USB port.
Another option to consider is the TASCAM DR-05X Recorder, which records audio in high-quality MP3 or WAV formats. This recorder can operate as a USB audio interface, making it easy to convert recorded sound into a suitable format for your computer to read. It can even record up to 96 kHz.
For individuals who plan on conducting a lot of on-the-go interviews, the DYW Portable Digital Voice Recorder is worth investing in. This recorder is simple to use and comes equipped with noise reduction features.
Check out our curated top 10 portable digital recorder can help you in podcasting.
Podcast Recording Software
To create a great podcast, it's essential to prioritize the podcast recording software you use. With the right software, your podcast can go from average to exceptional. However, choosing the appropriate software depends on your editing needs, experience level with computer software, and budget. Luckily, you can find podcast software for every budget, including some free options.
For beginners, Audacity is an excellent choice as it is free, although it lacks some features compared to other podcast software. Another free software option is GarageBand, which supports basic editing and allows you to move different audio segments around to your liking.
If you have experience with podcasting, Adobe Audition offers a decent range of control over audio editing, but it may take some time to learn how to use all its features. On the other hand, Hindenburg Journalist is a pricey software recommended for professional podcasters and radio journalists with established shows.
Lastly, Nuendo is a professional software from Steinberg that offers multiple features for audio editing that can help with podcasting.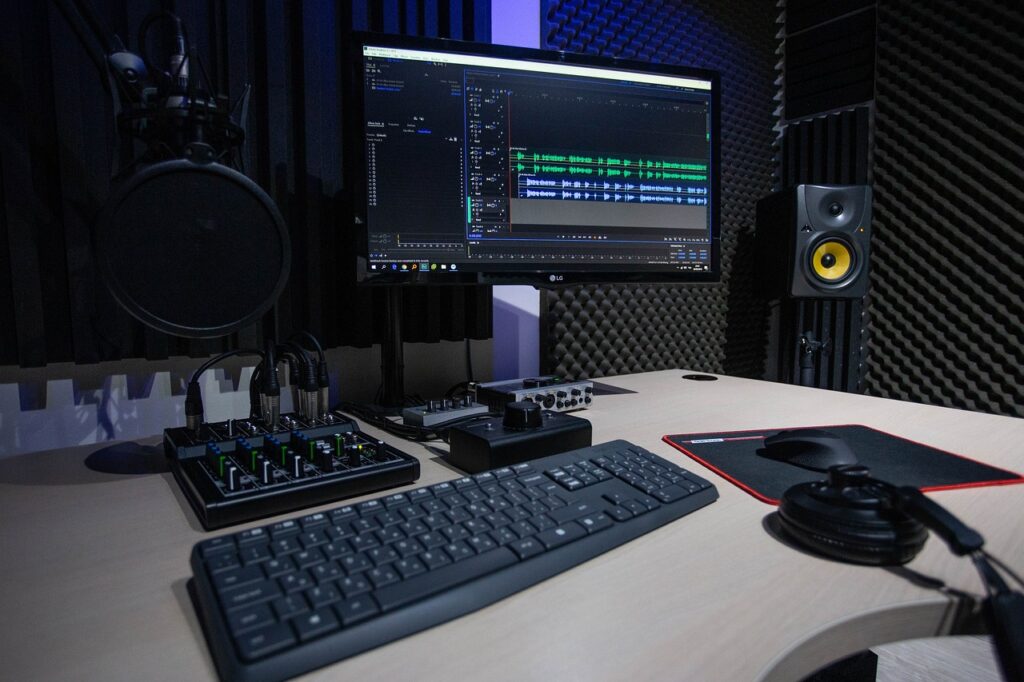 Pro tip: To create a professional-sounding podcast, make sure the audio sounds clear. Quality audio is crucial, and all top shows on Spotify or iTunes have it in common. No one wants to listen to a podcast filled with background noise, popping sounds, or fuzziness. Check out this link for the top ten podcasting software options.
Podcast Hosting
When it comes to podcasting, hosting is essential. It provides a platform for storing and sharing your show with your audience. You can easily find both free and paid hosting services that enable your listeners to download and stream your audio files. Hosting also allows you to publish your podcast to directories like Apple Podcasts, Spotify, and Google, which can help expand your listener base.
Some popular free podcast hosting services are Anchor and Buzzsprout. These platforms are ideal for beginners who want to try out podcasting without investing any money upfront. Buzzsprout offers a range of paid plans, starting at $12/month, which users can upgrade to as their needs grow. In contrast, Anchor is a completely free hosting service. Additionally, if you're looking for the top 10 curated podcast hosting options, be sure to explore your options.
FAQs on Podcast Equipment
How much does it cost to start a podcast?
Launching a podcast is within reach even if you're on a tight budget. Nevertheless, we advise investing in a decent microphone, headphones, and recording software to produce high-quality audio. These two tools are vital to get started. You can buy a microphone for approximately $100 or more, headphones for around $50 or more, and some recording software like Riverside, which has a free plan if you're on a shoestring budget. Overall, you can get started with a podcast for as little as $150-200 dollars, but if you want to expand your audience, we recommend allocating more funds.
Is there a need for special equipment to do a podcast?
In essence, it is possible to create a podcast using just a computer or a phone without requiring any specialized equipment. However, relying solely on the built-in recorder may not yield the best outcomes. To obtain optimal results, it is advisable to acquire a high-quality microphone, headphones, and dedicated recording software from the outset. Over time, you might consider expanding your podcast gear arsenal by purchasing additional microphones, a mixer, and other tools as suggested in our list above.
Can I do a podcast by myself?
Creating a podcast solo is certainly feasible. However, it's crucial to determine your podcast's topic and format beforehand to ensure it's appropriate for a one-person production.
To launch your podcast, it's important to have the right equipment. Begin with cost-effective options such as microphones, headphones, and recording software, and upgrade to more advanced tools like portable mics and visuals as your audience expands. Investing a modest amount can significantly enhance your podcast equipment setup's effectiveness.
Conclusion
Launching a successful podcast requires the right equipment. This includes budget-friendly microphones, headphones, and recording software to start with. As your audience grows, you can enhance your tools by investing in portable mics and visuals. Even a small investment can go a long way in setting up your podcast kit for success.
Once you have all the necessary equipment, it's time to start recording. Don't wait any longer! With our free podcasting guide, you can begin creating podcasts today.
About Author
The Podcasting Research Team is a dynamic and passionate group of young researchers who are dedicated to exploring the world of podcasting. Whether you're a podcast creator, a marketer, or simply a curious listener, the work of The Podcasting Research Team can provide valuable insights into the trends and best practices in the podcasting world.