In today's fast-paced digital landscape, staying up-to-date with the latest marketing trends and strategies is essential for success. Fortunately, the world of podcasts offers a treasure trove of valuable insights and knowledge from industry experts. Whether you're a marketing enthusiast, a digital marketer, or a business owner looking to boost your online presence, these top 10 marketing podcasts on Spotify are your ticket to staying informed and inspired.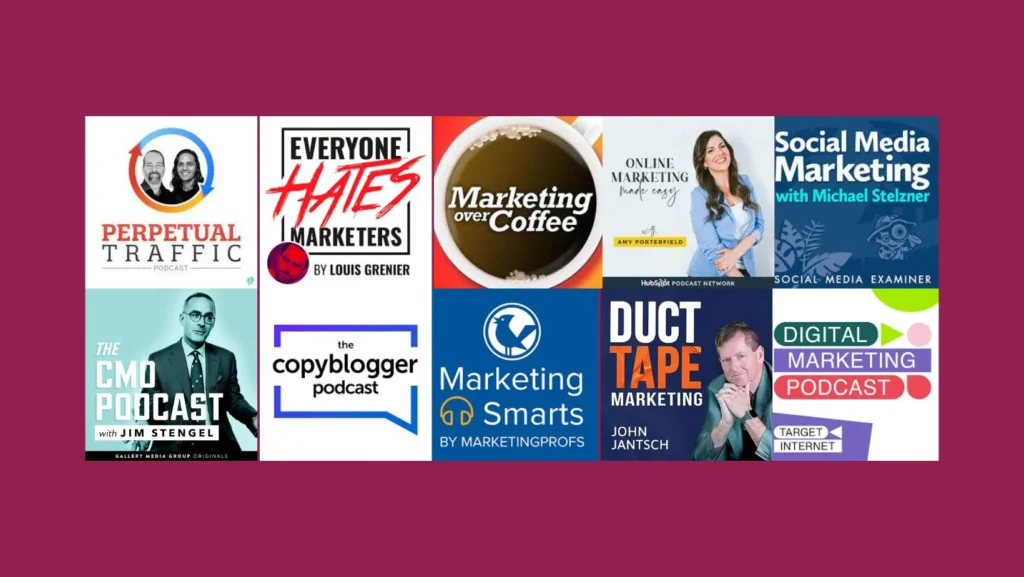 Marketing Over Coffee Marketing Podcast
"Marketing Over Coffee Marketing Podcast" is a dynamic platform that skillfully combines the realms of marketing and technology. This podcast is a treasure trove of invaluable insights, featuring thought-provoking interviews with industry luminaries such as Seth Godin, Simon Sinek, Ann Handley, David Meerman Scott, Mitch Joel, and many more. Dive into a world of marketing innovation, where the latest trends and strategies converge, providing you with the knowledge and inspiration needed to thrive in today's fast-paced digital landscape. Tune in to stay ahead of the marketing curve and gain expert perspectives that can transform your marketing endeavors.
Everyone Hates Marketers | No-BS Marketing Podcast
Looking for a marketing podcast that cuts through the marketing jargon and delivers real, actionable insights? Look no further! With over 1 million downloads and running strong for 7 years with 250+ episodes, "Everyone Hates Marketers" hosted by Louis Grenier is your go-to source for no-BS marketing wisdom. Each week, Louis brings you valuable insights from industry giants like Seth Godin and Joanna Wiebe, as well as undiscovered talents you might not have encountered elsewhere. If you want to learn how to stand out in the crowded marketing world without compromising your integrity, this podcast is your secret weapon. Tune in and discover the strategies that will elevate your marketing game and help you succeed in the ever-evolving landscape. Say goodbye to marketing BS and hello to actionable advice!
Online Marketing Made Easy with Amy Porterfield
Unlock the secrets of online marketing success with the top-ranked 'Online Marketing Made Easy Podcast,' hosted by Amy Porterfield. With over a decade of experience and a proven track record as a New York Times Best Selling Author and CEO of a multi-million dollar business, Amy is your trusted mentor in the world of digital entrepreneurship. Her podcast is a goldmine of actionable insights, where she simplifies complex ideas and strategies into step-by-step processes that yield results with minimal stress. Whether you're a budding entrepreneur, a part-time hustler, or an established business owner looking to scale, Amy covers a wide range of topics, from digital courses and list building to social media, content creation, webinars, and more. Join hundreds of thousands of online business owners who turn to Amy for expert guidance and immediate action steps to elevate their online ventures.
Social Media Marketing Podcast
Are you looking to conquer the ever-evolving landscape of social media marketing? Look no further than the "Social Media Marketing Podcast," a long-standing gem that has been consistently publishing quality content since 2012. Hosted by Michael Stelzner, the founder of Social Media Examiner, this podcast brings you weekly insights from the forefront of the marketing world. Dive into expert interviews with industry leaders who share their invaluable wisdom and innovative strategies. Whether you're a seasoned marketer or just starting your journey, this podcast equips you with the latest techniques and actionable tips to boost your marketing game. Stay ahead in the marketing jungle with the "Social Media Marketing Podcast." Join the conversation today!
The Digital Marketing Podcast
"The Digital Marketing Podcast" is your go-to source for cutting-edge digital marketing insights. This weekly podcast boasts a global audience spanning over 180 countries, making it a trusted resource worldwide. Tune in for engaging interviews with leading experts in the field, and stay updated with the latest news, tools, strategies, and techniques that will set your digital marketing efforts apart from the competition. Say goodbye to ads and hello to a wealth of knowledge that will empower your digital marketing journey.
With listeners from across the globe, "The Digital Marketing Podcast" is your passport to success in the ever-evolving world of digital marketing. Whether you're seeking expert advice or the latest industry updates, this podcast has you covered. Join the international community of digital marketers who rely on this podcast to stay ahead in the digital landscape and take your digital marketing efforts to new heights.
The Duct Tape Marketing Podcast
The Duct Tape Marketing Podcast is your one-stop destination for an insightful journey into the world of marketing. Hosted by John Jantsch, a renowned small business marketing expert in the United States, this podcast brings you valuable marketing tips, growth strategies, and an abundance of resources. It caters to small business owners, marketing professionals, and agency owners alike, providing actionable advice on a wide spectrum of topics including marketing strategy, consulting, social media marketing, content marketing, SEO, email marketing, lead generation, business management, entrepreneurship, and more.
With a legacy spanning over 900 episodes since its inception in 2005, The Duct Tape Marketing Podcast stands as an authoritative resource for all aspects of marketing and business growth. Each week, the show explores the latest marketing trends and strategies, ensuring that you stay at the forefront of industry developments. Don't miss out on the opportunity to learn from the best in the business. Tune in to The Duct Tape Marketing Podcast today and unlock the secrets to achieving your business goals through effective marketing strategies.
Marketing Smarts from MarketingProfs
Marketing Smarts from MarketingProfs" is your weekly dose of marketing wisdom. Hosted by MarketingProfs, this insightful podcast offers in-depth interviews with savvy marketers from diverse backgrounds. Each 30-minute episode is packed with actionable insights and practical advice to elevate your marketing strategies. Tune in to "Marketing Smarts" for the latest industry trends and expert guidance to market smarter and achieve your business goals. Stay ahead of the curve with this valuable resource for marketers of all levels.
The Copyblogger Podcast
The Copyblogger Podcast, hosted by Tim Stoddart, offers a weekly dose of invaluable insights into the realms of content marketing, copywriting, email marketing, conversion optimization, mindset, and beyond. Each episode features a lineup of seasoned experts who share their wisdom, dissecting the latest trends and strategies in the marketing world. Stay ahead of the curve and elevate your marketing game with this podcast's rich and diverse content.
The CMO Podcast
n the ever-evolving world of marketing, gaining insight into the minds of top-level executives is invaluable. If you're passionate about the marketing industry, "The CMO Podcast" with Jim Stengel is a must-listen. As the former Chief Marketing Officer (CMO) of Procter & Gamble, the largest marketer globally, Jim Stengel brings a wealth of experience and knowledge to the table. In this podcast, he engages in intimate conversations with some of the most dynamic CMOs across various industries. This isn't your typical marketing podcast; it's a unique exploration of the CMO's thought process, motivations, and the pivotal role they play in shaping brands.
The CMO Podcast" with Jim Stengel provides a rare and valuable opportunity to step into the shoes of CMOs from various industries. Through these intimate conversations, you'll gain a deeper appreciation for the role of CMO and the thought processes that drive marketing success. Whether you're an aspiring marketer, a seasoned professional, or simply curious about the world of branding, this podcast offers a unique and insightful perspective that you won't want to miss. Tune in and discover the secrets to CMO excellence!
Perpetual Traffic
In the ever-evolving digital landscape, the key to a thriving business lies in your ability to harness the immense potential of online advertising. If you're eager to acquire leads and drive sales, "Perpetual Traffic," a twice-weekly podcast, is your go-to resource for cutting-edge strategies that can catapult your business to new heights.
"Perpetual Traffic" is proudly produced by Tier 11, a digital marketing agency renowned for its innovative and effective traffic strategies. The show is skillfully hosted by Ralph Burns and Kasim Aslam, two seasoned experts in the field of digital marketing. With their wealth of experience, they guide you through the intricate world of online advertising, making it accessible to everyone, from novice media buyers to seasoned CMOs and entrepreneurs.
Perpetual Traffic is your passport to the world of online advertising excellence. With Ralph Burns and Kasim Aslam as your expert guides, you'll learn, grow, and thrive in the digital marketing arena. Tune in to gain invaluable insights and practical strategies that can transform your business's online presence and profitability. Don't miss out on the lifeline of any successful business – traffic – and embark on a perpetual journey to success with "Perpetual Traffic.
Conclusion
In the dynamic world of marketing, staying informed and inspired is crucial. These top 10 marketing podcasts on Spotify cover a wide range of topics, from digital marketing to content creation, social media, affiliate marketing, and more. Tune in, absorb the knowledge, and supercharge your marketing efforts to achieve success in today's competitive landscape. Happy listening!
FAQs
What are marketing podcasts, and why should I listen to them?

Marketing podcasts are audio programs that provide valuable insights, tips, and strategies related to marketing, advertising, and promoting products or services. Listening to these podcasts can help you stay informed about the latest industry trends and enhance your marketing skills, making you a more effective marketer.

How can I access these podcasts on Spotify?

To access these podcasts on Spotify, simply download the Spotify app on your device or visit the Spotify website. Then, use the search bar to look for the podcast by its title or the host's name. Once you find the podcast, you can listen to episodes for free.

Are these podcasts suitable for beginners in marketing?

Yes, many of the podcasts on this list cater to marketers of all levels, including beginners. They often cover foundational marketing concepts and gradually delve into more advanced strategies, making them accessible and valuable for those new to the field.

Do I need to pay to listen to these podcasts on Spotify?

Most of the podcasts listed here offer their content for free on Spotify. While Spotify does offer a premium subscription with additional features, it is not required to access these podcasts. You can listen to them without any cost.

How frequently are these podcasts updated with new episodes?

The frequency of new episodes varies from one podcast to another. Some podcasts release new episodes weekly, while others may have a different schedule. It's a good idea to check the podcast's description or website for information on their release schedule.

Can I download episodes to listen offline?

Yes, Spotify allows users to download podcast episodes for offline listening. This feature is especially convenient for those who want to listen during commutes or when they don't have a reliable internet connection.

Do these podcasts cover specific marketing niches, like B2B or affiliate marketing?

Yes, several podcasts on this list specialize in specific marketing niches. For example, "The B2B Marketing Podcast" focuses on business-to-business marketing, while "The Affiliate Guy Daily" is dedicated to affiliate marketing. You can choose podcasts that align with your interests and goals.

Are there any associated costs or requirements to subscribe to these podcasts?

Subscribing to these podcasts is typically free. You can simply follow or subscribe to them on Spotify. There are no associated costs or requirements to access their content, although some hosts may offer premium content or courses for a fee, which is entirely optional.

Can I ask questions or engage with the podcast hosts directly?

Many podcast hosts are active on social media or have websites where they interact with their listeners. You can often reach out to them, ask questions, or provide feedback. Additionally, some podcasts may feature listener questions or comments in their episodes.

Are there any other marketing podcasts not included in this list that I should check out?

While this list highlights some of the best marketing podcasts on Spotify, there are many more out there. Feel free to explore other podcasts that cater to your specific interests within the marketing field, as there are numerous valuable resources available for marketers of all kinds.
About Author
The Podcasting Research Team is a dynamic and passionate group of young researchers who are dedicated to exploring the world of podcasting. Whether you're a podcast creator, a marketer, or simply a curious listener, the work of The Podcasting Research Team can provide valuable insights into the trends and best practices in the podcasting world.